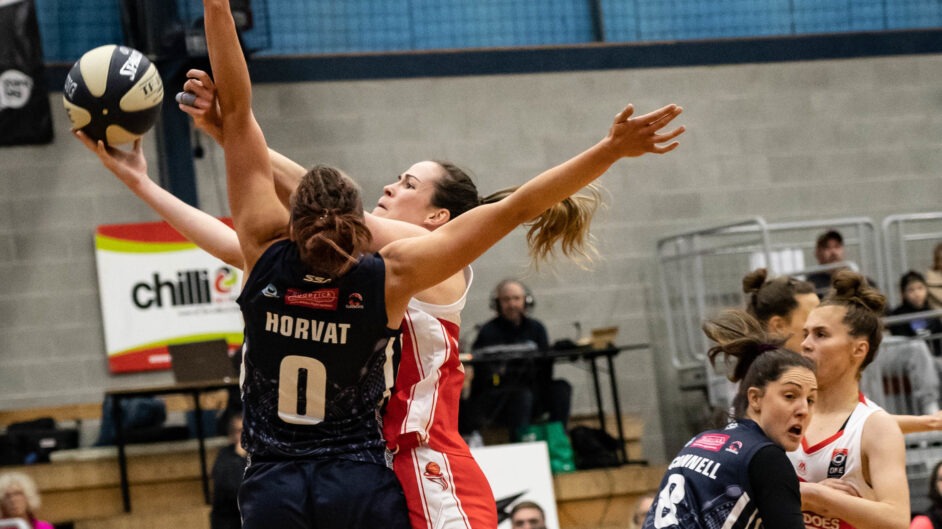 May 15, 2023 | Sydney Flames news
The latest round of NBL1 action proved to be a busy one for Hoops Capital athletes, which numerous producing for their respective clubs on the hardwood.
Flames' Keely Froling once again dominated, double-doubling (22 points and 10 rebounds) with four assists and two steals as Launceston went down 86-55 to Geelong.
Froling's Tornadoes are on the road next weekend, facing both Dandenong (Saturday) and Sandringham (Sunday).
Still in NBL1 South and newly extended Kiera Rowe and her Knox Raiders enjoyed two tight battles across the weekend.
The Raiders first edged Ballarat 77-71 with Rowe adding four points, two rebounds, two assists and two steals, before Knox lost by three points (77-74) to Melbourne – with the Flames forward notching 10 points, three dimes and one board in the loss.
In round seven, Knox hosts Frankston on Saturday before backing it up against Waverley on Sunday.
REGISTER YOUR WNBL24 MEMBERSHIP INTEREST NOW
Shifting north and Maddy Allen again shone for the Spartans, sparking them to two big victories in round seven.
The first came against Red City (88-50) with the Flames guard adding 25 points, six rebounds, four assists and one steal, before downing the Capitals in the 'Battle of Brisbane' 86-68 – thanks to 24 points, eight rebounds, six dimes and one swipe by Allen.
In the first of those two games against the Roar, Flames young gun Lilly Rotunno put up 16 points, five rebounds, two dimes and one steals for Red City.
The Spartans now head north to the USC Sports Stadium to face Rip City on Saturday, while Rotunno's Red City have the bye in round eight.
View this post on Instagram
To NBL1 East and the Comets continued to roll, thumping Canberra 72-44 behind commanding performances by Vanessa Panousis (14 points, three rebounds, two assists and one steal) and Jada Crawshaw (11 points, six boards, one assist, one steal and one block).
Next up for the Comets are the Hawks and Sharks.
While Norths Bears obliterated Hornsby 117-62, with Emma Donnelly adding 10 points, three rebounds, one assist, one steal and one block.
The third-placed Bears next take on Central Coast on Saturday.
Finally, out west, Emma Clarke and her Perry Lakes Hawks chalked up two solid victories across the weekend – starting with a 72-44 demolition of Lakeside, with the Flames wing contributing 17 points, nine boards and two assists.
They backed this up with a nail-biting 84-83 road win against Warwick, thanks to a massive 21 points, 11 boards, five dimes, one steal and one block by Clarke.
The 7-3 Hawks next face the Eastern Suns on Saturday.
Moving to the Kings contingent and Angus Glover and his Eltham Wildcats solidified second spot on the NBL1 South ladder on Saturday, by downing Melbourne 100-91.
This victory, powered by 31 points, five rebounds, three assists and one steal by Glover, moves the Wildcats to 7-2 after six rounds.
The Wildcats will look to continue that strong form on Saturday when they host Ringwood at the Montmorency Secondary College.
Moving to Queensland and one of the top match-ups of the weekend pitted Kings duo Jaylin Galloway and Kouat Noi against one another – with the former's Ipswich edging Rip City 111-102.
In the win, Galloway tallied 20 points, six rebounds, seven assists and one steal, while Noi posted a monstrous 39 points, 14 rebounds and two steals for USC.
In round eight,  Rip City hosts Southern Districts and the Force travel to Northside.
Elsewhere in NBL1 North, Logan smashed North Gold Coast 100-75, thanks to 11 points, 12 assists, seven steals and six rebounds by Shaun Bruce.
The Thunder next play Brisbane at home on Friday night.
READ MORE: CLARKE THRIVES ON INTERNATIONAL STAGE WITH GANGURRUS
The final Sydney athlete in action over the weekend was Makuach Maluach, who added 10 points, six boards, four dimes and three steals in Darwin's 102-88 triumph over Mackay.
A road double-header awaits the Salties on round eight, starting with the Meteors on Friday and Rockhampton Rockets on Saturday.
To NBL1 East and the Sydney Comets lost 90-68 to Canberra despite 11 points, three rebounds, two blocks and one assist from Archie Woodhill.
The Comets will look to rebound next week on their road double-header, starting in Illawarra on Saturday and Sutherland on Sunday.
Wrapping up the Kings' contingent in action during the NBL1's Pink Round is Zac Gattorna, who contributed 24 points, three rebounds, two assists and two steals in Geraldton's 120-98 win against Willetton.
Gattorna's Buccaneers host Rockingham next round.
Stay up to date with all the harbour city club's off-season news here.