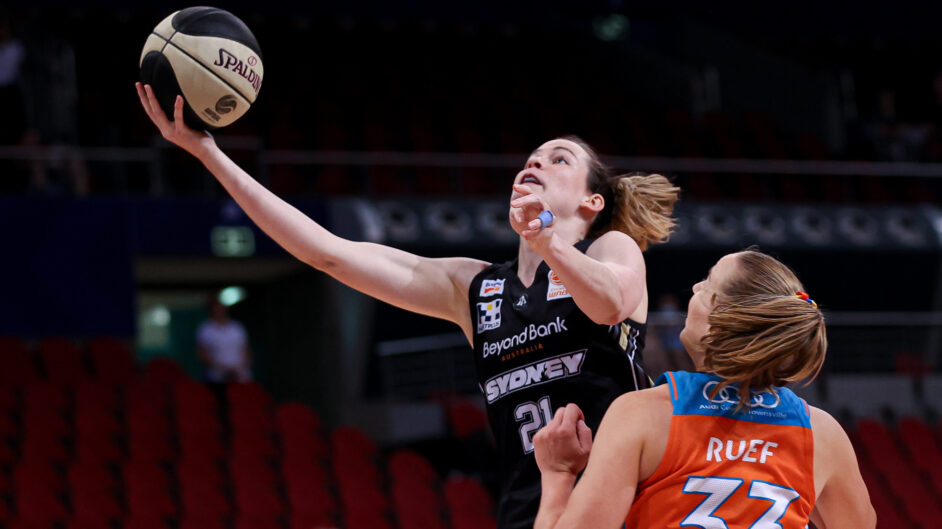 February 9, 2023 | Sydney Flames news
The Launceston Tornadoes have re-signed NBL1 South All-Star Five member and Sydney Flame Keely Froling for the 2023 NBL1 season, according to The Mercury.
The superteam Tornadoes of Kelsey Griffin and Mariana Tolo made it to the semi-finals last season, falling short against the eventual NBL1 South champions, the Ringwood Hawks.
After averaging over 28 points, 14 rebounds and three assists per game, Froling has set her eyes on a championship for her Tasmanian club.
CLICK HERE TO GET YOUR FLAMES TICKETS NOW
"Definitely a championship [is the aim this year], that's what we're aiming for," she told The Mercury.
"I love playing for the Torns and I love it down here.
"It [re-signing] was a really easy decision for me.
"Sarah [Veale] (head coach) has been awesome for my development on and off the court, and I love the team.
"It was a really disappointing finish last year [in the semis].
"There was a lot of learning out of that and we'll take that into this season for sure."
Froling is confident in the local crop of talent from Tasmania being critical in their attempts to make a title run.
"For us, it's about our depth and making sure everyone is ready to play," said Froling, who was recently named in the Australian Opals train-on squad.
"We have some great local talent here like [guard] Micah Simpson who's been playing WNBL with Bendigo.
"[It's about] bringing those players in and giving them the confidence to play.
"Last year we lost players to college leading into finals, which really ended up hurting us.
"I think if we look at it [earlier season start] that way, it will be really beneficial."
Froling says that her trio with Opal Marianna Tolo and Kelsey Griffin is still pending for 2023, but is hoping they return to try to win it all again.
"We'd love Tolo and Kels to come back. I'm in their ear every day, but it's a wait-and-see thing," she said.
Our Opals duo, Keely Froling and Tiana Mangakahia, are set to play the Women's Asia Cup from June 26 – July 2 this year – marking the first time ever the competition will be hosted in the country.

Read what Flames Captain had to say: https://t.co/J23y0ZooJL#FlameOn pic.twitter.com/vEGA92yfyg

— Sydney Flames (@TheSydneyFlames) February 8, 2023
Head coach Veale says that the full package Froling brings on and off the court made it a no-brainer to bring Froling back for a third Tornadoes campaign.
"Keely is definitely the glue that holds the team together," Veale said.
"We have built our whole team around Froles, so it was a no-brainer to go after her.
"Keely is the biggest competitor I've ever met, she leads by example in every aspect of the game.
"In offence, she's our biggest scorer, she can score in multiple ways and is an exceptional defender and rebounder.
"But not only that, it's how she mentors our young girls.
"When they see the way Keely is on and off the court, they aspire to be like that.
"She's a coach's dream, she does half my job."
Froling and her Flames return to the court on Sunday, February 19, where they'll take on Melbourne at Quaycentre from 5pm AEDT – with tickets available here.