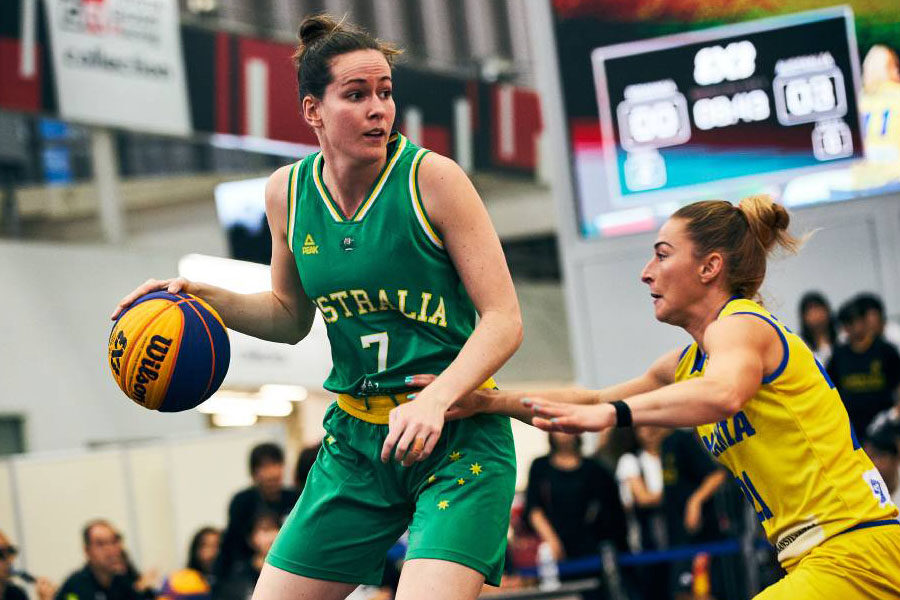 August 20, 2021 | Sydney Flames news
Basketball Australia (BA) today announced their squad of 21 players for the FIBA Women's Asia Cup to be held in Amman, Jordan next month. Sydney's own Keely Froling has been named in the squad.
Australia will head into the event with a FIBA world ranking of 3 following their performance at the Olympics in Tokyo. Of the 21 players, fifteen will make their debut as an Opal which demonstrates the depth of talent coming through.
Fresh off a silver medal in Hungary the team will include U19 Gem's All Star Five player Jade Melbourne and Shaneice Swain both of whom are eager to put on the green and gold.
Melbourne said "to be given this opportunity is such an honour, having played at the U19's World Cup and now to be chosen as part of an Opals squad is a dream come true. I can't wait to suit up and join the rest of the squad."
Australia has a strong record going into the Asia Cup having won silver in 2017 and bronze in 2019, the event wasn't held in 2020 due to COVID. Australia will meet with strong competition including Olympic silver medallists Japan and China who defeated Australia in the Group Phase in Tokyo.
The event is a great opportunity for our Opals to have international match time and Head Coach for the Asia Cup Paul Goriss believes this squad has the depth of talent for a strong result.
Goriss said "the Asia Cup gives us the opportunity to gain critical international experience for our players. The competition is tough and will provide us with an opportunity to evaluate our players in an international tournament. I have no doubt we will see the best these players have to offer when they put on the green and gold.  We won't have much preparation time so we will rely on good chemistry, a team focus on defence and playing hard with our energy and effort."
Opals Head Coach Sandy Brondello said from the US earlier today "we have a great opportunity over the next 12 months to re-set and build towards a home World Cup next September and I am really excited about this squad and the opportunities in front of us."
"It is no secret that we were disappointed with our results in Tokyo, we have taken many learnings from this experience and whilst there can be many reasons for this, there is no doubt that our limited preparation and lack of international competition impacted our preparation and performance."
"This is a great opportunity for this group of Opals to gain valuable international exposure and experience and I am really looking forward to working with this squad in the lead-up to the World Cup in Sydney next year".
Event Dates – 26 September- 3 October 2021
Location- Amman International Stadium- Jordan
FIBA WOMEN'S ASIA CUP SQUAD 2021
Rebecca Allen
Alice Kunek
Jazmin Shelley
Alanna Smith
Samantha Whitcomb
Keely Froling
Darcee Garbin
Lauren Scherf
Alexandra Sharp
Lauren Nicholson
Madison Rocci
Jade Melbourne
Shaneice Swain
Zitina Aokuso
Megan McKay
Kirsty Wallace
Abigail Wehrung
Tiana Mangakahia
Anneli Maley
Alex Wilson
Chelsea Brooke