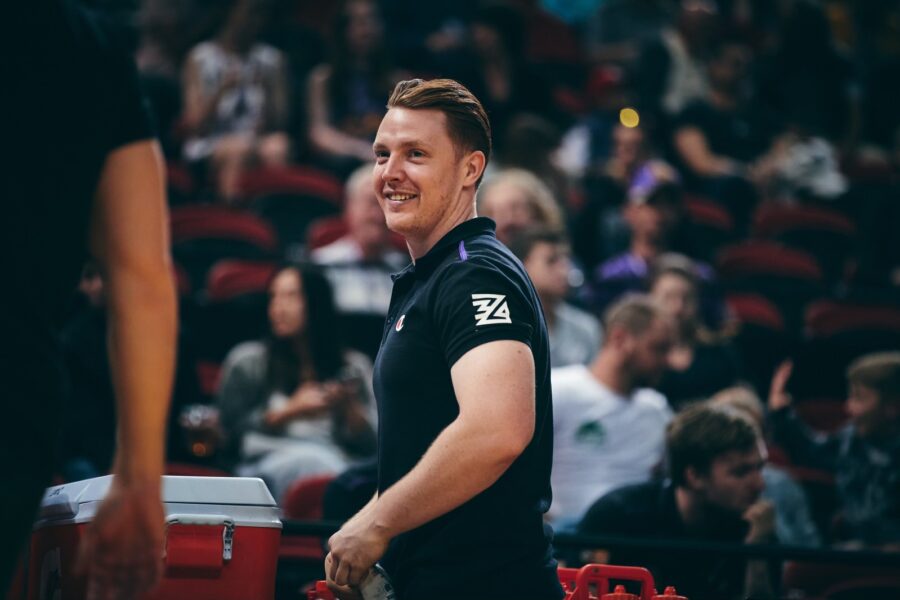 August 30, 2022 | Sydney Flames news
The Sydney Flames have bolstered their staff for the WNBL23 season by adding strength and conditioning coach Mitch Fuller.
The 27-year-old transitions across to the Flames, after three seasons working with fellow Hoops Capital entity, the Sydney Kings.
"It's a real exciting time to be a part of the Flames," Fuller said.
"New branding, new faces, new facilities – it's looking like a fun time to be a part of the Flames.
"There aren't many opportunities in sport where you get to be a part of something new and make your mark, so I thought I'd take my chance."
REGISTER YOUR INTEREST FOR FLAMES MEMBERSHIP HERE
As well as being the strength and conditioning coach for Shane Heal's side, Fuller will also be the WNBL outfit's team manager.
"In the mornings I'll put on the performance hat, helping the team out in the gym, getting their bodies right and primed for a tough season," said Fuller, who's previously worked with Australian Barbarians Rugby, Knox Grammar School, Cabra Leagues Rugby Club (Academy), Sydney Blue Sox (under 18s) and St George Dragons (under 16s).
"Then onto the court, facilitating training protocols using live-data tracking system Catapult.
"In the afternoons it's behind the computer, organising all of our travels, accommodation etc while reporting how the current training day has gone and planning accordingly going forward."
Fuller is confident his experience with the Kings will help spark the Flame's journey towards a fifth WNBL championship.
"In my first year, I came in as an intern and it was a huge learning experience for me," he said.
"I was lucky enough to be under the guidance of Toby Banfield and I owe a lot of my career success to him.
"Following the year of my internship, I was lucky enough to become the team manager and was also assistant strength and conditioning coach for the next two seasons.
"My time at Kings has been so valuable in my time as a coach as it gave me a platform to learn but also be innovative and grow where I could.
"Coming up as a strength and conditioning coach, it isn't common to be hands-on with a professional team so quickly, but I was given that opportunity and loved it and now I'm proud to say I'm helping that next wave get the same experience.
"I'm now looking forward to carrying all that across and finding out exactly how the Flames operates, both on the performance and operations side and identifying ways I can improve the current product."
Fuller officially starts the role on September 12, just prior to the Flames officially tipping off on September 21 at the Auburn PCYC.
"We currently have players training both here and interstate, either taking part in training I've provided for them or they're finishing off their current season," he said.
"They all appear to be tracking well and I'm keen to get them all to Sydney and begin working towards a championship as a group."
Other new faces at the Flames this season include Jocelyn Willoughby, Hannah Sjerven, Tiana Mangakahia, Vanessa Panousis, Emma Clarke, Madelyn Allen, Indiah Bowyer and Lilly Rotunno – who join Shyla Heal, Keely Froling, Kalani Purcell and Keira Rowe at the harbour city club.