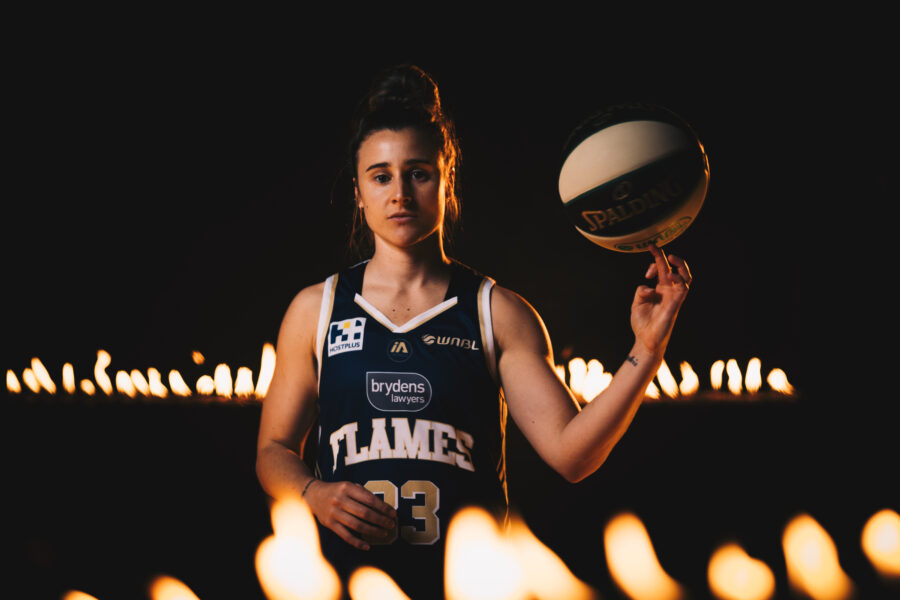 January 22, 2022 | Sydney Flames news
NBL & WNBL ROUND 8 | Brydens Lawyers Sydney Kings v Brisbane Bullets & Brydens Sydney Uni Flames v Perth Lynx
This Sunday we will make history! For the first time the Kings will curtain raise for the Flames, who are going up against Perth Lynx. It's going to be an epic outing for Hoops fans who should expect a fired up Kings to take the court in what could be a critical match up against the Bullets.
Stick around for the Flames game as you could win courtside seats for one of our future home games! Winners will be announced at half-time of the Flames game.
The Bullets are a strong offensive team, led by bronze medallist Nathan Sobey and their two star imports Lamar Patterson and Robert Franks. The Lynx are a dangerous offensive team too, with WNBA no. 1 pick Jackie Young and Asia Cup bronze medallist Sami Whitcomb. This should be a great double dose of hoops on Sunday!
As has been over the last two seasons, home games will be played in conjunction with NSW Health Guidelines and public health orders, NBL protocols and the Qudos Bank Arena Covid-19 Safe Plan.
We ask that you also please read the below information as you have an important role to play in ensuring the health and safety of all patrons within the venue.
Sunday 23 January
Brydens Lawyers Sydney Kings v Brisbane Bullets
Corporate Entry Opens: 11am
Members Entry Opens: 11.15am
General Public Doors Open: 11.30am
Tip-off: 1pm
Brydens Sydney Uni Flames v Perth Lynx
Pre-game: 3pm
Tip-off: 3.30pm
Flames Game Preview: HERE
Kings Game Preview: HERE
Important things to note:
The Kings are playing the curtain raiser game for the Flames this week. We would love to have you stick around to support the Flames after the Kings game on Sunday. Everybody in the building at half-time of the Flames game will potentially be able to win courtside seats for an upcoming Kings game.
As per updated NSW Health Guidelines Face Masks are now mandatory for all patrons
Prior to entry, all patrons should register using the Service NSW QR Code. Please have the latest version of the Service NSW app downloaded on your phone.
Your Kings or Flames membership provides you with access into both Kings and Flames games for Double Headers at Qudos Bank Arena.
It is strongly advised that you arrive early as delays are expected.
We ask that you also please stay home if you're feeling unwell, have been in contact with a suspected or confirmed COVID-19 case in the past 14 days, or are awaiting the results of a COVID-19 test.
Due to strict NBL player protocols there will be no post-game player appearances in Members Bar this week.
Covid Safety Information
As per updated NSW Health Guidelines Face Masks are now mandatory for all patrons
We ask that you also please stay home if you're feeling unwell, have been in contact with a suspected or confirmed COVID-19 case in the past 14 days, or are awaiting the results of a COVID-19 test.
Qudos Bank Arena covid FAQs can be read here
To minimise the risk of the spread of Covid-19 to players we ask that you do not touch the players (unfortunately that means no hi-fives as players leave the court).
Please do your bit to maintain 1.5m physical distancing when entering, navigating inside, queuing, and exiting Qudos Bank Arena
Only sit in the reserved seat stipulated on your ticket. This is important for contact tracing purposes.
While in the venue, please remain in your seats at all times unless buying food and beverages or using the restrooms. You'll need to consume any food and beverages in your seat.
Things to know before you arrive:
Please have your e-ticket or membership pass loaded and on your mobile phone prior to arrival. If you have selected a mobile ticket please share with your friends and family in advance
Members will be required to bring their Digital Membership Pass or Membership Card to use at the members' entrance (if you are unable to locate your membership card or have any issues, our membership team who will be located at the box office pre-game will be able to assist with any membership related queries).
Please minimise the size of bags you bring to the arena – no backpacks or bags over A5 (200 mm x 150 mm) sizing will be permitted into the venue
Some things may have changed since your last visit:
Qudos Bank Arena is now a cash free venue – all transactions including food, drink and merchandise outlets will be cashless
Due to COVID restrictions there is no longer a cloakroom facility available at the arena
A complete list of prohibited items can be found here
Click hereto read Qudos Bank Arena's full venue 'Conditions of Entry'
Getting to and from Qudos Bank Arena:
NSW Health are strongly encouraging the use of private transport to all fans.
Parking information for Sydney Olympic Park, including pre-booking at a discounted rate, can be found
For public transport information about getting to getting to Qudos Bank Arena click
For more information about getting to Qudos Bank Arena click here.
 Food and beverages:
Multiple food and beverage outlets will be open throughout the venue and this season some furniture has been put back around the concourse.  Cleaners will be cleaning tables each time a patron leaves a table.
The Platinum Plus Bar will be open for Platinum Plus members and ticket holders. Platinum Plus members and ticket holders will be provided a wristband when you arrive at your seat. This will give you access to the Platinum Plus Bar.
Merchandise
Kings and Flames merchandise is available for purchase inside the Grand Foyer as you enter Qudos Bank Arena. You can also head to shop.sydneykings.com.au to grab some merchandise online.
Flames merchandise can be purchased from https://wnblstore.com.au/wnbl/teams/sydney-flames/
Kings Bar at The Brewery:
The Kings Bar at the Brewery will not be open.
Social media
Use the hashtag #WeTheKings #FlameOn during game day to be included on the big screens! Don't forget to tag in the Kings (@sydneykings) and Flames (@sydneyuniflames) on Instagram so we can also share some of the best pics to our account.
For all enquiries, please contact the Kings Membership Team at membership@sydneykings.com.au