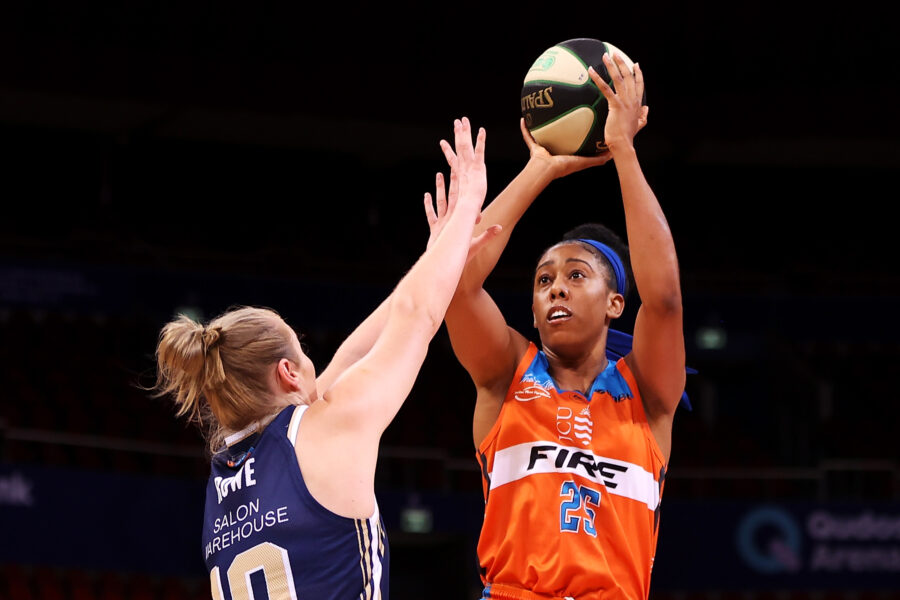 February 11, 2022 | Sydney Flames news
Revenge is on the Flames' mind as they fly to Queensland to take on the Townsville Fire this Saturday at 7.30pm (AEST).
The Brydens Sydney Uni Flames had a tough loss to the Fire last week at home. Without Shyla Heal (Opals duties)  or Lauren Mansfield (injury) the Flames were undermanned, but they fought valiantly until the end.
This will be the last game before the Flames head into a much-needed break for the WNBL FIBA window. After the break, the Flames will get Shyla back and a well-deserved rest after all interruptions in the first half of the season.
Until then we still have a game, and what a game it will be.
For two games in a row, Funda Nakkasoglu has been the brightest star on the team, over the past two games she's averaging 15.5 points per game and has been the offensive engine in Heal's absence.
Again, the Flames will depend on Keely Froling, the two-way menace is the Flames' tentpole on both ends and coach Shane Heal hopes she can do what she did last week again. She scored 13 points and grabbed eight rebounds in 30 minutes.
On the top of the Flames' scouting report is Monique Billings. She could not be stopped in the first half of last week's game, where she scored 21 of her game-high 25 points. Stephanie Reid will also be someone to watch out for, she lit up the third quarter in our last match-up so the pressure will be on the Flames defence to make sure both Reid and Billings have a difficult night.
Our defence will come from Froling, but should be well supported by Kiera Rowe and Kalani Purcell.
Coach Heal post-game last week was proud of the effort but was concerned about how many turnovers the Flames had.
"But you're never going to win too many games with 19 turnovers," Heal said.
This will be a major talking point in practice and on the flight up to Townsville.
The Flames will take on the Townsville Fire on Saturday at 7.30pm. The game will be streaming on Kayo.