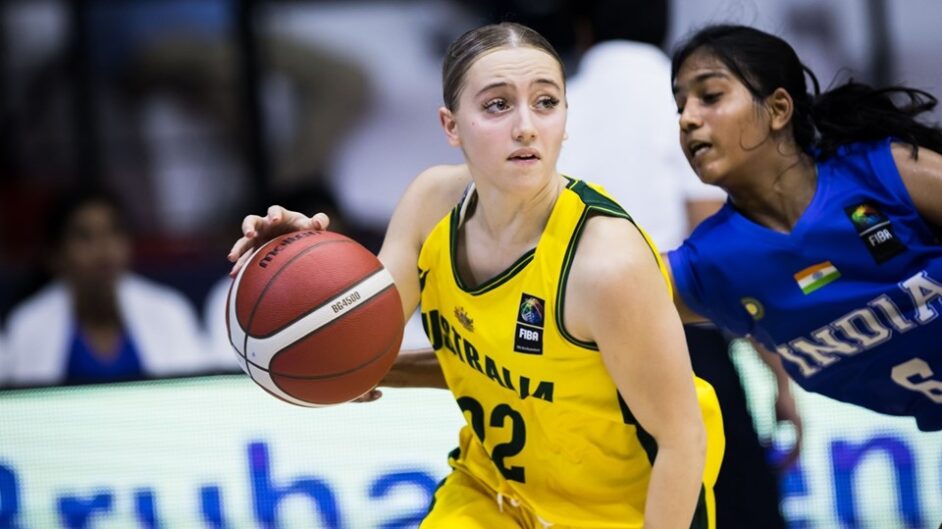 September 23, 2022 | Sydney Flames news
Sydney young gun Lilly Rotunno is brimming with confidence ahead of her debut WNBL season, after recently helping her Australian Gems win the gold medal at the FIBA U18 Women's Asian Championships.
Rotunno and her Gems, which also featured Flames training partner and current Centre of Excellence athlete Saffron Shiels, won all five games in India – to book their spot at next year's World Cup in Spain.
"The experience I had in India was amazing," said Rotunno, who is one of the Flames' amateur players for WNBL23.
"Travelling in a team internationally and being able to experience a completely different culture was great and eye-opening for me. 
CLICK HERE TO GET YOUR FLAMES MEMBERSHIP
"Being involved in a professional tournament representing Australia was out of this world – I was very fortunate to have an amazing team and coaching staff which made the trip more enjoyable.
"On top of that, I am extremely grateful that I was able to experience winning a gold medal representing my country. 
"This under 19 team was the first ever Australian team to win a gold medal at the FIBA Asia Cup, so knowing we created history together is such an incredible feeling and I am extremely fortunate that I was a part of that experience. 
"Celebrating that win was truly like no other gold medal win I have ever had, so it was an extremely special experience in my basketball career that I will never forget." 
As well as bringing home the gold, it also marked the first time the Gold Coast junior had lived out her Australian dream.
"I've played basketball ever since I was a little girl and playing for Australia has been a massive goal of mine ever since I remember," the guard said.
"So being able to represent Australia was an absolute dream come true – it's something I have been working towards for years now. 
"Due to COVID, I missed out on being able to trial for any of the under 17s Australian teams, so it pushed me even harder to work to take any opportunity I had to represent my country. 
"My family has been so supportive of my dreams and the goals I've stuck to for so long, so it meant the absolute world to me that I was able to play for my country and wear that jersey with pride."
Not only that but Rotunno believes the trip provided invaluable experience to help improve her game.
"Playing at the Asia Cup was an extremely eye-opening experience, seeing firsthand the different types of playing styles worldwide, especially from the Asian teams that we went up against," she said.
"Seeing and being able to compare the differences in defensive and offensive principles allowed me to adapt my own principles that best suited the particular teams we played. 
"In Australia, most leagues play similar styles of basketball, so in India, I was able to develop better IQ when adapting my playing style especially defensively on the fly, while also adapting to the officiating style there. 
"The tournament was extremely physical, so it allowed me to play with more physicality and grit. 
"It showed me how important it is to prioritise doing the one percenters in games especially when you're undersized against smart and strong teams."
Rotunno is now trying to translate all that into performances on the court, as her Flames officially started pre-season at Auburn PCYC this week.
"I want to be able to use what I learnt at the Asia Cup in this upcoming WNBL season, which was to be an adaptable player and continue to build my IQ on and off the floor," said Rotunno, who played with the Gold Coast Rollers in NBL1 North this year.
"Going from playing with the best of the best in my age group to the best of the best in a woman's league is something I am really looking forward, to as I know it will push my physical and mental self to a whole new level. 
"My goals for my experience in this upcoming Flames season is to grow and expand my game as a guard, while consistently never lacking effort. 
"I am very fortunate to have the opportunity to train at a completely new and higher level of basketball and to be able to learn off of some of the best guards in Australia like Shyla [Heal], Tiana [Mangakahia] and Vanessa [Panousis].
"I believe having the opportunity to be surrounded by such high-quality teammates and coaching will help develop my mentality on the floor and develop my game overall to a whole new level."