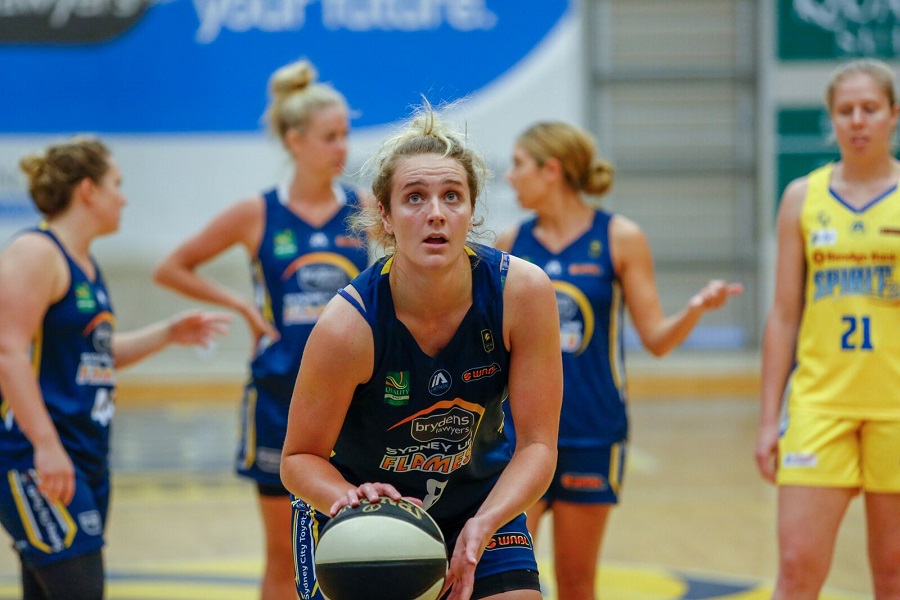 June 29, 2018 | Sydney Flames news
By Susannah Walmsley
Victorian born and raised, Shanae Greaves joined the Brydens Sydney Uni Flames for the 2016/17 season, following three years close to home with the Deakin Melbourne Boomers. With more than 100 WNBL games and a Championship now under her belt, the energetic forward has re-signed with the Flames for the upcoming season.  I sat down with the Shanae to discuss her move to the East and how she has integrated her academic and work life with her basketball career.
This upcoming season will be your third with the Flames, what do you enjoy most about living in Sydney?
I initially looked at my move as a short term adventure but it wasn't hard to become comfortable in Sydney. When moving to a different city, we are lucky to have instant friends through basketball. I love the club and the people I have met through the Flames, as well as the wider Sydney Uni Sport & Fitness community. Another huge plus for me is living so close to the water- I've always loved the beach.
What has been the hardest part about living away from home?
I think the obvious answer here is family and friends. But, the real bonus is that Melbourne is only a short plane trip away and I'm able to get home pretty often. Not to mention Mum and Dad love any excuse to come up to Sydney for a visit!
In the WNBL off season you have been playing SEABL and were a member of the Sydney Uni Sparks inaugural SEABL program last year. With minimal changes to the roster, how is the team going this year?
The Sparks really ended on a high last season having made finals in our first year. But going into this season, I was very conscious that the calibre of players in SEABL had really stepped up a notch.
With that in mind, I think we are still doing really well despite our inconsistency so far. We've shown that we are capable of taking on top teams such as Nunawading and everybody is showing improvement with a different player stepping up each week.
You did some work with Charity Bounce this year. Tell me a little about the organisation and what your role entailed?
Charity bounce is an organisation that uses basketball to connect with young people in the community and help them to overcome disadvantage with a focus on employment and education. I was really fortunate to coach the Charity Bounce Stand Tall All Stars team each day during the school holidays. At the end of the period, the team participated in a tournament against some of the top schools in Sydney and were really competitive, showing huge signs of improvement. We also took the girls for a tour of Sydney University and played a friendly practice match against the under 14 Sydney Comets team, after which the girls watched our very own Sparks game.
What was the best part about working with Charity Bounce?
It was very fulfilling to watch the girls' basketball improve over the course of the two weeks. But, the best part was developing relationships with each of the girls and learning their unique stories. Helping these kids to reach their full potential is something that I'm really passionate about and I hope to stay involved with the great work that Charity Bounce does in the future.
You also completed your University degree earlier this year. What did you study and why did you choose this area of study?
After many years of juggling basketball, work and study, I have finally received my Bachelor of Human Sciences. In the future, I hope to work in a role that allows me to make a difference in the lives of disadvantaged individuals and communities and I'm really excited to see what opportunities come up along the way.
Catch  Shanae and the Flames in action this upcoming WNBL season by securing your early bird memberships HERE!