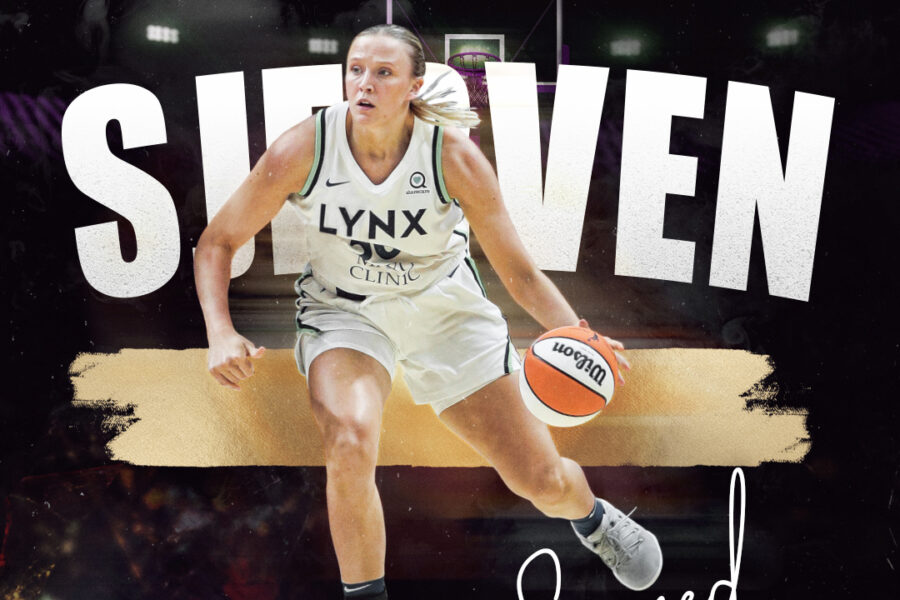 June 17, 2022 | Sydney Flames news
The Sydney Flames have secured a key piece of their WNBL 2022-23 campaign with the signing of former South Dakota college star and WNBA Minnesota Lynx WNBA draftee Hannah Sjerven. 
It will be the first full professional contract for the 24-year-old, 191 cm import forward/centre. 
After finishing a stellar college career, Sjerven was picked at 28th by the Lynx in the WNBA Draft. She was released in the pre-season but then played three WNBA games in the regular season on a hardship contract with the Lynx. 
Speaking from the US, Sjerven said she was excited to fully launch her professional career in Australia with the Flames. 
"My agent was looking at opportunities in Spain and Italy and I couldn't see myself playing there, but then he mentioned Australia and Sydney," Sjerven said. 
"Sydney is somewhere I've always wanted to go, so to be able to come there and play for a high-level basketball team is exciting. 
"When the idea of playing in the WNBL came up I actually spoke to a few of the Dallas Wings girls who had played in the league and I know it's a highly competitive league with some of the best competition you can get. 
"I'm really excited for that and to have Shane Heal as my coach to develop under him." 
Sjerven acknowledges the strength in her game is as a traditional post-up player, but adding some versatility to her game under one of the great shooters of all-time in international basketball in Heal was particularly appealing. 
"I have length and speed, am good with my back to the basket, but I want to become more versatile with perimeter shooting  
"In my last year of college I become a better three-point shooter. 
"But I'm coming to Australia to provide the Flames with whatever I can to help them win. 
"I'm not someone who loses well and my first focus will be competitiveness and helping my team-mates get some wins." 
Sjerven joins Opals stars Shyla Heal and Keely Froling, Defensive Player of the Year Kalani Purcell, Kiera Rowe, and new signings Tiana Mangakahia and Emma Clarke on the Flames roster. 
"We are excited to announce Hannah as one of our two imports this season," Flames coach Shane Heal said.  
"She is a very tough and mobile five that will fit our style of play. Hannah plays with a high IQ and she will be a perfect fit with Keely and Kalani in the front court.  
"Her ability to play out of the pick and roll in both offence and defence will make our team better. We pride ourselves on being a great defensive team and Hannah certainly helps bolster that.  
"We have a built a young and exciting team for next season, with a toughness and mobility that will be fun to coach and fun for fans to watch." 
As a star with the South Dakota Coyotes, Sjerven was a three-time Summit League Defensive Player of the Year, the 2021 Summit League Player of the Year and the 2019 Summit League Sixth Woman of the Year. 
Sjerven qualified for four-straight NCAA Tournaments as a member of the Coyotes and ended her career with a run to the Sweet 16 where she averaged 17.7 points and 6.3 rebounds per game throughout the NCAA tournament. 
Recently engaged to her partner Austin, Sjerven has completed her master's in psychology and plans to complete her doctorate in sports psychology.