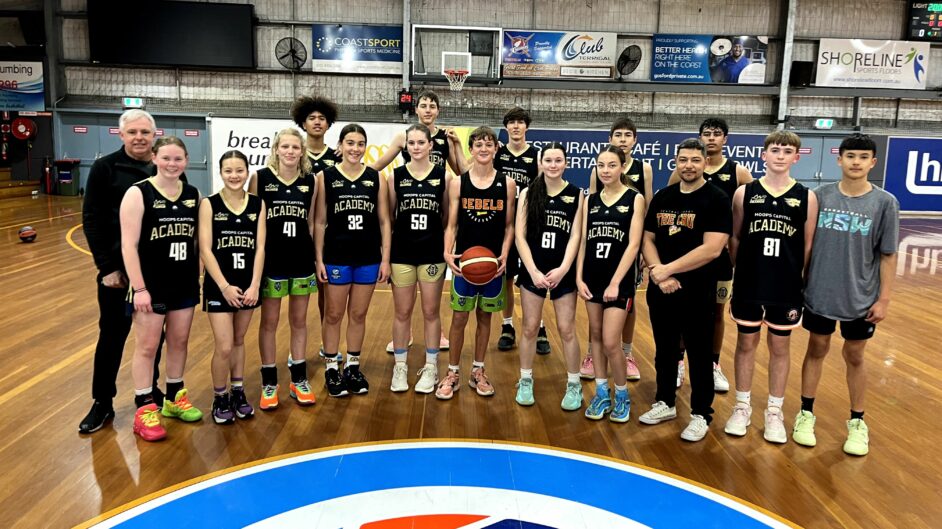 August 24, 2023 | Sydney Flames news
The footprint of Hoops Capital continues to grow following the launch of its elite Next Gen program on the Central Coast.
The program, which will add to Hoops Capital's reach all across the Greater Sydney region, will allow talented junior players to learn from elite coaches and follow in the footsteps of their heroes with the Sydney Flames and Kings.
This connection and opportunity all stemmed from Hoops Capital Academy director Will Granger's connection to the area and his identification of the potential benefits for both sides of their program.
BECOME A FLAMES WNBL24 MEMBER TODAY 
"Will Granger, who has been a very valued member of Central Coast Basketball, as both a player and coach, saw an opportunity to build something here on the Central Coast," said Central Coast Basketball's representative coordinator Killi Akamarmoi.
"Will has a long and successful history with the Rebels' program, and he was able to sit down with our GM Matthew Tredrea and president Kellie Hassab and put a plan in motion that will not only develop future generations of basketballers on the Central Coast but also create a pathway for our players.
"Partnerships like these are an integral part of sports – creating opportunities for small market associations like ours is invaluable.
"It gives, these young basketballers the opportunity for further elite development and train like the pros.
"The Kings and the Flames have a huge fan base within the Central Coast Basketball community and any chance to have the opportunity to have an insight into how some of the high-level professionals train is a massive bonus for our association."
Listen to @CaylaGeorge22 and grab your Flames membership NOW 👉 https://t.co/M6qw1u6GII#FlameOn pic.twitter.com/gFZM7hIkw7

— Sydney Flames (@TheSydneyFlames) August 11, 2023
While the Central Coast area has produced numerous NBL and WNBL players such as Ian Robilliard, Tim Hudson, Terry Johnson, Larry Davidson, Jared Scoines, James Trustum, Cal Jenkins, Matt Kenyon, Jayden Hodgson, Molly Lewis, Jacinta Govind and Muffi Loader, Akamarmoi believes this program will provide the springboard for many more in the coming years.
"This is a great opportunity that gets our athletes in front of high-quality coaches and is the beginning of a solid relationship with Hoops Capital," he said.
"This program will be a stepping stone for our athletes to progress in their basketball careers.
"It will provide them with the tools they need to become the best basketballers they can be, which in turn will benefit our association's level of play in our competitions.
"Hopefully down the line, we can be a direct feeder into the Kings and Flames.
"We have the opportunity to develop a pool of talent that can be a direct link to these professional teams.
"The Central Coast has such a large catchment that hasn't been tapped and we have a lot of talented players that are overlooked because of location even though we are only 30 minutes from Sydney.
"In 10 years, hopefully, this has led to Hoops Capital having a presence on the Central Coast and is the home to that contingent."
READ MORE: SWAIN SELECTED TO MAKE HER SENIOR OPALS DEBUT
Granger hopes the launch of this program on the Central Coast will encourage other associations to follow suit in the future.
"It's an exciting opportunity to be able to identify young, talented athletes who will become the next Sydney Kings and Sydney Flames players," Granger said.
 "We at Hoops Capital Academy have aspirations to offer a clear pathway to roster positions within our professional teams and this program is the first step.
"Central Cost Basketball and Hoops Capital have combined to provide this group of talented boys and girls with the opportunity to engage with Kings and Flames players, coaches and support staff – which is an opportunity not available anywhere else.
"We encourage other associations to enquire about offering the same for their members at the Hoops Capital Academy website."
If your association would like to get involved in Hoops Capital Academy's Next Gen program, please visit here.