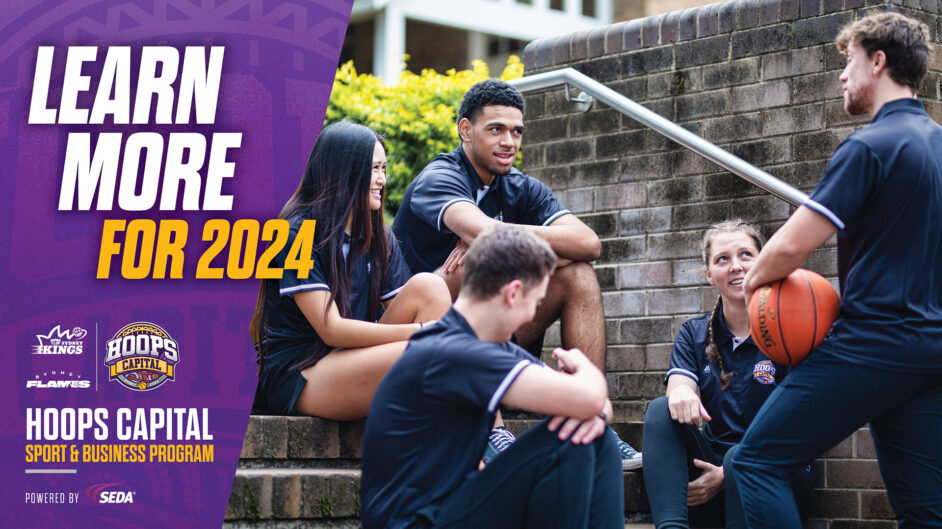 April 27, 2023 | Sydney Flames news
Hoops Capital is excited to announce the launch of its Sport and Business Program, powered by SEDA Group (SEDA), for the year 2024.
The engaging program has been designed to provide students with the opportunity to establish a strong connection and learn first-hand from the elite coaches and players of the Sydney Kings, Sydney Flames and Hoops Capital Academy, while also allowing the Hoops Capital team to deliver value to grassroots clubs, corporate partners and the hoops community.
REGISTER YOUR WNBL24 MEMBERSHIP INTEREST NOW
The dual diploma program comprises both the SIS50321 Diploma of Sport and BSB50120 Diploma of Business and includes specialisations in sport development and coaching.
Running over a 36-week duration, the program delivers inner sanctum experiences with Hoops Capital and unrivalled access to key industry personnel.
Hoops Capital CEO Sean Nicholls is proud to launch this one-year program with SEDA.
"SEDA are leaders in applied learning opportunities in the sports industry and we are very excited to be partnering with them on such a unique opportunity for students of the community," Nicholls said.
"As an organisation that dares to be different and looks to break the mould, Hoops Capital is committed to making an impact on the educational journey of students with an interest in a career in sport and business.
"The launch of this program provides post-secondary students with the opportunity to study in a practical environment in close proximity to Hoops Capital, based at Sydney Olympic Park, learn from experts within the industry and work on projects strategically aligned to our objectives.
"I encourage all students to explore this program and am confident it can help you to develop the necessary skills and attributes for a successful future in the sports business industry."
READ MORE: HOOPS CAPITAL EAST HOSTS FIRST ACADEMY CAMPS
Graduates of the Hoops Capital Sport and Business Program can gain direct entry* into a range of courses with leading tertiary education providers and in some cases, graduates will also receive credit points toward the number of units or subjects a student is required to complete in a course.
Please go to seda.edu.au/pathways to learn more.
Click here to register for a free information session with Hoops Capital and SEDA Group.
*Upon successful completion and subject to eligibility. Hoops Capital works in collaboration with SEDA Group RTO: 22503 on marketing and promotional services relating to the recruitment of prospective students for this program.
SEDA Group is responsible for the training and assessment and the issuance of AQF certification documents.