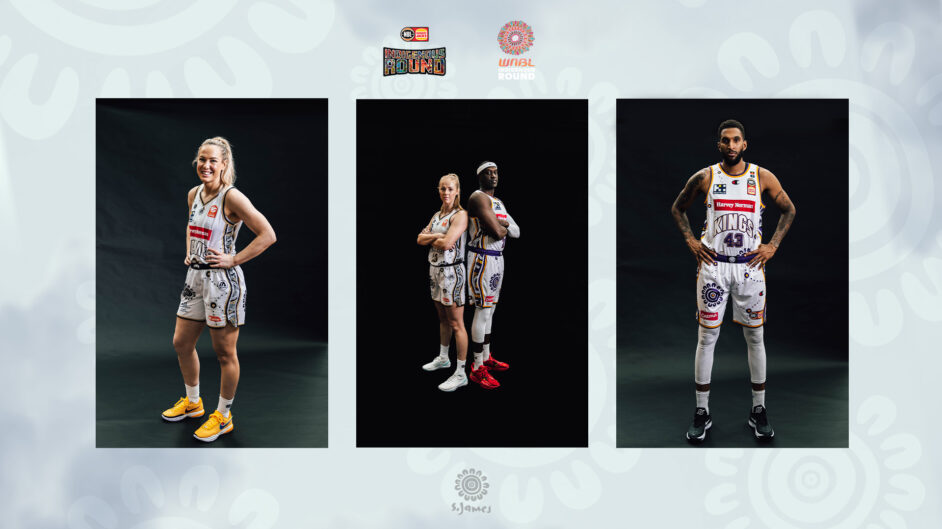 October 25, 2023 | Sydney Flames news
For the third straight season, the Sydney Kings and Flames' Indigenous Round uniforms have been designed by Stewart James – a Wiradjuri Man of the Narrandera Murrumbidgee River People.
While the two designs for the Hoops Capital sides still have a strong connection to the EORA area where they both train and play their matches, the 2023-24 versions are slightly different.
"The main difference you will see in this year's design is the white (jersey) background," James said.
"I wanted to have a strong point of difference each year to the colour of the jersey, while still maintaining the foundations of what the design and meaning of the jersey represent.
"To me, the colours are important and promoting the club colours to highlight the predominantly white jersey was the key focus."
As fans can see, both jerseys are heavily white while incorporating their respective colour schemes (purple and gold for the Kings and black and gold for the Flames) highlighting the unity between the club.
Further to that, James went on to explain how important Indigenous Rounds in the NBL and WNBL are.
"I personally love to see people from our community breakthrough from the hard yards of grassroots sport and then go on represent at a professional level in their chosen field," said James, who will present each of the Kings and Flames with their jerseys ahead of their respective games.
GRAB YOUR TICKETS TO THE KINGS' HOME MATCHES NOW
"The contributions of Aboriginal and Torres Strait Islander people to sport in Australia has a deep-rooted history and celebrating that legacy is important.
"We must acknowledge that many communities have some of the best athletes who had the potential to be great at the highest level, but unfortunately were unable to fulfil their dreams for different reasons.
"The Indigenous Round gives a nod to those people and gives hope and courage to the next generation to go one step further."
During the 2023-24 Indigenous Round, the Kings will wear their uniforms on the road on Friday, November 3 against Illawarra before doing so two days later against New Zealand (from 3.45pm AEDT) at Qudos Bank Arena – which will act as the Hoops Capital annual home celebration of Indigenous culture, with many activations planned.
While the Flames will wear their uniforms for their away season opener against Perth on Friday, November 3 – tipping off at 9.30pm AEDT.