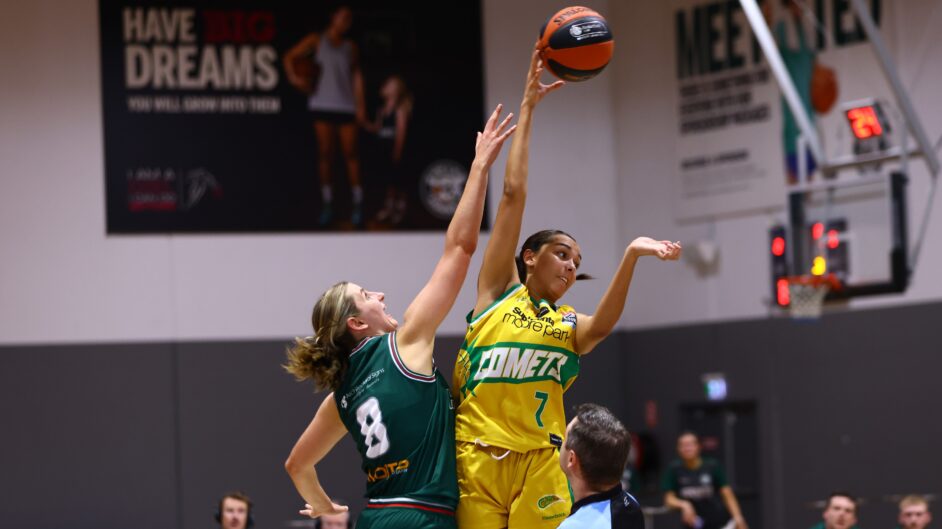 March 20, 2023 | Sydney Flames news
Fresh off strong seasons on the court, the NBL23 championship-winning Sydney Kings and the Sydney Flames, have quickly shifted their focus to the off-season and plying their trades all around the world.
Firstly closer to home, the NBL1 East competition held its second round of the 2023 season and a number of Hoops Capital athletes hit the hardwood across the weekend.
In his Sydney Comets debut, big man Archie Woodhill eight points, five rebounds and one steal as his side defeated Hills 70-64 at the Hills Basketball Stadium.
While earlier in the day, at the same venue, Sydney Flames guard Vanessa Panousis dominated for the Comets, to the tune of 32 points, seven rebounds, six assists and two steals, as her side smashed the Hornets 72-41.
View this post on Instagram
Also starring for the Shelley Gorman-coached Comets was Flames' Jada Crawshaw, who tallied 15 points and 11 boards in the victory.
Next up for the Comets, who are both 2-0 this season, are home matches against Hornsby on Saturday, with the women tipping off at 5.30pm and men at 7.30pm – with the latter to be without Kings' Iggy Mitchell all season due to a knee injury.
Across town and Flames' Emma Donnelly added two points and three rebounds as Norths downed Bankstown.
Next up for the 1-1 Bears is a trip to the Maitland Federation Centre to take on the Mustangs from 1pm Sunday.
Heading overseas now and in case you missed it, Kings superstar Xavier Cooks made his NBA debut with the Washington Wizards on Sunday against Sacramento on Sunday (AEDT).
The NBL23 MVP grabbed two rebounds in his six minutes off the bench, during the Wizards' 132-118 loss to the Kings.
Next up for Cooks and his Wizards is an away game at Orlando, tipping off at 10am (AEDT) March 22.
While Sydney forward Kouat Noi has penned a short-term deal with Isreal's Ironi Kiryat Ata, who next play against Hapoel Gilboa Galil on Tuesday, March 28.
Stay up to date with all of Hoops Capital's off-season news here.