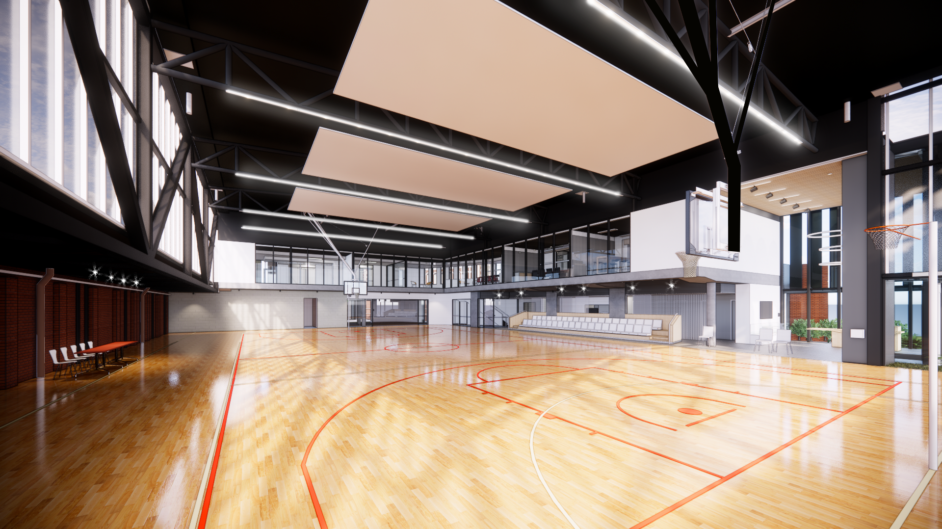 December 1, 2022 | Sydney Flames news
Hoops Capital, a multi-faceted basketball enterprise and owner of the Sydney Kings and Sydney Flames, are pleased to announce a partnership with AFL franchise, the Sydney Swans.
The joint venture agreement will see the establishment of Hoops Capital East alongside the new Sydney Swans HQ at the Royal Hall of Industries.
The iconic Royal Hall of Industries will provide world-class training and administration base for the Sydney Swans men's and women's teams and the QBE Sydney Swans Academy.
An adjoining international standard basketball and the multi-purpose court will enable Hoops Capital to deliver on grassroots development right through to the elite level of the sport, with a particular focus on female participation and pathways. 
CLICK HERE TO GET YOUR FLAMES MEMBERSHIP
The basketball court provides a much-needed facility for the local area and will be available for community bookings, with school and sporting groups already expressing interest.
Sydney Swans CEO Drew Arthurson said the partnership would see a crossover of some of Sydney's premier sporting teams.
"We're thrilled to be working with Hoops Capital, and in turn the Sydney Kings and the Flames, to deliver a flagship sporting hub in Sydney's east," Arthurson said. 
"Sydney Swans HQ includes an indoor training field that will enable our club to deliver new community programs, as well as provide elite facilities for the young athletes coming through our QBE Sydney Swans Academy. 
"The adjoining basketball court will be a showpiece for basketball in Sydney's east and an elite facility that is available to the whole community.
"We will also work with Hoops Capital on ways to deliver joint benefits to our members."
Hoops Capital chairman and co-owner Paul Smith echoed the thoughts of his counterpart Arthurson.
"This is the first step to a multifaceted partnership with the Swans. As part of this, we look forward to a collaborative approach across performance, coaching and commercial to the benefit of both partners," Smith said.
"Fans of the Swans, Kings and Flames are set to benefit from the new partnership, with discussions already underway on adding value to memberships. 
"We are proud of the relationship we have established with the Sydney Swans, and we acknowledge the efforts of the Swans and their foresight in including basketball as a key component in this world-class development.
"The Sydney Kings and the Sydney Flames will continue to train at their respective facilities in Auburn, NSW.
"Both teams will use Hoops Capital East throughout their seasons when scheduling requires."
The NSW Government has provided $20 million towards the construction of Sydney Swans HQ and NSW minister for sport Alister Henskens welcomed Hoops Capital to the high-performance facility, which will support the development of promising young and elite Australian Rules players and basketballers.
"Featuring training, education and administration facilities, this centre of excellence will be world-class and ensure the Swans, Kings and Flames continue to challenge for premierships," Henskens said.
To further its commitment to grassroots participation, Hoops Capital will also open Hoops Park EQ, which comprises four street courts at the Entertainment Quarter opposite the Royal Hall of Industries, to provide outdoor hoops facilities for community use.
The new sporting hub at the Royal Hall of Industries is due for completion early in 2023.
To learn about ways to contribute to the project, visit: sydneyswansfoundation.org.au