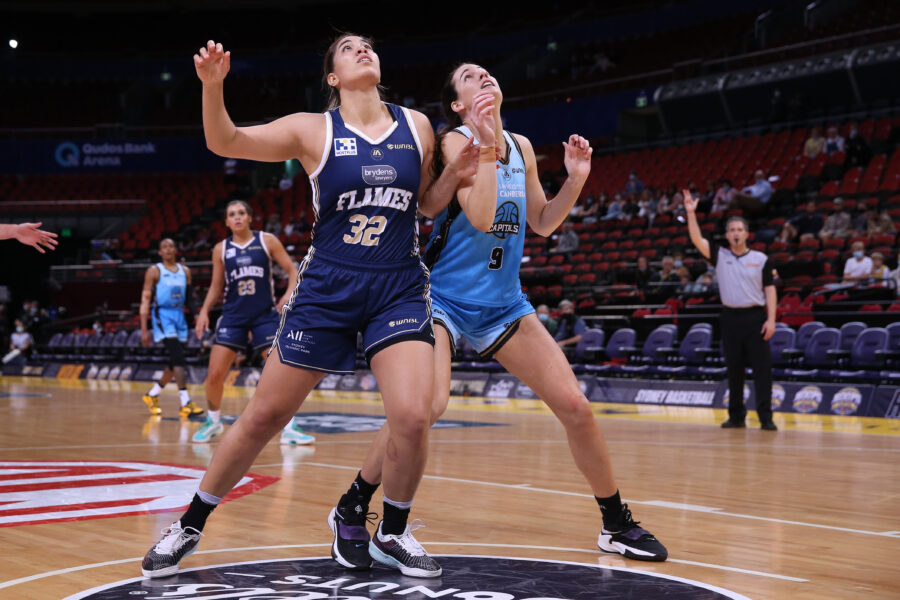 February 22, 2022 | Sydney Flames news
Flames forward Kalani Purcell has been an underrated star on the defensive end this season.
Playing alongside Keely Froling, Purcell has been the stout defender the Flames have needed to defend the ring and grab rebounds.
The Tall Fern is one of the most important pieces to this Brydens Sydney Uni Flames core.
In her last game Purcell had eight points, 16 rebounds, six assists and three steals in a tough loss to her former team the Melbourne Boomers.
Purcell spoke with Flames media this week about her mindset on the defensive end.
"I think being really disruptive and making the opposition unable to do what they want to do is important," she said.
"Even if that means a deflection or just a boxout, it just makes the other team unable to get into their sets."
Purcell and Froling are the defensive front court of the Flames and have to have an almost telepathic level of communication between each other to protect the basket.
"It's everyone using that help-side defence and being able to trust that your teammates are there on that end which makes it easier," she said.
"Being able to trust your teammates, trusting that they will be able to help in those high-pressure situations."
Her whole basketball career Purcell has been a defensive-minded player.
"You have to adjust to a lot of different coaching and a lot of different styles," she said.
"Being able to put that all into my game at wherever I'm playing at the time, learning to adapt is the key thing for me."
The Flames use Purcell as a defensive stalwart but also as a hub of the offence. She creates plays from her deflections and steals as well as her screens and passes on the offensive end.
"It helps a lot having Shane [Heal] having confidence in me to shoot the ball," she said.
"The opportunities I choose to shoot it are when we've run through the plays a few times and I try to find those gaps where I can score."
Purcell's playmaking has been stellar this season. She is averaging 3.4 assists per game and sets some of the hardest screens in the league. She explained how she takes pride in getting her teammates open.
"I take a lot of pride in my screening. I'm sure some people I play against will agree with me on that," she said.
"By hitting a really hard screen I might get Shyla [Heal] open and then she can move it to the next person. Instead of shooting a good shot (Shyla being open) I like helping the team get a great shot through my playmaking.
"Being able to read the game, both offensively and defensively. Finding those holes to take advantage of is what I try to do most."
Purcell is second in the league in steals per game and third in assists per game for the Flames. Her playmaking on both ends of the court is something Assistant coach Shelley Gorman applauds.
"Her quick hands, she is amazing," Gorman said.
"The way she read the ball and her vision are amazing, her athleticism is great too."
Gorman explained how Purcell's playmaking overall has been something the coaches have leaned on this season.
"Her ability to get deflections and get her hand on the ball all help a lot," she said.
"From her rebounds, Keely and Shyla have been running really well and that helps us create those fast break opportunities."
Kalani Purcell and the Brydens Sydney Uni Flames will play back at Brydens Stadium on Saturday, February 26th at 7.30pm. If you haven't already, get your tickets here.