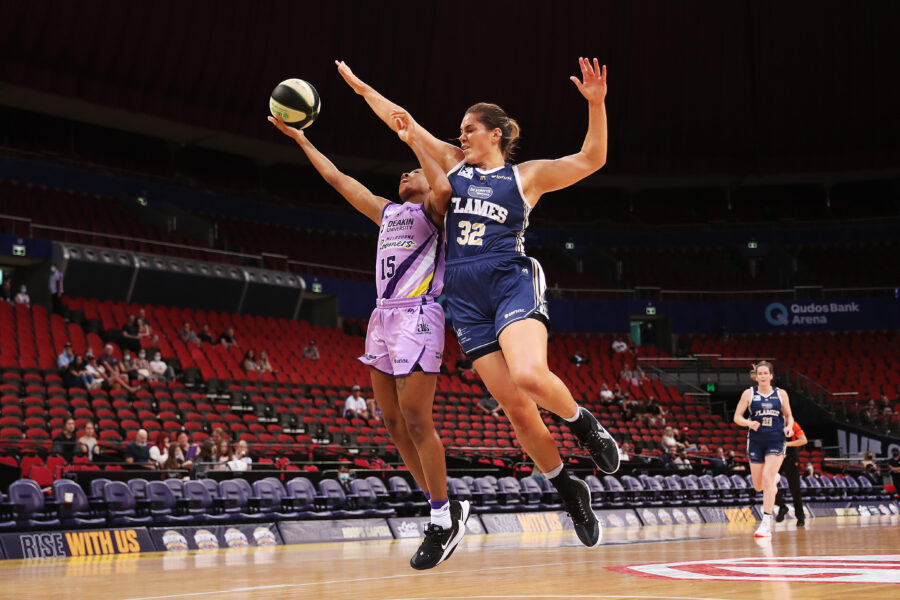 April 29, 2022 | Sydney Flames news
The Brydens Sydney Uni Flames are pleased to announce the club's Defensive Player of the Year Kalani Purcell has signed for her second season. 
The 27-year-old had an outstanding 2021-22 WNBL season with the Flames, earning a nomination for the league's defensive player of the year and leading the WNBL in steals with 2.9 a game. Purcell was also the Flames' leading rebounder with over nine rebounds per game. 
Together with Shyla Heal and Kiera Rowe, who are already under contract for next season, Purcell will form a key foundation piece for the Flames with more signings to be announced soon. 
"I'm so happy to have Kalani as part of our foundations for this Flames roster," Flames coach Shane Heal said. 
"Her improvement last season was incredible.  
"Kalani really is one of the best defenders in the WNBL and she will play a significant role as we look to get back to the playoffs for the first time in six years." 
For Purcell, who is in Queensland preparing for the start of the NBL1 season this weekend with the Southern District Spartans, re-signing with the Flames was an easy decision. 
"It was an easy decision for me," Purcell said. 
"I had a really good season and Shane helped me a lot, so it was a 'no brainer'. 
"Going into the past two seasons in the WNBL I'd not improved, and Shane and I talked about that from the beginning. He really challenged me, I accepted the challenge and had a good season." 
Having paved the foundation with the new-look Flames last season, Purcell is expecting bigger things for her side in the 2022-23 WNBL season. 
"Getting in some good imports will benefit us," Purcell said. 
"Considering we played much of the year without imports we were very close to winning in almost all of our games and that would certainly help push us over the line next season." 
It has already been a big off season for the Tall Fern, recently becoming engaged to her beau and Brisbane Bullets centre Tyrell Harrison.