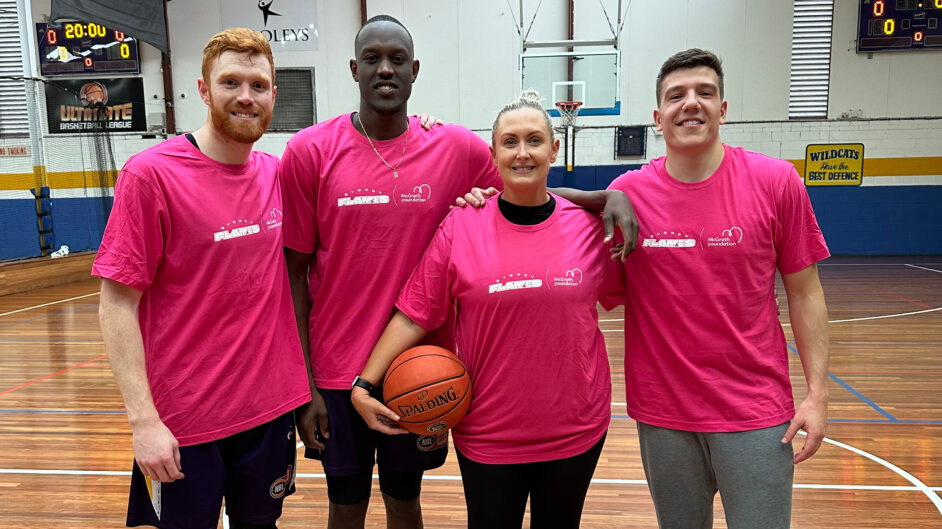 February 23, 2023 | Sydney Flames news
The Sydney Kings will throw their support behind fellow Hoops Capital club, the Sydney Flames, on Friday, by attending the latter's first-ever Pink Game.
A number of Kings players, who are currently preparing for their Championship Grand Final Series against New Zealand, will be present at Quaycentre for the clash with Adelaide – while wearing the special pink shirts in support of The McGrath Foundation.
DONATE TO THE MCGRATH FOUNDATION NOW
Harbour city stars Justin Simon, Tim Soares and Angus Glover will also be available to sign autographs for fans during half-time of the round 15 showdown with the Lightning – who the Flames defeated 81-77 in their last encounter on January 12.
"It's great to have Kings players Justin, Tim and Angus all commit to attending Friday's Pink Game for the Flames," Hoops Capital CEO Sean Nicholls said.
"It really highlights our two teams, one club mantra, with players from both sides regularly supporting one another this season – as shown by our successful first combined Hoops Capital awards night on Tuesday.
CLICK HERE TO GET YOUR FLAMES TICKETS NOW
"The whole club is really excited about this initiative and full credit to Victoria [Denholm], Tiana [Mangakahia] and many others for getting this off the ground and hope to build on for years to come."
Tickets to the game are still available here, with fans able to donate to The McGrath Foundation here.