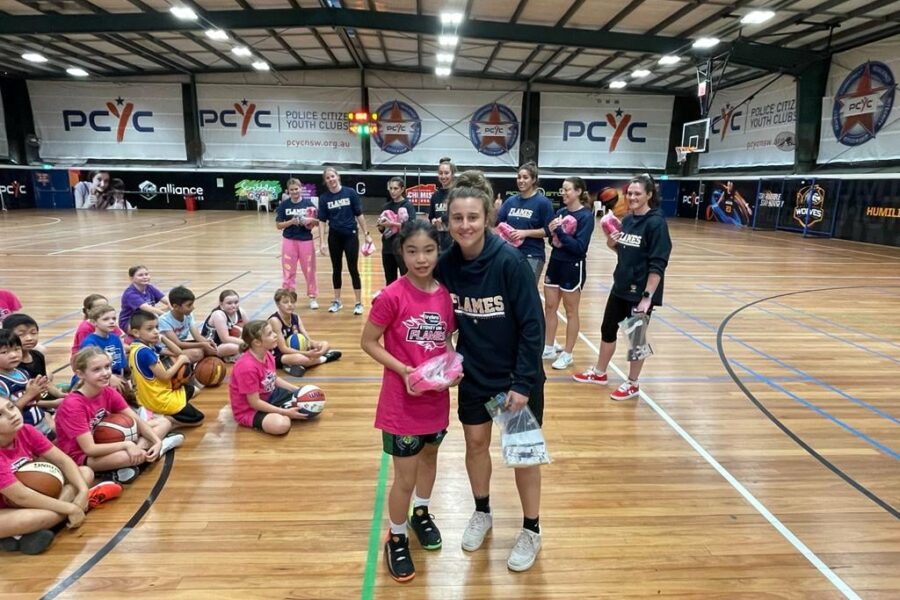 April 12, 2022 | Sydney Flames news
Brydens Sydney Uni Flames co-captain Lauren Mansfield says getting back into the community and inspiring young female basketball players was one of the highlights of her season.
With the pandemic, most if not all community-based programs were postponed or limited making those essential face-to-face interactions and experiences for young children extremely difficult.
The Community Blitz is a Brydens Community initiative that enabled Flames players to be role models in the community and work with local associations to encourage more women and girls to play basketball.
This took place over a two-week period dubbed the "Blitz" which was a major success in getting the Flames into the local communities.
Mansfield reflected on the Blitz and how getting back into the community and connect with young girls was something she really missed.
"(I really missed) being able to connect with young girls," she said.
"Getting to know them on a more personal level, get to know them a bit. Having real and honest conversations with them, the connection was great."
She said the program was really rewarding, not only for her but the entire playing group.
"It was really rewarding to just get out there and inspire young girls," she said.
"You can think about it as 'ah I have a clinic today', but it's actually so rewarding, and I feel so much happier after those clinics.
"Being able to influence them in a positive way, I always come out of those camps just feeling a little more purposeful. It definitely helps me mentally."
Flames star Shyla Heal received a letter from a girl named Nikola, who wrote that Heal has been an inspiration to her on and off the court.
View this post on Instagram
(Shown on the third slide on Heal's Instagram post) 
Mansfield says she hasn't done a proper community-based event for over a year, but she hosted some clinics in Queensland with her NBL1 North Gold Coast Basketball team last season.
She said those were current, active players and stressed how important it was to interact with young girls who weren't already in basketball circles.
"It had been a long time since I have been in the community," she said.
"I absolutely missed going into communities and schools. I think it's really important because we have such an impact on them."
She explained how much having the Adelaide 36ers visit her school when she was growing up greatly impacted her young life. That was a professional men's team that truly impacted Mansfield's view on basketball as a career, but now girls have WNBL teams who can visit them — showing them examples of females and males performing at a high level.
Our Flames playing group went all around NSW during our Community Blitz, showing what females can do in a professional basketball setting.
Mansfield explained what it meant to her to experience it and now pass it forward.
"We had the 36ers visit our school once, and it impacted me so greatly," she said.
"It's something I still remember, so I think it's important to have women to look up to. Just being able to see women doing it, being able to see women playing professional basketball as a legitimate pathway."
To keep up to date with where our Flames are in the off-season, click here to see what NBL1 teams they are playing for.