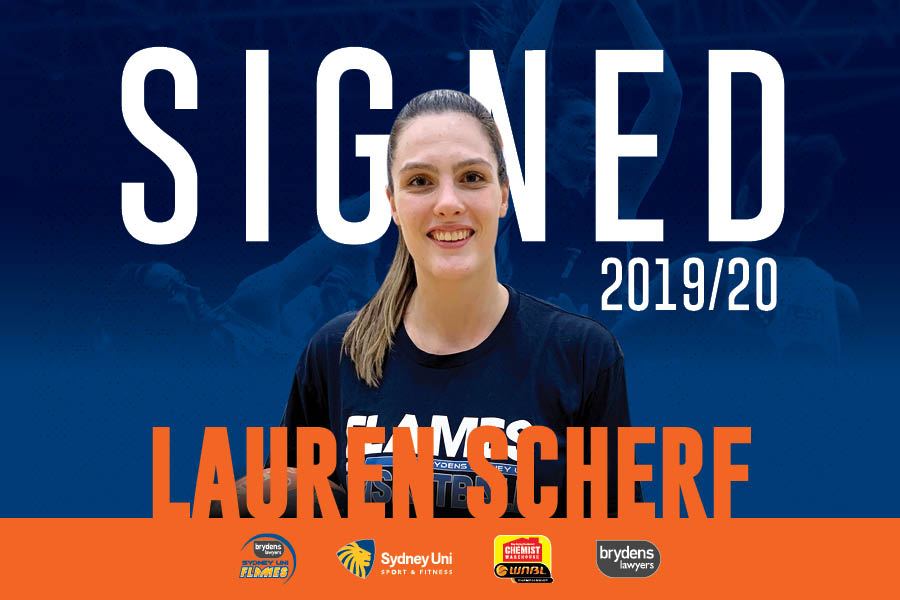 May 10, 2019 | Sydney Flames news
Brydens Sydney Uni Flames are delighted to welcome Lauren Scherf for the 2019-20 season.
Coming off a WNBL Championship with the UC Capitals where she averaged 7.46 points and 5.73 boards per game, Scherf says she's looking forward to joining the Sydney-based program this year.
"I'm excited to play for the Flames and to be playing under Katrina Hibbert who I think is a great coach," she said.
"I'm delighted to have this opportunity to further my career and to develop and achieve a higher skill level to help Sydney bring home another WNBL championship."
Scherf also expressed her enthusiasm to play alongside a talented group, including the returning Alex Wilson, Tahlia Tupaea, Lara McSpadden and Britt Smart.
Coach Katrina Hibbert is also happy with her team's latest player signing as she looks to build a competitive roster in her first year at the helm.
"We're lucky to have Lauren joining us at the Flames," Hibbert said.
"She is looking to establish herself as a powerhouse centre and I'm excited to see her do that with us for the next two seasons."
"Lauren is also a very well established and respected player in the WNBL who has risen through the Australian junior ranks to now being an Opals squad member," Hibbert added.
Scherf was one of 14 players to be selected in the final Australian Opals squad ahead of the FIBA Asia Cup and Olympic Games qualifiers.
She also has a long history playing in the national league, earning the title of WNBL Rookie of the Year (2015) after debuting as a 17-year-old with the Dandenong Rangers, before two seasons with Canberra, culminating in a championship.
Join us in welcoming Lauren to the Flames.