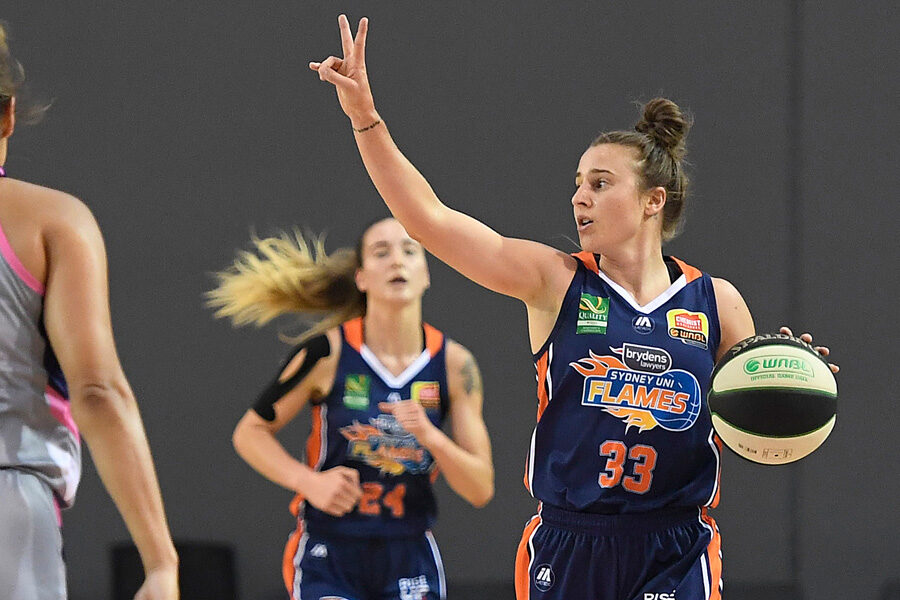 December 13, 2020 | Sydney Flames news
Match report via wnbl.basketball
Lauren Mansfield finished the 2020 Chemist Warehouse WNBL season on fire and the Brydens Sydney Uni Flames closed it out with impressive momentum too after an 86-60 victory over the Adelaide Lightning to finish in fifth spot.
Both teams had appeared good enough to compete with the top teams at times throughout the 2020 season, but on Sunday it was all the Flames who ensured they finish having won three of their last four – with the one loss, a narrow one to the Southside Flyers.
The 26-point win was on the back of a huge game from point guard Lauren Mansfield too. She got the Flames rolling early with a couple of early threes on the way to four for the half and 17 points.
She didn't let up, ending the evening with 31 points and four assists while hitting 5/10 from beyond the arc to end on a high note and ensure Sydney Uni did too as a team.
It was also an impressive defensive showing from the Flames as they forced the Lightning into 20 turnovers from which they scored 21 points. They also won the rebound battle by seven and scored 24 second-chance points from 15 offensive boards.
Ali Schwagmeyer-Belger was a strong leader all season for Sydney Uni and finished off with 16 points, seven rebounds and four steals while Anneli Maley dominated the glass again for 15 rebounds to go with seven points.
Lauren Scherf added 11 points and seven rebounds, and Nat Burton seven points with a purple patch in the third quarter.
"A couple of games got away from us so we knew were just there and I was proud of the girls to bounce back from the Southside loss," said coach Katrina Hibbert.
"That was a disappointment to not get that upset but we wanted to finish the right way and the girls were fantastic to finish it out and win by 26."
The Flames started on fire with two early Mansfield threes putting them up 10-2 but Wilson fired back for the Lightning and had the margin just three by quarter-time.
Sydney threatened again to open up a gap in the second term leading by 10, and despite the best efforts of Whittle and Talbot, 17 points in the half from Mansfield had the Flames up 39-28 at the half.
The Lightning were just keeping in touch by three-quarter-time down 11 and then back within nine when Talbot hit a three early in the fourth. But it was all Sydney Uni from there including a 9-0 run capped with a Schwagmeyer-Belger three to make the margin 21.
Mansfield added another late to make it 22 and then Scherf did the same to make it 25, and Sydney ended their season with the 26-point win.
Brydens Sydney Uni Flames – 86 (Mansfield 31, Schwagmeyer-Belger 16, Scherf 11)
Adelaide Lightning – 60 (Talbot 22, Wilson 12, Wehrung 8)