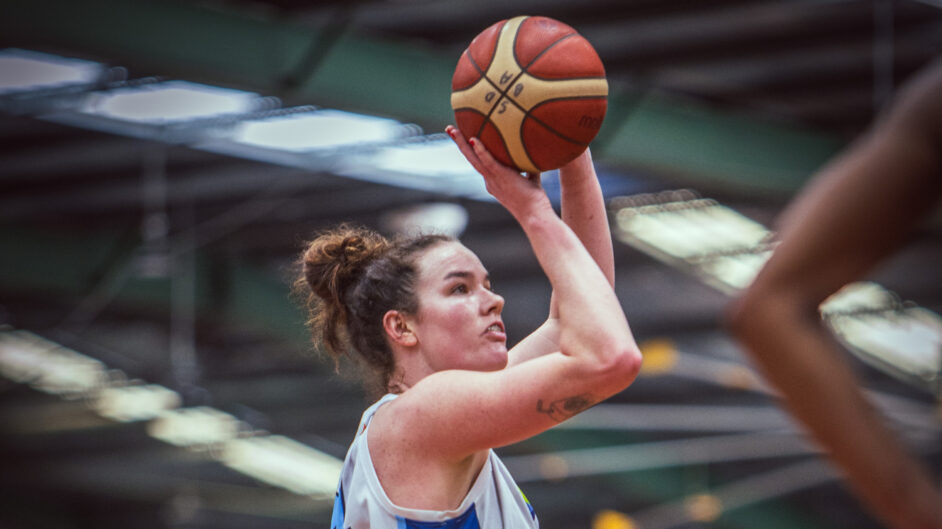 July 3, 2023 | Sydney Flames news
Sydney Flames recruit Lara McSpadden powered Rockhampton to two impressive road wins against Townsville (67-47) and Cairns (91-60) at the weekend.
Across those triumphs, the NSW junior averaged 19 points, 11.5 rebounds, 1.5 assists, 1.5 blocks and 0.5 steals.
The Cyclones, who sit in third with a 12-5 record, next face North Gold Coast.
In those fixtures, Indiah Bowyer had 11 points, two steals and one rebound for Townsville and  Shaneice Swain put up 10 points, three dimes, two rebounds and one steal for Cairns.
The Dolphins and Flames respectively play Northside on Friday and Saturday next round.
The final Sydney star to take the court over the weekend was Lilly Rotunno, who helped Red City chalk up their first win of the season 81-68 against Darwin.
In the victory, Rotunno had 12 points, 10 rebounds, six assists and three steals.
The Roar will look to build on this breakthrough win against Gold Coast.
BECOME A FLAMES WNBL24 MEMBER TODAY
To Western Australia and after missing Perry Lakes' fixture with Willeton on Friday, Flames' Emma Clarke added 10 points, 10 boards and two assists as the Hawks downed the Suns 92-79.
A trip to Rockingham next awaits Clarke's troops.
To NSW and Sydney, featuring Vanessa Panousis and Jada Crawshaw, lost all three games over the weekend, going down to Centre of Excellence (87-77), Newcastle (71-50) and Albury (81-79).
Panousis, who only played in the first game, added 26 points, six assists, four rebounds and two steals, while Crawshaw averaged 19.66 points, 10 boards, three blocks, 1.66 dimes and 1.33 steals across the three fixtures.
Sydney takes on Bankstown on Friday.
Emma Donnelly and her Norths Bears split their matches against Albury (winning 70-57) and Newcastle (losing 77-74) – with the young gun adding 13 points across the two games.
The Bears play Inner West on Friday.
While Rachel Maenpaa (six points, two boards, one assist and one block) helped Central Coast defeat Hills 73-47 – with the Crusaders next playing Bankstown and Inner West Bulls.
Finally, Kiera Rowe's Knox lost 57-55 to Launceston, despite 10 points, 10 rebounds and one steal by the Flames forward.
The Raiders will look to rebounds against Diamond Valley and Dandenong in round 13.
Shifting to the Kings' part of the Hoops Capital wrap and the amazing NBL1 North season shows no signs of slowing down for reigning MVP Kouat Noi, who steered his USC Rip City outfit to another commanding win.
The Kings' forward double-doubled (22 points and 11 rebounds) to go along with two assists and two steals, in the 87-78 victory against Mackay.
Noi is now averaging 34.75 points and 8.5 boards across his past four matches – a span in which USC has gone 3-1.
Next up for last year's NBL1 North grand finalists is South West Metro.
READ MORE: FLAMES PAIR POWER OPALS TO FIBA SIA CUP BRONZE MEDAL
Elsewhere in NBL1 North, Shaun Bruce and his Logan Thunder returned to the winner's circle by downing Darwin 97-75.
In the victory, two-time NBL champion Bruce added 12 points, six dimes, five boards and two steals for Logan – who take on the Pirates in round 15.
While in the defeat, Makuach Maluach had 18 points, six rebounds, four assists and one steal.
This loss by Darwin was just one of the three road fixtures they played across the weekend, which also included a win against Red City 117-93 (where Maluach had 22 points, 10 rebounds, five dimes and one steal) and a loss to a Jaylin Galloway-less Ipswich 106-105 (27 points, 10 boards, five assists, one steal and one block).
The Salties host Sunshine Coast on Saturday.
Heading to Victoria and Angus Glover's Eltham split their double-header in round 12.
The Wildcats first beat Waverley 98-94, thanks to 18 points, nine rebounds and five dimes by Glover.
But Eltham then fell 82-68 to Ballarat, despite 19 points, four assists, two steals and one board by the Kings' wing.
The eight-placed Wildcats next face Kilsyth.
To NBL1 East and Archie Woodhill's Sydney Comets went 1-1 against Newcastle (won 79-74) and Albury-Wodonga (lost 86-74).
Across the two fixtures, Woodhill totalled 30 points, 11 rebounds, two steals and one assist.
The Comets will lock horns with Sydney rivals Bankstown on Friday.
Finishing up the Kings' contingent of the Hoops Capital wrap is Zac Gattorna, who tallied 26 points, six boards, three dimes and two steals in Geraldton's 94-82 victory Mandurah.
Gattorna's Buccaneers face both Lakeside and East Perth next NBL1 West round.
Stay up to date with all the harbour city club's off-season news here.