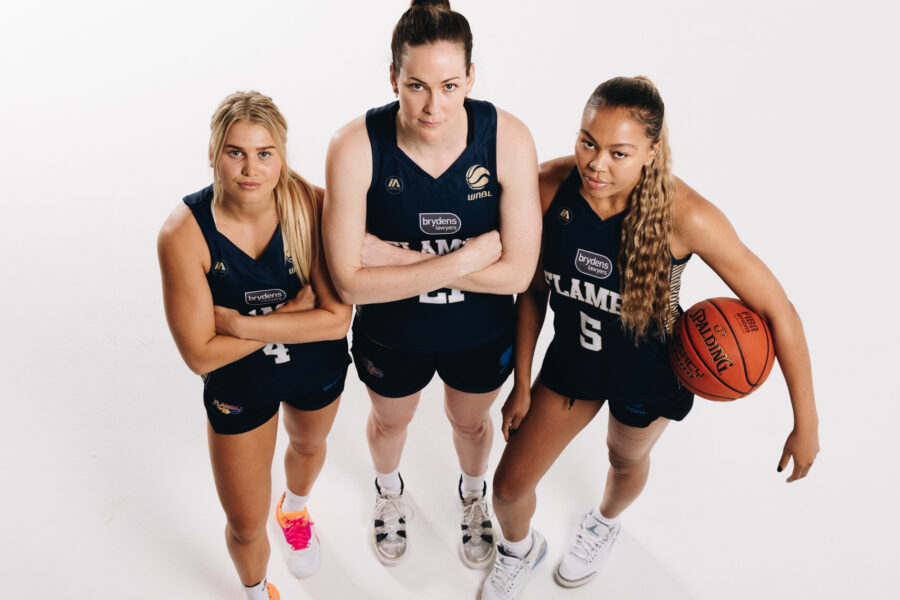 October 29, 2021 | Sydney Flames news
A Message from the owner and chairman of the Brydens Sydney Uni Flames Paul Smith
In September 2022, yes, less than a year from now, Sydney will be the focus of world basketball as our city hosts the FIBA Women's World Cup.   
Every single game will be played at Sydney Olympic Park. The best female basketballers on the planet will be here. 
For decades the Opals have been a force in world basketball, but the sport here domestically has lagged through lack of funding and general profile.  This has to change. 
I describe this tournament as the "light on the hill" for women's basketball in Australia. It's the opportunity to put our women on the stage for Australia to be proud of. 
We promote ourselves as the Hoops Capital in our organisation.  It's a bit of fun but if you are going to talk the talk then you better walk the walk.  If we were serious about growing basketball in Sydney and in New South Wales it was an imperative that we brought Sydney's professional women's basketball team into the Hoops Capital. 
So, in April 2020, yes just when COVID hit, we acquired the Brydens Sydney Uni Flames.  We had ambitious plans that were smashed by COVID.  What was meant to be year of integration became a year of disruption, hubs, frustrations, and disappointments.  
But that is behind us, and for almost six months we have been working toward this point. We have brought together a revamped Sydney Flames structure, playing group and importantly a schedule that sees Your Club and its two teams playing alongside each other. 
I want to acknowledge the efforts of Shane Heal as head coach.  Shane has been a rock through this last six months.  We asked each other a lot of questions as to why we would embark upon this together, but his passion and commitment to see women's basketball gain the prominence it deserves spoke for itself. 
And no one is better qualified to define our "Two Teams, One Club" philosophy than Shane who coached, captained and played for the Kings, but as a proud #GirlDad his focus is firmly on the Flames. 
Shane brought back to our club the legend that is Shelley Gorman, to join his coaching staff, creating a working group with Flames general manager Karen Dalton and Brydens Lawyers Sydney Kings CEO Chris Pongrass and through all this he embarked upon a recruiting drive to bring the best available talent to your club.   A young star by the name of Shyla Heal took a chance on her old man and signed up for the ride. 
Several other emerging and established stars such as import Steph Watts, Opals Asia Cup medallist Keely Froling and New Zealand Tall Fern Kalani Purcell joined in and along with a core group of players from last season we have ourselves a team. 
I know Shane is striving to build a culture of improvement, effort and teamwork.  Every player is being asked the question as to how they can improve and how we can help them improve. We have a young, hard-working group of women that are not going to take a backward step and I know they are going to be easy to support and cheer for. 
This season is our opportunity to build a program that demonstrates the Flames are a club that players from around the world will want to play for and we can enjoy these players emerge into the stars they will be. 
So, the 2022 FIBA Women's World Cup will see Sydney truly be the Hoops Capital.  The growth in interest and awareness will be an important legacy for the Sydney Flames, but more importantly it's the platform for future growth.  
We will truly embrace the Sydney Flames as part of our "Two teams, One Club" philosophy.  The Flames want to embrace you too and need you to support them. Be our vocal advocates in the community for what this club is trying to do. 
It all starts on December 5 at Qudos Bank Arena when both the Sydney Flames and the Sydney Kings kick off their 2021-22 seasons in an exciting double header.  Be there to see what the Hoops Capital is all about. 
Until then, stay safe and well. We can't wait to see you.   
Regards, Paul.
Paul Smith
Chairman and owner of the Flames and Kings