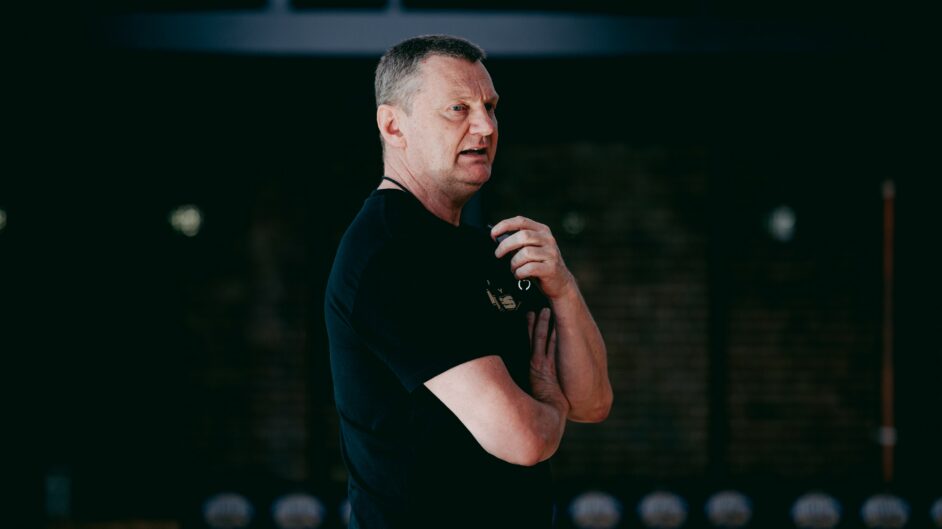 November 3, 2023 | Sydney Flames news
This Friday's clash with the Perth Lynx will represent a new chapter in the basketball journey of Guy Molloy.
After previous stints with Canberra, Perth and Melbourne in the WNBL, the experienced mentor will man the sidelines for the Sydney Flames for the first official time, when they take on the Lynx in round one of the WNBL24 season.
"Round one is always a bit of an unknown, especially when you factor in incorporating a centre-piece player like Cayla George in so late, you never exactly know how your team is travelling but if we do what we do well, I have complete faith in our whole group," said coach Molloy – who has labelled Sydney the 'sleeping giant of women's basketball in Australia'.
"The mood in the group, after a solid training session on Wednesday, is good and everyone is excited to get this thing started on the right note against a Perth side, who is basing their identity around a high-paced, run-and-shoot offence.
"The driver of that of course is their WNBA point guard Aari McDonald, who is a little pocket-rocket. The whole country has seen how dangerous small players like that can be, with Parker Jackson-Cartwright (Breakers) and Jordon Crawford (Tasmania) playing so well in the NBL.
"If we can contain her, keep an eye on their shooters and limit the impact of Anneli Maley on the glass, we should hold ourselves in good stead, because I always say, it's an 80/20 game – 80 per cent concentration on executing what we do and 20 per cent on our opposition."
The Indigenous Round fixture at the Bendat Basketball Centre, from 9.30pm AEDT, will give Flames fans their first chance to look at their revamped squad for the 2023-24 season.
"It's important for us to lay the platform on the defensive end, which can then unlock this talented group on the offensive end," he said.
BECOME A FLAMES WNBL24 MEMBER TODAY 
"When we do get the ball, the focus – like any of my teams – is being disciplined in moving the ball from side to side, while using multiple ball screens and actions, to create the best shot possible for ourselves.
"When we do this, we share the enjoyment with one another, as well five players on the court are involved, which then sees that energy reincorporated on the defensive end – which I'm confident will be the case against Perth."
The fixture will be broadcast live on 9Now.