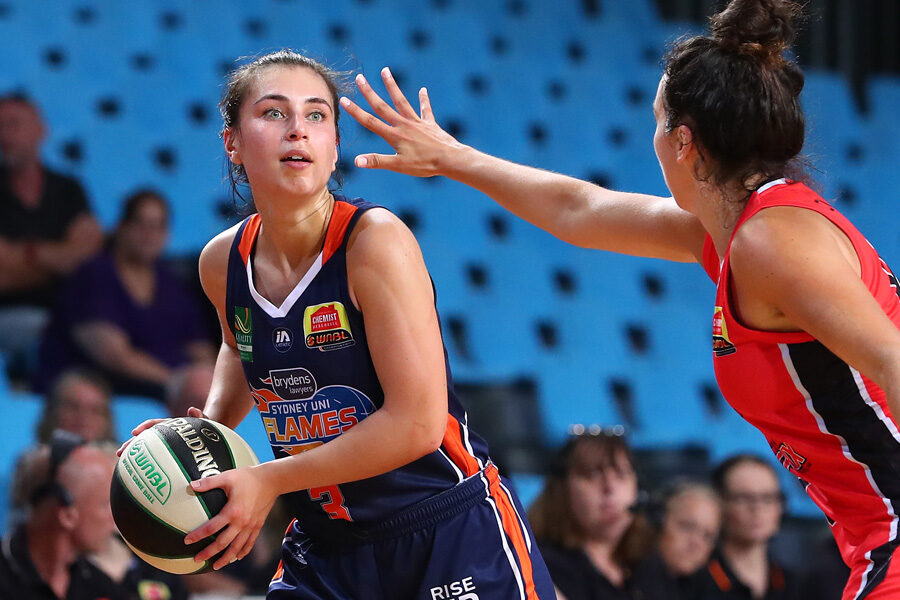 November 23, 2020 | Sydney Flames news
Match report via wnbl.basketball.com
A breakout game from Funda Nakkasoglu and a massive rebounding effort from young forward Anneli Maley have lifted the Brydens Sydney Uni Flames to a crucial 74-67 win over the Perth Lynx on Monday night.
Both teams went into the game with a 1-4 record and desperate for a win.
Sydney snapped a three-game losing streak and never trailed throughout the game, though Perth made them work hard.
Nakkasoglu came off the bench early in the game after Lauren Mansfield collected two quick fouls.
Her speed off the dribble and shooting caused Perth massive headaches and they couldn't find a way to quell the Flames' livewire.
The 25-year old nailed four of her five three-point attempts and she finished with 27 points.
Maley, who has emerged as one of the leading rebounders in the competition, pulled down 20 boards, ten in each half.
Guard Alison Schwagmeyer-Belger added 12 points as did centre Lauren Scherf who also contributed ten rebounds.
"Proving to ourselves that we could get over the line with a win is just big for our confidence and our flow as our group," Maley said.
"Having Funda come out and just be so smooth and so consistent and knowing that if the ball is in her hands, she's going to make something happen. It gets other people open when someone like that is hot."
Perth struggled close to the basket early on, missing on their first nine two-point attempts and taking more than four minutes to make their first field goal, as Sydney surged to an early 19-6 lead.
Lynx trailed by eight at quarter time, seven at the half and two at three-quarter time.
Sydney scored the first eight points of the final quarter, but Perth narrowed the gap to three inside the last three minutes.
That was as close as Lynx got, as Sydney nailed four free throws to close out the game.
The Flames now have a five day break until they face the Adelaide Lightning on Saturday.
Brydens Sydney Uni Flames 74 (F Nakkasoglu 27, A Schwagmeyer-Belger 12, L Scherf 12)
Perth Lynx 67 (D Garbin 22,  K Ebzery 19, A Ciabattoni 10)