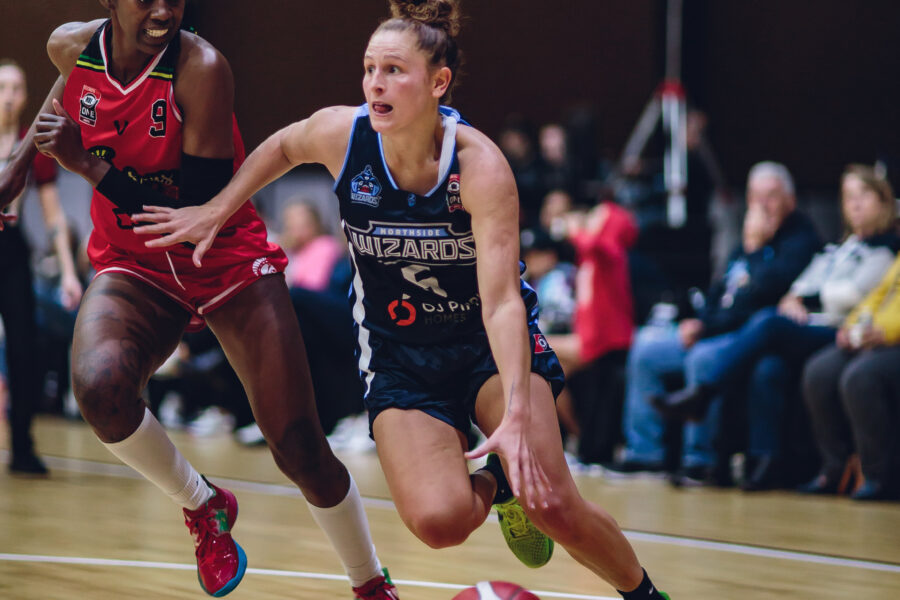 August 11, 2022 | Sydney Flames news
Sydney duo Tiana Mangakahia and Kouat Noi have been acknowledged for their strong NBL1 North seasons by being named the respective women's and men's 2022 Most Valuable Players on Wednesday evening.
Sydney recruit Mangakahia, who joins the Flames from Dynamo Moscow, won the women's top award thanks to posting a league-leading 28.84 points a game, as well as 7.42 dimes, 6.89 boards and 4.21 swipes for her Northside Wizards.
Joining the Syracuse alum in the All Star Five are Brisbane's Abby Cubillo, Townsville's Stephanie Reid, Cairns' Cayla George and Logan's Mikaela Ruef.
"Winning this award means so much to me, especially considering everything I've gone through over the past few years," said Mangakahia, who is in her second season with the Wizards.
"This season was honestly the first year I sort of felt like my old self and how I used to play.
"The award also motivates me to prove that I deserve it when my team take on Brisbane in this weekend's quarter-finals – our whole team are keen to make amends for the last game and know we have the squad that can go all the way.
"Once our season wraps up, I'm really keen to return to the NBL with the Flames and showcase my game to this league.
"I'm particularly excited to learn from Shane [Heal], as I know there's plenty of areas I need to work on and am confident he can help me become the best player I can be."
REGISTER YOUR INTEREST FOR FLAMES MEMBERSHIP HERE
While fellow recruit Noi, who joined from Cairns in the off-season, powered his USC Rip City team to third place on the ladder thanks to averages of 25.88 points (second most in the league), 13 rebounds, 1.65 assists and 1.41 steals in his 13 games.
The NSW product was also named in the All Star Five alongside Gold Coast's Jason Cadee, Logan's Jeremy Kendle, Darwin's Makuach Maluach and Ipswich's Henry Pwono.
"Before the season, I wanted to come in and prove that I still had the skills, mindset and motivation to play at the highest level and this MVP award proves that," said Noi, whose Rip City outfit will take on Darwin in Saturday's quarter-final at the USC Sports Stadium.
"It's an extremely high honour, one I'm proud of – one that might not have happened if not for the amazing USC family, which welcomed me in with open arms from day one and for that, I'll be forever grateful.
"As happy as I am with the season, which isn't over yet, I know there's still plenty left for me to show, especially as my natural position of power forward.
"It just feels as though everything has fallen into place the past few months, with me having fun with my basketball again and I can't wait to keep it going with the Kings."
These two weren't the only Hoops Capital stars recognised on Wednesday, with star Flames guard Shyla Heal being named NBL North's Youth Women's Player of the Year, after tallying 19.14 points, 5.57 rebounds, 2.64 assists and 1.79 steals for her Wizards in 2022.