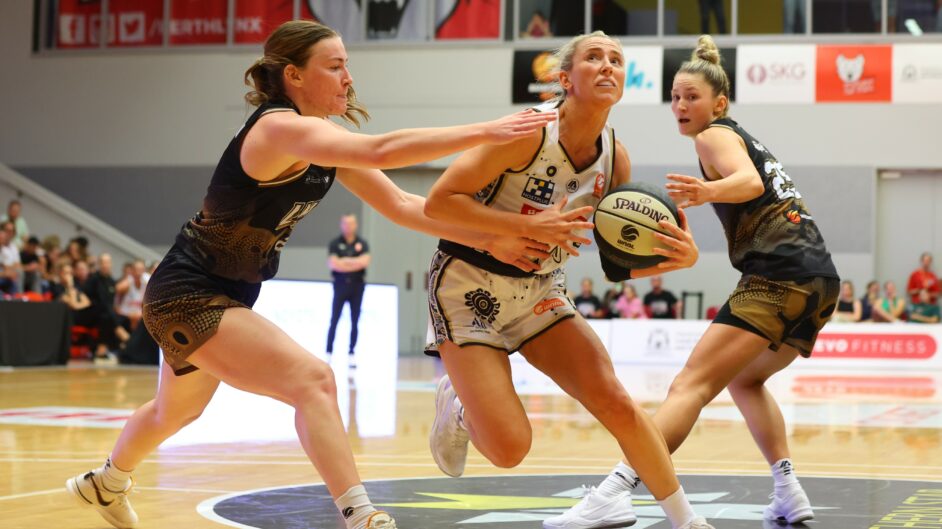 November 8, 2023 | Sydney Flames news
While the Sydney Flames' WNBL24 season didn't tip off as well as they would have liked in round one, the team has taken plenty away from their loss to Perth at the Bendat Basketball Centre.
In particular, guard Lauren Nicholson – who scored a team-high 17 points in defeat – was open about where they let themselves down and what positives they can take from the fixture.
"[Against Perth] we didn't execute well at both ends of the floor," Australian Opal Nicholson said.
"We are still building, so we needed to move on quickly from game one.
"The positives [from the loss] are we know we are much better than that.
"I feel like we are getting better as a group every day at training, so I'm excited to see what our best looks like."
Watch the highlights of Lauren Nicholson's first game back in Flames colours via Sydney Flames' YouTube channel above. While you're there, be sure to hit subscribe, to ensure you never miss out on any of our great videos.
That fixture marked Nicholson's first back in Flames colours since the 2016-17 WNBL season.
"It was a full circle moment and I absolutely loved being back [in Flames colours]," said Flame #132.
"It was a long time coming and I couldn't be happier to be home playing for Sydney again."
Her next chance to wear the Flames colours will be on Friday night when her harbour city side travels to Mildura to take on Bendigo from 7.30pm AEDT.
"[To defeat Bendigo] we need to be locked in on the defensive end because they have some quality players," said the Sutherland Sharks product.
"We also need to believe in our style of play and execute."
The round two fixture, which will also mark Emma Clarke's 50th in the WNBL, can be streamed via 9Now.
READ MORE: TICKETS FOR FLAMES' QUAYCENTRE GAMES NOW ON SALE
Following Friday's game, Nicholson's side will return to Sydney for the first of four Hoops Capital double-headers at Qudos Bank Arena on Sunday.
The Flames will start all the action at 1.30pm against Melbourne before the Kings hit the hardwood against Brisbane at 4pm.
Tickets for the hoops extravaganza are still available here.