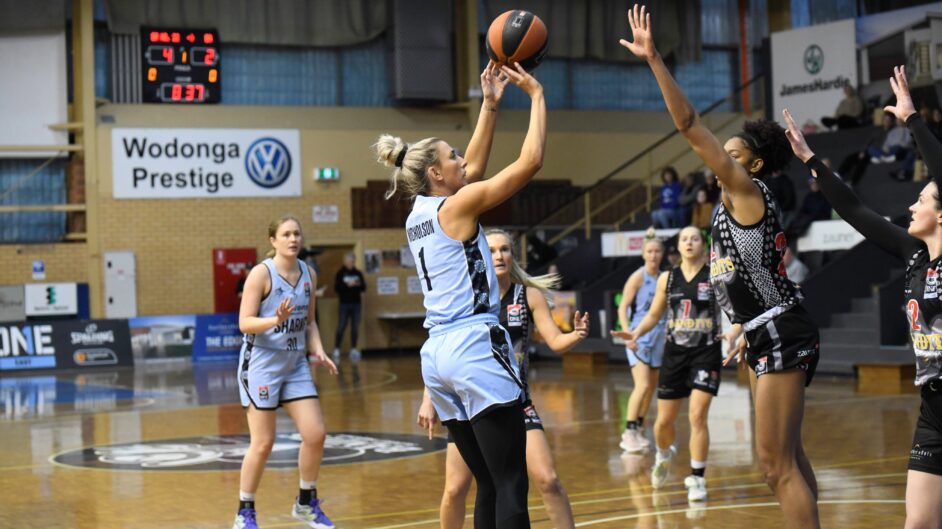 July 11, 2023 | Sydney Flames news
Fresh off an Asia Cup bronze medal with the Opals, Lauren Nicholson starred for her Sutherland Sharks in her return to NBL action.
The Flames guard exploded for 39 points, nine boards, six dimes and three steals, as the Sharks edged Albury-Wodonga 100-94 on the road.
Next up for Nicholson's 14-6 Sharks are league-leaders Manly-Warringah on Saturday.
Elsewhere in NBL1 East, third-placed Norths – featuring Flames young gun Emma Donnelly – smashed Inner West 116-44 thanks to seven points, three boards and one steal by the Sydney star.
Next up for the Bears is an away trip to Penrith.
While the Sydney Comets, headlined by Vanessa Panousis and Jada Crawshaw, lost 77-72 to Bankstown in round 16.
In the defeat, Panousis had 16 points, six boards and three assists while Crawshaw added 17 points, 14 rebounds, two dimes, one steal and one block.
The 11-8 Comets next play Hornsby on Sunday.
The last Flame in action in NSW was Rachel Maenpaa, whose Central Crusaders lost to both Bankstown (83-68) and Inner West (74-71) with the Sydney forward putting up totals of 24 points, 13 boards and three dimes.
They next face the Hawks in Illawarra.
BECOME A FLAMES WNBL24 MEMBER TODAY
Moving north to Queensland and Lara McSpadden put up 24 points, 11 rebounds, one dime, one steal and one block as Rockhampton downed North Gold Coast 78-66.
In the final NBL1 North round, the Cyclones host Red City.
The latter will go into that fixture on the back of a loss to Gold Coast (93-73), despite six points, four dimes, one steal and one block by Lilly Rotunno.
.@SwainShaneice from downtown 🎯#FlameOn https://t.co/Dw6n1vK36w

— Sydney Flames (@TheSydneyFlames) July 7, 2023
Elsewhere,  15 points, five rebounds, two assists, two blocks and one steal by Shaneice Swain weren't enough for her Cairns Dolphins side, who lost 110-72 to Northside.
The Dolphins next play Rip City on Sunday.
Another Flame to taste defeat at the hands of the Wizards was Indiah Bowyer's Townsville, who lost 93-67 – despite 26 points, two assists, one board, one steal and one block by the Sydney youngster.
The Flames will look to rebound in round 16 against USC.
To Victoria and Kiera Rowe's Knox Raiders lost to both Diamond Valley (79-71) and Dandenong (79-62) – with the forward tallying a total of 22 points, 10 rebounds, four dimes and two steals.
The 9-11 Raiders take on both Kilsyth and Bendigo in the final round.
Finally, out west and Emma Clarke's 26 points, 11 rebounds and one assist weren't enough as Perry Lakes lost 84-58 to Rockingham.
The Eagles next play Joondalup on July 21.
Moving across to the Kings and the strong NBL1 season of Makuach Maluach with the Drawin Salites continued during the competition's annual First Nations Round across the weekend.
The Sydney Kings forward contributed 26 points, five rebounds, five assists and one steal as the Salties defeated Sunshine Coast 107-87 in Darwin.
This performance, which moves the Salties to 10-9 on the NBL1 North season, see Maluach's averages for the campaign move to 23.05 points, 8.74 rebounds and 3.42 assists – all while shooting 47.55 per cent from the field.
With a bye in the final round and having played all their matches, Maluach's outfit needs results to go their way this weekend to squeeze into the post-season.
A team the Salties will be keeping an eye on this weekend will be Kouat Noi's USC Rip City, who defeated the South West Metro Pirates 103-77 in round 15.
In the victory, which moves USC up to eighth on the ladder with a 9-8 record, Noi tallied 25 points, seven rebounds, four dimes and two steals.
In round 16, Rip City play away at Townsville and Cairns – with two wins cementing their finals spot.
READ MORE: HOOPS CAPITAL LAUNCHES GAME DAY PHOTOGRAPHY INTERNSHIP PROGRAM
A team that will be playing in the NBL1 North finals is Logan, headlined by Shaun Bruce.
The Thunder head into the final round with a 14-3 record, after losing 89-82 to the Pirates on Saturday.
In the defeat, two-time NBL champion Bruce had 19 points, seven boards and four assists for the Thunder.
In the final round, the Thunder plays away at Gold Coast before hosting Southern Districts.
Moving south to Victoria and Angus Glover powered Eltham to a 77-67 victory against Kilsyth – producing seven points, seven boards, four dimes and two steals.
This result moves the Wildcats up to fifth spit with a 12-8 record heading into the final round, where Glover's side will host both Diamond Valley and Mount Gambier.
To NBL1 East and Archie Woodhill's Sydney Comets outlasted Bankstown 95-74, behind 10 points, seven boards, two dimes and one block by the Kings big man.
In the penultimate NBL1 East round, the Comets, who are 9-10, will travel to Hornsby.
The final King in action over the weekend was Zac Gattorna, whose Geraldton Buccaneers split their games against Lakeside (won 95-90) and Perth (lost 97-88).
Gattorna only featured in the former, tallying 16 points, four rebounds, two dimes, one steal and one block.
Next round, the Buccs host Perry Lakes.
Stay up to date with all the harbour city club's off-season news here.