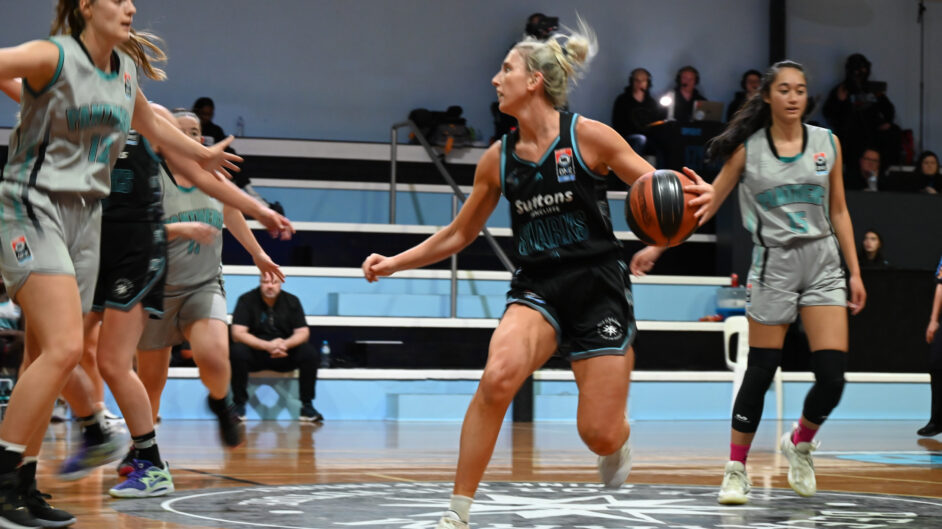 May 29, 2023 | Sydney Flames news
In her first game since being announced as a Sydney Flame, Lauren Nicholson starred for her Sutherland Sharks.
The Australian Opal added 22 points, six rebounds, six assists and one steal as the Sharks smashed Penrith 99-47.
Next up for the Sharks are the Hornsby KuRingGai Spiders on Saturday.
The two fixtures for Vanessa Panousis, Jada Crawshaw and their Comets against Albury and the Centre of Excellence were postponed.
REGISTER YOUR WNBL24 MEMBERSHIP INTEREST NOW
While Emma Donnelly and her Norths Bears edged Newcastle 76-69 – to move them into third on the ladder.
Norths next plays Hills on Saturday.
Heading to Queensland and Maddy Allen contributed 17 points, nine assists, seven rebounds, two steals and two boards in Southern Districts' 68-67 loss to South West Metro.
The Spartans will look to rebound against Ipswich in round 10.
While Lilly Rotunno and her Red City Roar suffered defeats to both North Gold Coast (88-78) and Gold Coast (87-49) – with the Flames' youngster combining for 24 points, 10 assists, eight rebounds and two steals across the two encounters.
The Roar next hit the hardwood against the Seahawks.
To NBL1 South and Kiera Rowe's Knox Raiders lost 88-80 to Mount Gambier despite 22 points, 10 rebounds, three assists, one steal and one block by the Flames forward.
The Raiders are on the road for a double-header next weekend, facing both Geelong and Nunawading.
Last but not least, Emma Clarke and her Perry Lakes Hawks lost 92-85 to Goldfields, despite 13 points, four rebounds and two dimes from the Flame.
Next up for the Hawks is Joondalup on Saturday.
Check out the hype reel of Tiana Mangakahia's time with Toulouse above, via our Sydney Flames' YouTube channel. While you're there, be sure to hit subscribe, to ensure you never miss out on any of our great videos.
Shifting to the Kings' contingent and the weekend saw four Sydney stars go head-to-head.
In Darwin, new Kings recruit Makuach Maluach posted 29 points, 11 rebounds, two assists and one steal as the Salties downed USC Rip City 113-101 – headlined by Kouat Noi, who contributed 29 points, seven boards and two steals.
While at Ipswich, Shaun Bruce and his Logan Thunder continued their remarkable run of nine straight victories by downing the Force 104-80.
In the triumph, Bruce tallied 24 points, eight dimes, four rebounds and one steal, while Jaylin Galloway added eight points, seven rebounds, three assists and one steal for the Force.
In round 10, Bruce's Thunder plays away at Rockhampton and Mackay, Galloway's Force travel to Southern Districts, Maluach's Salties host Townsville and Noi's Rip City battles Gold Coast – in a replay of last year's grand final.
In NBL1 South, Angus Glover and his Eltham Wildcats split their Tasmanian double-header, firstly defeating Hobart 87-70 before losing 94-86 to North West Tasmania in overtime.
Against the Chargers, Glover added 12 points, nine rebounds, four assists and one steal before the Kings' wing was rested for the fixture with the Thunder.
READ MORE: TOULOUSE STINT HELPS MANGAKAHIA TUNE-UP FOR WNBL24
In NBL1 East, Archie Woodhill and his Sydney Comets were on the road in round 11, losing to both Albury (104-97) and Centre of Excellence (115-94).
Woodhill put up 18 points and seven boards against the Bandits before missing the second leg of the road double-header.
The Comets host the Inner West Bulls on Saturday.
Finally, out west, Zac Gattorna had three points, two rebounds, one assist and one steal as Geraldton thumped Lakeside 101-86 on Saturday.
The Buccaneers next face Goldfields in round 10.
Stay up to date with the Hoops Capital off-season news here.