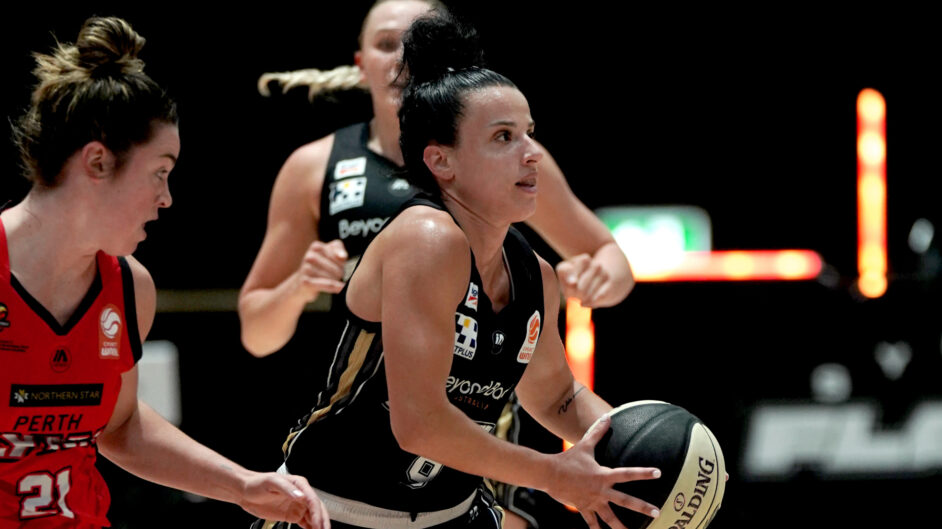 January 25, 2023 | Sydney Flames news
The 2023 NBL1 East season looms as a special one for Sydney Flame Vanessa Panousis.
It will see the guard return to her junior club Sydney Comets, for their maiden season in the competition.
"I decided to return to Comets because they're the club where I grew up at – it's where it all started for me," Panousis said.
CLICK HERE TO GET YOUR FLAMES TICKETS NOW
" I wouldn't be where I am today without my Comets family. 
"Being a part of their inaugural NBL1 season means everything to me. 
"The club have worked really hard to be able to put a team in this league. 
"It has such a strong junior program so I'm excited to see that success in our NBL1 sides this year."
The 27-year-old will team up with Flames coach Shelley Gorman at the green and gold club, which Panousis believes will help her Comets be successful in 2023.
"Having Shelley as our coach is going to be a huge asset for us," said the Virginia Tech alum.
"She has such a decorated resume as a player and is one of the best players to have played for Australia. 
"So having us be able to pick her brain apart and learn from her is something that the team needs to be really excited about.
"[Further to that] My first year back at the Flames has helped develop my game by competing at such a high-level day in and day out at practice against such highly talented players which I can hopefully bring over to the Comets this year."
HIGHLIGHTS | Flames v Lynx

A few moments from our clash against Perth Lynx. #FlameOn pic.twitter.com/lODdOmrtce

— Sydney Flames (@TheSydneyFlames) January 21, 2023
When the Comets' season tips off in March, Panousis, who played for Sutherland during the 2022 NBL1 East season, has set high goals for her team.
"Our number one goal is definitely to win a championship," said Panousis, who stated playing with the Sharks last season was really a blessing in disguise, as it helped her fall in love with the game again and for that, she will be forever grateful to them allowing her to be apart of their club.
"But I think for us as a younger team in the league, an important goal also needs to be making sure that we are getting better every week."
Panousis and her Flames next hit the hardwood on Sunday, January 29 as part of the final Hoops Capital double-header at Qudos Bank Arena, where they'll play Townsville from 1.30pm AEDT – followed by the Kings and Phoenix showdown.
Tickers to the hoops extravaganza are still available here.