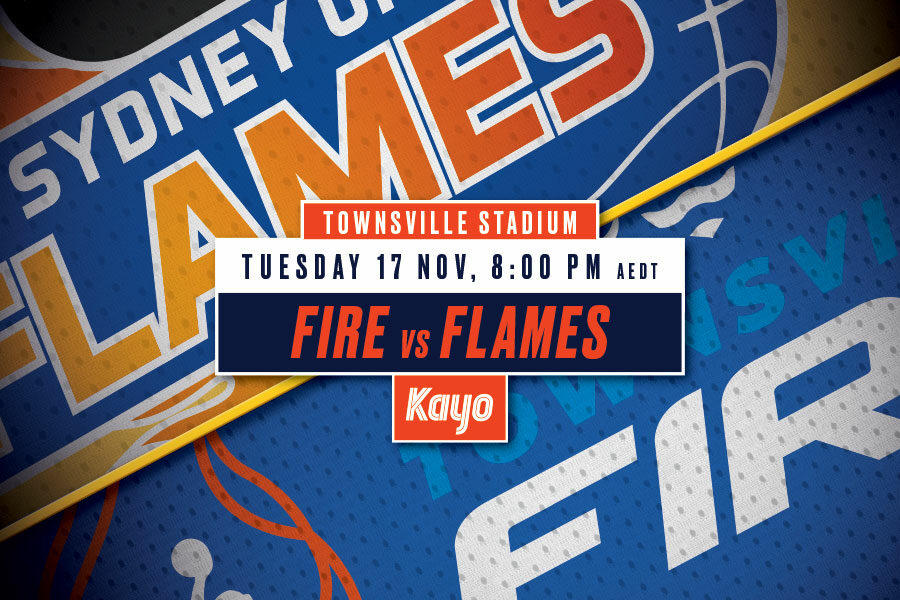 November 17, 2020 | Sydney Flames news
JCU Townsville Fire coach Shannon Seebohm believes the hub-like nature of this season's Chemist Warehouse WNBL could reduce some of his club's home court advantage as they prepare to host their first game.
Tuesday's clash with Brydens Sydney Uni Flames at Townsville Stadium should be played in front of the current COVID venue maximum of 944 fans, with only a handful of tickets left as at Monday evening.
The Fire play eight of their 12 remaining regular season games in Townsville, including their next five.
"Obviously having all the crowd support is a big thing," Seebohm said.
"But I think one of the advantages we usually have is everybody has to travel to Townsville to come and play us, whereas they are all living up here. So it's kind of evened out a little bit in that regard."
Flames' forward Nat Burton felt the attitude of visiting teams would be an important factor.
"The crowd can have an influence in the atmosphere of the game, but I think we can also use the energy that is there. A home court advantage is what we make it," Burton said.
"Either we give them that excuse and we allow them to kind of feed off that (atmosphere) and we take that step back. Or we just decide to not really care about the crowd, that apparent home court advantage, and just go and play how we want to play and play hard."
Both clubs will be looking for some consistency coming off a last-start loss.
Townsville (1-1) gave up a narrow halftime lead in their loss to the UC Capitals, while Sydney (1-2) fell to a Jayco Southside Flyers combination coming off a chastening defeat by local rival Deakin Melbourne Boomers.
The Fire have relied heavily on scoring contributions from starting guards Shyla Heal and Lauren Nicholson, and Seebohm acknowledged they needed greater spread of scoring.
"It's great that those guys have stepped up and put some points on the board for us but I think we're going to need a little bit more than that moving forward in order to get some more wins," Seebohm said.
"We'll make a few adjustments and hopefully be able to play a lot better.
Townsville will be the first non-Victorian team Sydney have played, as sandwiched between an emphatic win over Bendigo were losses to competition heavyweights Melbourne and Southside.
Former Flames coach Seebohm rated Sydney a danger team and was impressed with how they've played so far.
"They have a really good strong backcourt as well with Alison Schwagmeyer-Belger and Lauren Mansfield and we're going to have our hands full trying to contain those guys," Seebohm said.
Burton said Sydney needed to lift their on-ball defence.
Adrian Warren is a freelance contributor to WNBL.com.au