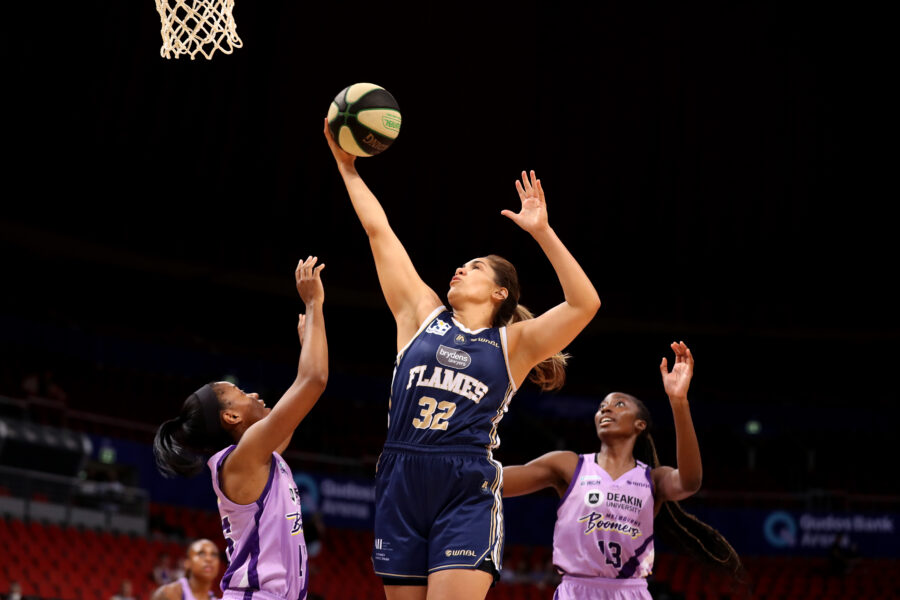 February 17, 2022 | Sydney Flames news
The Flames are back in action on Sunday!
They will travel down to Victoria to take on the Melbourne Boomers at 2.30 pm on Sunday.
The Flames last played the Boomers in round four at Qudos Bank Arena, where the Boomers escaped with a six-point win against the Flames.
It was an offensive showcase from Shyla Heal, she scored 29 points and made four three-pointers in one of her best performances of the season.
The now injured Lauren Mansfield also had a major game, with 12 points and eight assists. While Keely Froling had a cool 18-point double-double.
It was one of the Flames' best games on both ends of the court, the Flames learnt a lot from that game but there has been a lot of time between their last match-up.
The Boomers superstar Eziyoda Magbegor is the top concern for the Flames' defence, she scored 20 points in the last match-up and is a WNBA credentials. She missed Opals camp due to an injury, she was medically cleared to play but didn't travel with the already qualified Opals.
The Boomers also have two of the best imports in the league, Tiffany Mitchell and Lindsay Allen. Who are averaging a combined 28.3 points per game.
The Flames also have to worry about Cayla George, who the same as Heal, is coming off an Opals campaign.  They will be in going straight to battle after just being teammates in Serbia.
HEAR FROM SHYLA HEAL ABOUT HER OPALS DEBUT HERE
Froling is coming off a 31 point game against Townsville last weekend and Shyla will have some newly gained Opals confidence going into this game against the Boomers. It should be great to watch these two pair up again.
The Flames hang their hat on defence, and that was especially true in the last game against Melbourne. One of the standouts for the Flames on that end this season is Kalani Purcell, she has been a defensive weapon and has only gotten better on that end since round four. She is second in the league in steals per game, averaging 2.5 per game.
After the Boomer loss, Coach Shane Heal said, "When we play with energy, we can compete with anyone in the league."
The Flames will have a tough challenge ahead of them but with the band back together the match-up against the Boomers should be a fun one.
The Flames will take on the Melbourne Boomers at the State Basketball Centre on Sunday, 2.30 pm on Kayo.
The next Flames home game will be at Brydens Stadium on Saturday, February 26 at 7.30pm. It should be a great hoops filled night out in the city, if you haven't already, get your tickets here.