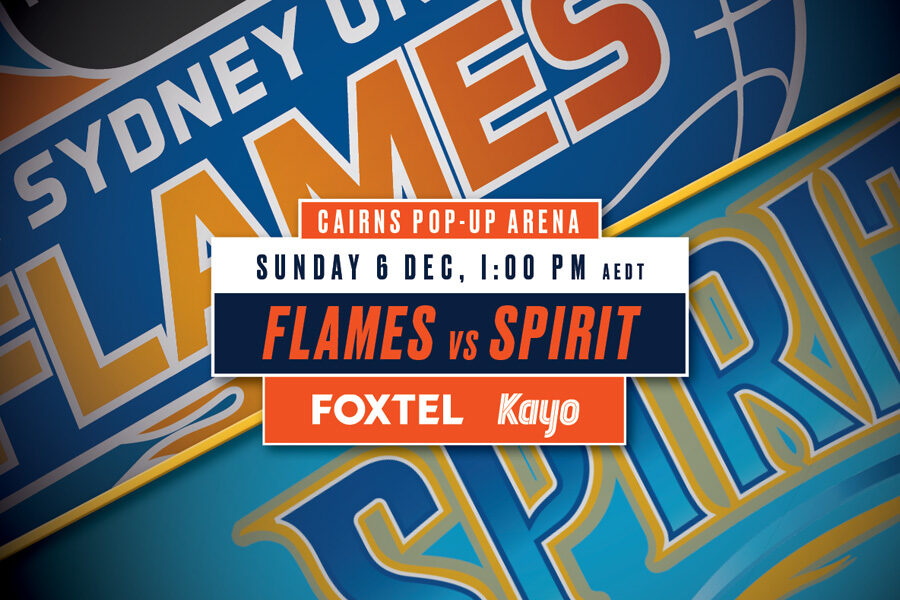 December 6, 2020 | Sydney Flames news
Both the Brydens Sydney Uni Flames and Villawood Properties Bendigo Spirit will look at Sunday's Chemist Warehouse WNBL contest in Cairns as a chance to snap their respective losing runs setting the stage for a fascinating contest.
The Spirit are yet to win a game this WNBL season losing their 10th match on Saturday in Cairns against the Deakin Melbourne Boomers but with just three matches remaining before their campaign ends, they will be eyeing off Sunday's game at Cairns Pop-Up Arena.
So will the Flames who after showing encouraging signs early in the piece have now lost three in-a-row and six of their past seven meaning they too will be desperate to return to the winner's list with time running out on their 2020 WNBL season.
The game is first up in a super Sunday of WNBL basketball with all eight sides in action with both teams still being able to take something out of their last up efforts even if they ended up being significant losses.
Bendigo did end up losing to the Boomers by 32 points on Saturday and despite going down seven early they found some impressive form to be back level by quarter-time putting together one of their better patches of basketball for the season.
Sydney Uni did lose to the Boomers as well in their last game back on Thursday by 22 points but the Flames would have taken heart from their second half showing.
The Flames were able to outscore Melbourne 43-38 in the second half and 36-23 in the game's final 13 minutes with their backcourt of Ali Schwagmeyer-Belger and Lauren Mansfield particularly impressive combining for 43 points.
Sydney Uni will be confident if they bring that second half form into Sunday's game that they can get their third win of the season. But at the same time if Bendigo can play as they did to close the first quarter on Saturday for longer, they too will like their hopes of a first WNBL win of 2020.
Alicia Froling herself is looking for a strong finish to the WNBL season over these last three games starting Sunday against Sydney Uni, but ultimately what she wants most is to get that elusive victory.
"We are just looking at trying to get a win obviously and trying to get better. I think we have progressed each game even though we haven't got a win on the board," Froling said.
"There's definitely bright moments we can take from this game into playing Sydney, and we are just looking to get better that's all. This season has highlighted a lot of weaknesses that even I need to work on personally and then as a team for us to get better at.
"We'll have another long off-season after these last three games just because this one is so short so that'll give us time to work on those things."
Mansfield caught fire with 20 points in the second half for the Flames on Thursday against the Boomers as her partnership with former Perth Lynx teammate Schwagmeyer-Belger showed just how potent they can be.
The crafty left-handed point guard now hopes that Sydney Uni can bring that second half form for four quarters into the game on Sunday as they attempt to finish the season with some momentum.
"We just have to be able to find a way to be intense for all four quarters. That's been the story of our season, we have to find a way to do it throughout the whole game and not just for one or two quarters," Mansfield said.
"I think we are starting to gel more and obviously there's only a few more games left in the season so we just want to win as many games as we can.
"We do believe that we can compete with every team in the league so it's just about putting together the four quarters, competing and playing hard."
Chris Pike is a freelancer contributor for WNBL.basketball
Broadcast Details
Brydens Sydney Uni Flames vs Villawood Properties Bendigo Spirit
Played at Cairns Pop-up Arena
Sunday 6 December 2020
12.05pm AEST / 1.05pm AEDT
LIVE on Kayo, Fox Sports