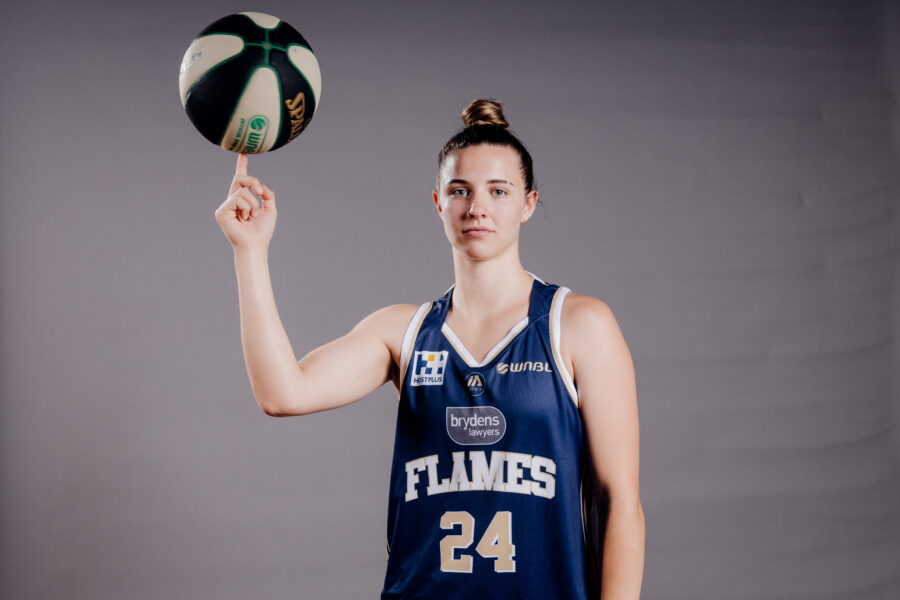 December 3, 2021 | Sydney Flames news
It's Round One of the WNBL 2021-2022 season this weekend; a much-anticipated comeback after a Hub season in Queensland due to COVID restrictions. The league welcomes back imports and looks to be the best season yet, with new broadcast deals and some of the best recruitment we've seen in WNBL history. 
But this season showcases a remixed Bryden Sydney Uni Flames squad, under the new head coach Australian basketball legend Shane Heal, the Flames plan to run and gun their way into the top four. 
The Flames are a youthful roster, with only two players born before 1995 and with three players born after 2000. The Uni Flames are the second least experienced team in WNBL with games played, only behind the Adelaide Lighting. But Adelaide have many experienced players who just haven't played in the WNBL, like Alanna Smith and their two new imports in Kiana Williams and Kylee Shook. 
What the Flames lack in games played, they make up for in talent. The Flames have three of the top 10 2021 WNBA Draft picks in Chelsea Dungee (5th), Shyla Heal (8th) and Stephanie Watts (10th). Plus, co-captain Keely Froling who is a two-time WNBL champion with the Canberra Capitals, played 3×3 for Australia and won bronze with the Opals in the 2021 FIBA Asia Cup team this year.
Head coach Shane Heal has a particular style that he wants to the Flames to play this season.
"We want to play smart," Coach Heal told Flames media. 
"We want to run when we can, run sets when we need to and get the highest percentage shot we can. We are young, so we are going to be relatively quick."
Going into game one against the Canberra Capitals, coach Heal said these are the Flames' focuses. 
"Canberra is really experienced, they've won two out of the three past championships, so they are a great team," Heal said. 
"We are the underdog, so we have to go after them, like [Kelsey] Griffin and [Kelly] Wilson who have been there for a long time and limit their impact."
Both on and off the court the Flames have changed. As this season will be the first season the Bryden Sydney Uni Flames and Bryden Lawyers Sydney Kings will be under one banner.
The Hoops Capital, Two Teams, One Club. This starts with the best of both worlds; Throughout the season, including this Sunday, there will be six double headers where the Flames and Kings play on one night, in one arena, back-to-back at Qudos Bank Arena.
We want to pack the Q and there will be both a new look Kings and a new look Flames. This Sunday should be a basketball fan's dream. 
GET TICKETS TO THE FLAMES GAMES AT QUDOS BANK ARENA
On Sunday, December 5th at Qudos Bank Arena, 12:30 pm the Bryden Sydney Uni Flames will take on the Canberra Capitals, so don't miss out. Get your tickets: here
VIEW FLAMES MEMBERSHIP PACKAGES
WHO
Bryden Sydney Uni Flames vs. UC Capitals
Brydens Lawyers Sydney Kings vs. Melbourne United
WHEN
Sunday 5 December, 12:30pm tipoff (Flames); 3:00pm tipoff AEST (Kings).
LOCATION
Qudos Bank Arena
TICKETS
Available via Ticketek or the Qudos Bank Arena Box Office
TV
Kayo Freebies
RADIO
THE PLAYERS
FLAMES
Sherrie Calleia, Katie Deeble, Chelsea Dungee, Chyra Evans, Keely Froling, Shyla Heal, Emma Mahady, Lauren Mansfield, Funda Nakksoglu, Rebecca Pizzey, Kalani Purcell, Kiera Rowe, Stephanie Watts, Morgan Yaeger.
CAPITALS
Alex Bunton, Abby Cubillo, Bronte Corke, Alicia Froling, Kelsey Griffin, Jade Melbourne, Gemma Potter, Mikaela Ruef, Casey Samuels, Brittany Smart, Brittney Sykes, Abby Solway, Shaneice Swain, Tahila Tupaea, Kelly Wilson.
THE COACHES
FLAMES
Shane Heal
CAPITALS
Paul Goriss