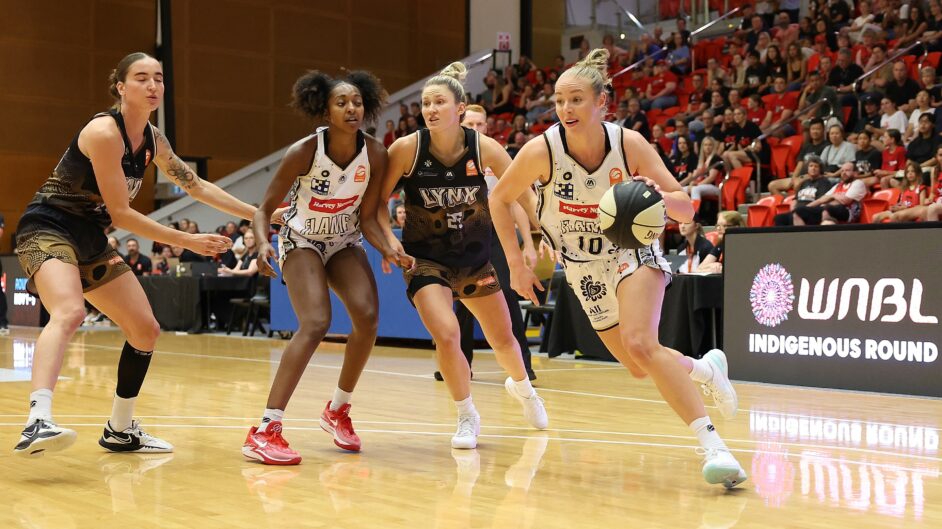 November 9, 2023 | Sydney Flames news
After starting the season with two straight road games, the Flames will play their first game of WNBL24 in Sydney on Sunday against the Melbourne Boomers.
The Qudos Bank Arena fixture also marks the first of four Hoops Capital double-headers, with the Sydney Kings taking on Brisbane following the conclusion of the Flames.
While most of this squad is new to the double-header concept, one who was part of the initiative in the past is forward Kiera Rowe, who is excited for Sunday.
"Playing double-headers with the Kings at Qudos Bank Arena is an amazing opportunity to grow basketball in Sydney and women's sport as a whole," Rowe said.
"It provides visibility and exposure to the WNBL and gives fans the opportunity to get behind both teams in one place."
This also presents Flames fans their first chance to witness the club's revamped roster in-person, featuring the likes of Australian Opals Cayla George, Tess Madgen, Lauren Nicholson and Shaneice Swain.
"Our new squad and system is all about working hard and playing as a cohesive unit," said Victorian product Rowe.
"Guy [Molloy] instils a lot of confidence in us both individually and as a team, within a system that is exciting to play in."
Watch CEO Chris Pongrass' chat with Fox Sports News via Sydney Flames' YouTube channel above. While you're there, be sure to hit subscribe, to ensure you never miss out on any of our great videos.
That system will be put to the test against a strong Melbourne outfit, who have won their opening two fixtures.
"Just like all our games, the key to defeating Melbourne is locking in to and executing our own offensive and defensive schemes as a team, as well as stopping their quick transition offence," she said.
The massive day of harbour city hoops will also involve club partner What Ability, who Rowe is an ambassador for.
"Athletes play an important role in breaking down barriers and stigmas in the disability sector," the 108-game WNBL veteran said.
"I've had the opportunity to work with What Ability as a support worker for a little while now and I love being able to connect with participants and their families.
BECOME A FLAMES WNBL24 MEMBER TODAY 
"It's all about putting fun and happiness first and helping participants achieve their goals and get involved with fun activities in the community.
"This game being partnered with What Ability gives participants an amazing opportunity to experience the fun and excitement of our games, and also harnesses the power of sport to celebrate all abilities and build an inclusive world."
Tickets to the event, which will see the Flames take on the Boomers from 1.15pm AEDT and the Kings battle Brisbane from 3.45pm, are still available here.