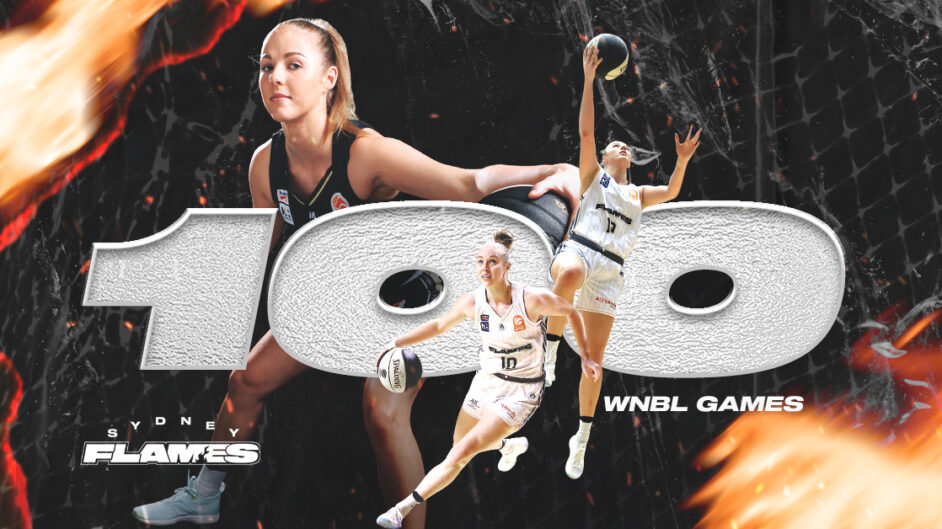 January 20, 2023 | Sydney Flames news
Sydney Flames forward Kiera Rowe etched her name into the WNBL record books this week when she took the court for her 100th career game.
The milestone, which sees her become just the second Flame alongside Keely Froling in the 100-game club, was chalked up during the Hoops Capital side's tight defeat to Southside at the Quaycentre.
"Playing 100 games in this league is a privilege and something I am very proud of," Rowe said.
CLICK HERE TO GET YOUR FLAMES TICKETS NOW
"The WNBL is such a great league and being able to play with and against such high-quality players who I grew up idolising has been amazing.
"Achieving this milestone while also juggling studying physio at university has been challenging, but rewarding and something I'm incredibly proud of also."
Further to that balancing act, the Victorian product has brought up the mark at just 24 years of age.
"The constant support from my family and partner Angus have been a major factor in helping me achieve this milestone," the Australian junior representative said.
"The countless hours of hard work I've put into playing basketball has also been key.
"Since a young age, I've made countless sacrifices and put a lot of time and effort into both physical and mental preparation.
"I'm incredibly grateful for this as it's allowed me to keep playing the sport I love at such a high level."
Despite losing Wednesday's nail-biter to the Southside Flyers, the Sydney Flames took plenty of positives from the Quaycentre fixture. Flames import Jocelyn Willoughby was proud of her side's achievements on Wednesday with the crowd's support!

📰https://t.co/IiTplaJ6uW#FlameOn pic.twitter.com/A82kwBQi5m

— Sydney Flames (@TheSydneyFlames) January 19, 2023
As special as the milestone is, Rowe and her harbour city side have already shifted their attention to hosting the Perth Lynx at Quaycentre from 5.15pm Saturday.
"Last night's game against the Flyers was a huge team effort and we played some really great basketball," Rowe said.
"Unfortunately we couldn't quite get the game across the line, however, I think everyone would agree that we are all extremely proud of the performance we put on, and how we were able to work together as a team to challenge such a talented team right to the end of the game.
"We can take a lot of confidence and positives from that game, and use it as we roll into our next game against Perth on Saturday and for the remainder of the season."
Tickets to the Flames and Lynx match are still available here.