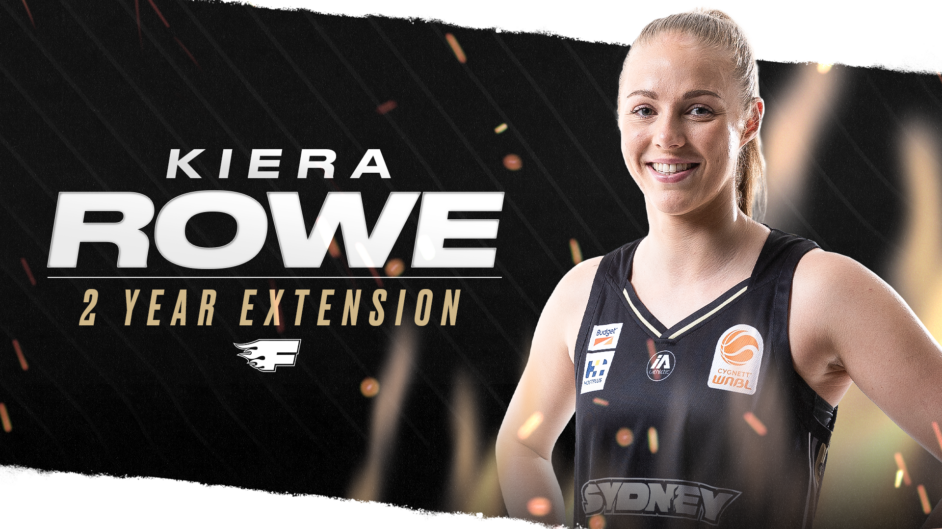 May 8, 2023 | Sydney Flames news
The Sydney Flames are excited to announce Kiera Rowe will be returning to Sydney after signing a two-year extension with the Flames. 
The Victorian-born forward, who originally signed with the harbour city side in 2020, becomes the third player locked in for WNBL24 – alongside Tiana Mangakahia and Emma Clarke. 
"Re-signing with the Flames was an easy decision," said Rowe, who brought up her 100th WNBL game during the 2022-23 season. 
"For me, it's a really great opportunity to develop as a player and as a person.  
REGISTER YOUR WNBL24 MEMBERSHIP INTEREST NOW
"Being able to team up with Tiana and Emma again will be great – we understand each other's games and work really well together. 
"I'm looking forward to watching the rest of our team take shape over the coming months. 
"We have the opportunity to build something great this season and I'm beyond excited about it." 
Rowe, who has been with the Hoops Capital club for three seasons, averaged 3.6 points, two rebounds and one assist during WNBL23. 
But those numbers don't illustrate the impact of Rowe on the court, as shown by her taking out the club's Defensive Player of the Year last season. 
This is why she will be a valuable member of the harbour city squad moving forward.  
"I'm excited to keep working hard and take it to the next level over the coming years," said the Victorian product, who is currently playing with Knox in the NBL1 South competition.
"[Further to that] the club's current direction with Hoops Capital is next level – the plans for our very own high-performance facility and vision to create more than just a basketball club is super exciting." 
Flames president Victoria Denholm is thrilled to be able to extend Rowe's stay in the harbour city for at least two more seasons. 
"Kiera Rowe is the kind of player every team need," Denholm said. 
"She's an incredible athlete that fights on every play.  
"She holds her own defensively against tough matchups – and prides herself on hustle and grit. 
READ MORE: FROLING HELPS AUSTRALIA QUALIFY FOR WORLD CUP
"She's also an incredible locker room presence and lifts all her teammates even when things are tough. 
"She's also incredible in the community and shows great initiative in her passion for working with organisations like what ability 
"We're super excited to have Kiera coming back to the Hoops Capital." 
Stay up to date with all the club's off-season news here.