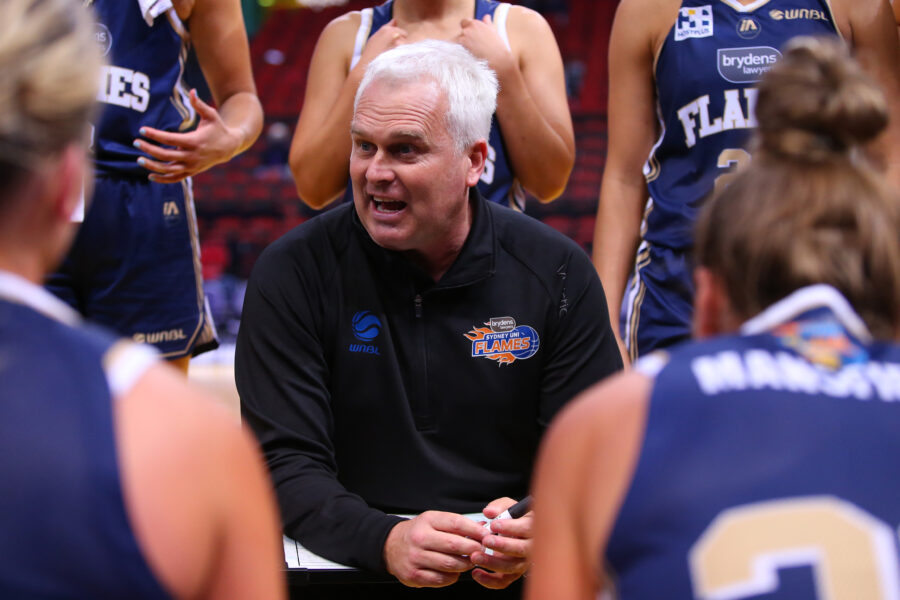 June 22, 2022 | Sydney Flames news
When I signed on last year to coach the Sydney Flames for the next three years my goal was simple. I wanted to win a WNBL Championship in that time. 
It wasn't about buying a Championship, it was about building a team and laying the foundations that can give us a chance to compete every year. Sustained success.
I thought we had built a team to compete for the playoffs in year one but no-one could have foreseen the injury woes we endured. Losing our import Leaonna Odom prior to the season starting and Steph Watts after just one game was tough to take. We trialled some replacements that just weren't the right fit so we decided to invest time into our young locals.
I was really proud of the effort and mindset of our girls to stay together and ultimately get some wins on the board against full strength and established teams. Year one turned out to be an investment in the future.
Bring on year two and I touch wood for a little luck this season.
We locked in Keely Froling after her huge breakout season. Kalani Purcell was another player that took her game to another level and proved to be one of the best defenders in the league. Both added to Shyla Heal and Kiera Rowe who were already signed on multi-year deals.
I was extremely excited to secure the signature of Tiana Mangakahia who played in Russia last season and had multiple European deals on the table. Tiana is an inspiration after overcoming serious health challenges in her life. Fans will love her toughness and creativity in offence. She will form an elite local back court with Shyla for the next two years.
We also signed Emma Clarke from Perth for the next two years. Emma is an incredibly talented young wing that can shoot the three and has huge upside on the defensive end.
This gives us a very balanced group of locals that can all defend and play valuable roles in offence. More than anything these ladies have terrific work ethic and fit the culture that's being established as the new normal at the Flames.
We have signed American Hannah Sjerven who ticks all the boxes. She started the WNBA season with Minnesota as an undersized and mobile centre. Hannah has won multiple defensive awards during her outstanding college career and she will provide a mobility and toughness that will make our team better. Hannah will be a great fit in the front court with Keely and Kalani.
We are currently negotiating with WNBA wings. We need someone that can score the ball and add some quickness and athleticism to our squad. Stay tuned, we hope to have an announcement in the not too distant future.  
I'm really excited about the young team we have built. I know the fans will enjoy supporting the defensive mindset that this squad plays with and the exciting offensive talent we have assembled.
Year two is all about making the playoffs and giving ourselves the best chance to succeed once we get there.
Your support is much appreciated and we can't wait to see you at the first game.