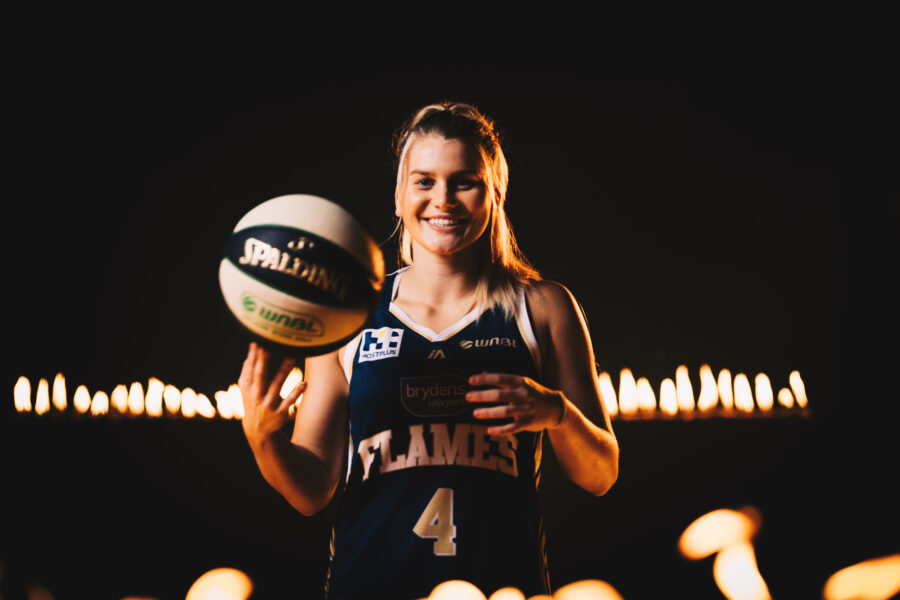 December 15, 2021 | Sydney Flames news
Flames or Fire? While the words are quite similar, they mean very different things in the WNBL.
The Bryden Sydney Uni Flames signed former Townsville Fire player Shyla Heal this offseason. Last season she made All-WNBL second team and was named the WNBL's Youth Player of the Year, while running the offence for the team that made the Grand Final.
The change in team was based on one factor, that the Flames hired Shyla's father, Shane Heal as head coach.
"I wouldn't have left Townsville if it wasn't for my dad coaching," Shyla said.
"I love [Townsville coach] Shannon [Seebohm], I definitely love that team. I would still be there if it wasn't for my dad."
Shyla and Shane have worked together on and off the court their entire lives. Shane was the head coach when Shyla made her WNBL debut as a 14-year-old with the South East Queensland Stars and Shane trained Shyla during her pre-draft workouts for the 2021 WNBA Draft.
Going into the matchup Flames media caught up with Shyla Heal Tuesday.
What are you looking forward to in the return to Townsville?
"I am really happy and excited to play another game, I have only played one game in the past pretty much 12 months," Shyla told Flames media.
"So I'm just really happy to be with the new team and really try get this win, essentially being underdogs."
Townsville Fire head coach Shannon Seebohm was recruited and coached by Shane Heal, with eventually was hired by Heal as an assistant coach with the Sydney Kings. Shyla explained what the differences are in playing for the two head coaches.
"I would say we are probably pretty similar, they've worked together," she said.
"Out of all the teams, our style is most similar to Townsville so it will be a good game and we are really excited."
How are you expecting Townsville to react playing against you?
"I know they're coming after me, I know they are going at me the whole game. It's going to be a slow grind and a good challenge for me."
What should the fans and the Fire expect from your first game back in Townsville?
"I'm coming out aggressive, looking to score and make plays. It's time to stop messing around and have some good games."
Shyla Heal will make her return to Townsville this Saturday at 7.30 pm (AEDT) streaming on Kayo.