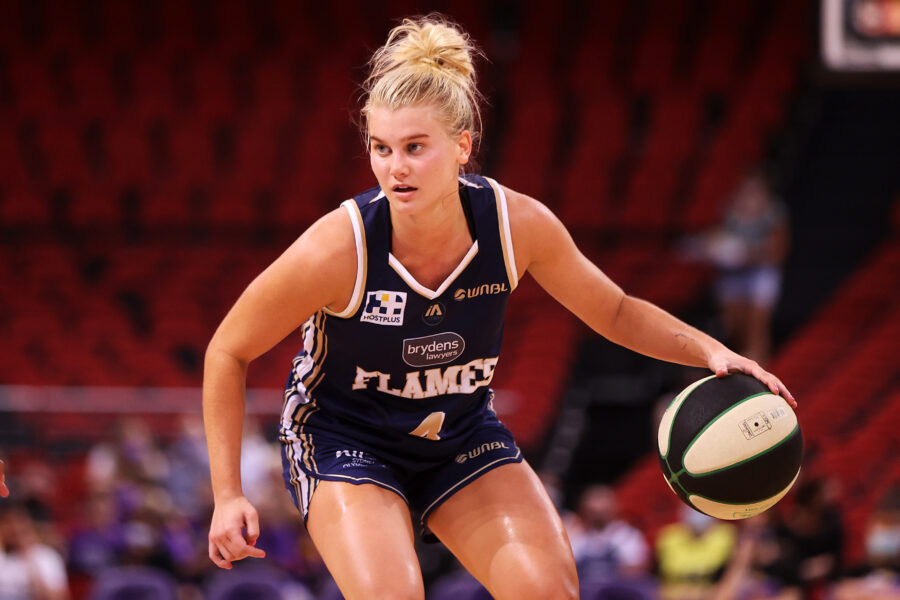 February 4, 2022 | Sydney Flames news
Brydens Sydney Uni Flames guard Shyla Heal has been selected for the Opals team to travel to Serbia for the FIBA Women's World Cup Qualifiers from February 10-13.
Heal has been a star this season, the 20-year-old is averaging 16.1 points per game this season and four assists per game. Heal has previously represented Australia in the FIBA Under-17 and Under-19 World Cups and in the FIBA 3×3 team.
In her last WNBL season, she was the 2020 WNBL Youth Player of the Year and made All-WNBL Second Team. She was later drafted by the Chicago Sky with the 8th overall pick in the 2021 WNBA draft.
Heal told Flames media that it is an honour to represent Australia and it is a dream come true.
"It feels good to make the Opals team. I'm excited to keep growing and gaining more experience on the international stage," she said.
"I can't wait to learn from players like Sami Whitcomb to become the best player I can be and help the Opals win medals in the future."
Flames head coach Shane Heal, and Shyla's father, is excited for Shyla's long-awaited Opals' debut.
"I'm really proud of Shyla and all the hard work she has put in over the years. It's well deserved and hopefully the start of a long international career," he said.
"It's great for our club to have an Opal on the team as we will look to recruit and develop and help other players looking to achieve the same sort of representation."
Flames owner and chairman Paul Smith said Shyla's selection was a proud moment for all in the Hoops Capital.
"This is terrific news for Shyla," he said.
"It's been a long journey for a young woman, and to now see her hard work acknowledged in this selection is something that our entire city can take pride in.
"We hope that Shyla will be followed by many more Sydney players that develop under our program."
The Opals will fly out tonight for the Qualifiers.