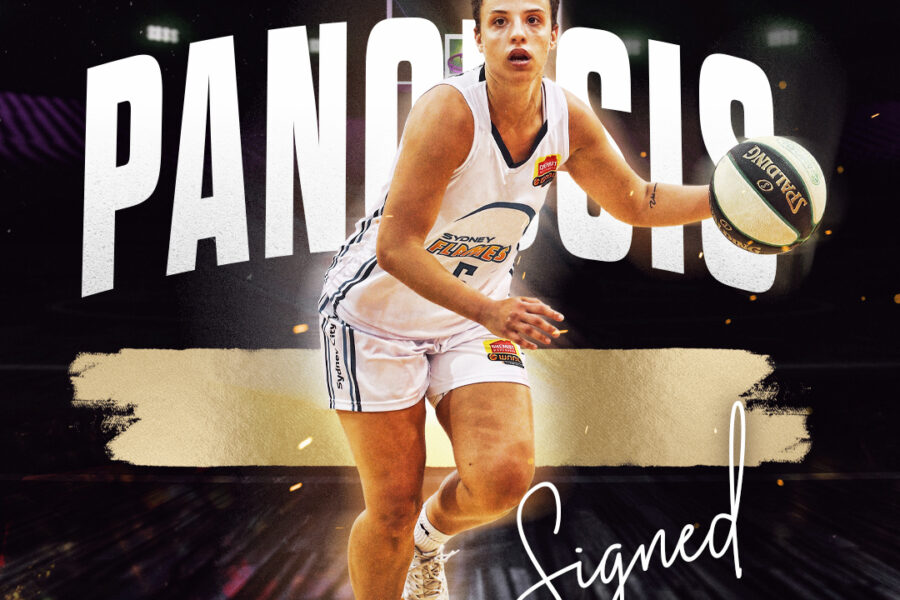 July 15, 2022 | Sydney Flames news
The Sydney Flames are pleased to announce homegrown Sydney guard Vanessa Panousis will be making her return to the WNBL with the Flames in the 2022-23 season. 
The experienced 27-year-old guard last played with the Flames in 2019 and has also played in the WNBL with the Adelaide Lightning, but spent the last several seasons in Greece. 
After sitting out the last season out in Greece due to the COVID lockdown and having a break from the sport, Panousis has returned to NBL1 and is forming part of a deadly combination at the Sutherland Sharks with Lauren Nicholson averaging 15 points, five assists and five rebounds a game. Sutherland is currently second on the NBL1 East ladder behind only Lauren Jackson's Albury-Wodonga. 
Panousis said she was "pumped" to be returning to the Flames and back playing WNBL in her hometown of Sydney. 
"I'm really grateful for the opportunity to play with the Flames again and play in front of family and friends," she said. 
"Playing overseas during COVID was a tough experience. 
"Obviously getting to play and learn under Shane (Flames coach Shane Heal), was a big attraction. He has a high basketball IQ and is a legend of Australian basketball so to be able to be coached by him was a major factor. 
"We have a young, fiery team and last season I think they were just unlucky with a rotation of imports. With some of the players we've got back and some of the players that have been signed there is a lot to be excited about." 
For Panousis it will also be a reconnection with some of the Flames she played against and with in her junior career. 
"I'm excited to play with Tiana (Mangakahia) again as we played in juniors together and against each other in NSW and Queensland teams so we already have that State of Origin thing happening," she said with a laugh. 
"Shyla is one of the best point guards in the country so even though she is younger than me I'm sure I'll learn a lot from her and I've played a bit with Keely (Froling) before too. 
"I'm just really excited to hit the ground running and excited to hopefully help the Flames on their way to winning a championship." 
Coach Heal said Panousis would be "a really valuable player for us this season". 
"She brings international experience and the ability to shoot the three," Heal said. 
"Vanessa will play both guard positions and her leadership will be crucial coming off the bench.  
"It's nice to have a Sydney junior and her play in the NBL1 has been impressive." 
Panousis joins import combination Jocelyn Willoughby and Hannah Sjerven as well as Shyla Heal, Keely Froling, Kalani Purcell, Kiera Rowe, and new signings Tiana Mangakahia and Emma Clarke on the Flames roster. 
Pre-season for the WNBL starts in late September with the season proper to start on November 3.