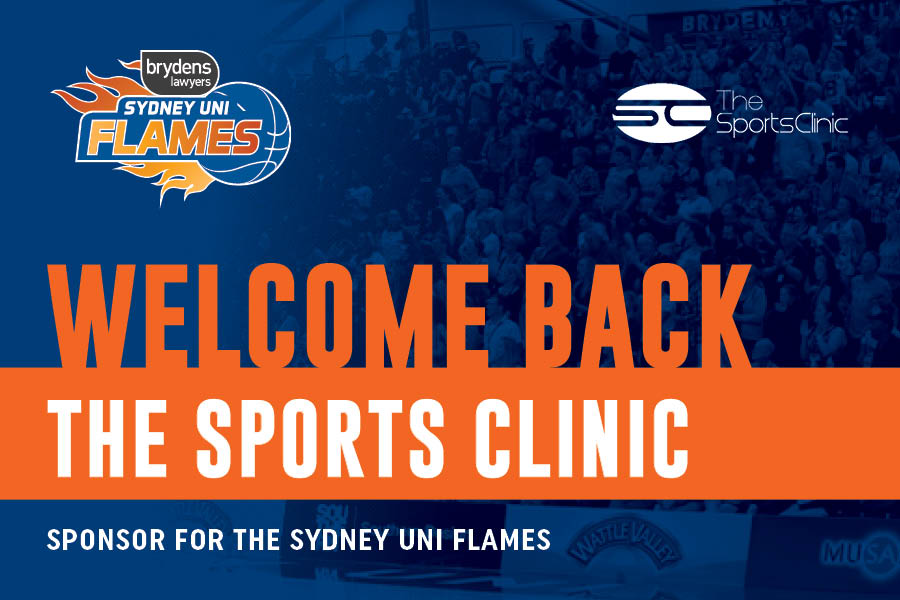 August 29, 2019 | Sydney Flames news
The Brydens Sydney Uni Flames are pleased to announce The Sports Clinic are on board again as sponsors for the 2019/20 WNBL season.
The Sports Clinic, located on Sydney Uni campus to provide extensive medical services to students, elite athletes and community members, have been linked with the Flames for the past eight seasons.
Flames General Manager Karen Dalton was grateful for The Sports Clinic's contribution to the organisation over the years.
"We are very grateful for the continued support of the The Sports Clinic. Their professionalism and outstanding care for our athletes has always been appreciated by both management and the players of the Brydens Sydney Uni Flames," Dalton said.
"Over the years, we have formed a wonderful friendship with Stu, Kath and their team and their support is something we truly value."
The Sports Clinic Principal Physiotherapist Stu Pavely was glad to be part of another campaign.
"We have been proud sponsors of the Flames over the last eight years and we hope to able to contribute in some way to the success of the Flames for many years to come," he said.
Let's take the Flames further, together. 2019-20 membership packages available now.