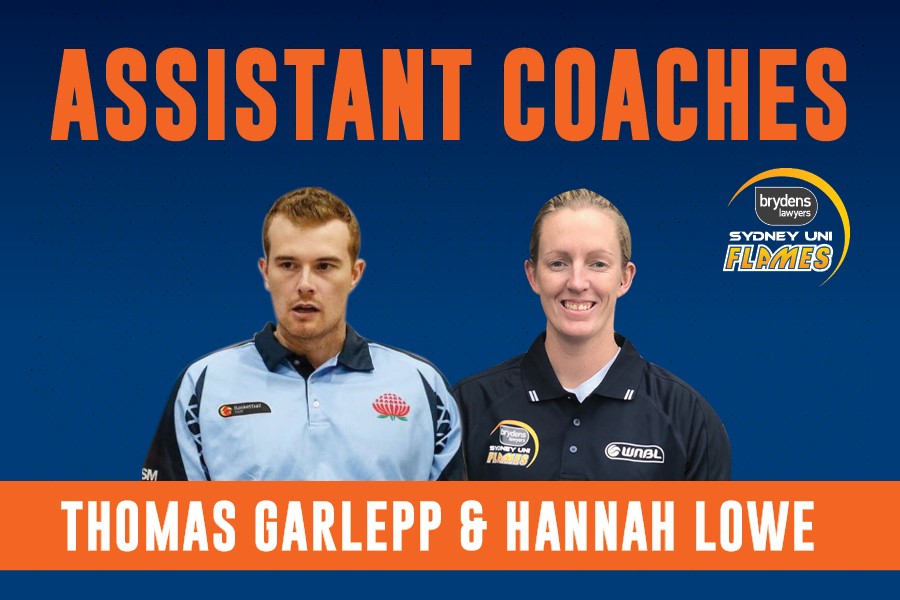 July 19, 2019 | Sydney Flames news
Brydens Sydney Uni Flames Head Coach Katrina Hibbert will be backed up by the experience and knowledge of Sydney Kings great Thomas Garlepp and Hannah Lowe, who have signed on as Assistant Coaches for WNBL19.
Garlepp, who boasts 11 years of NBL experience for the Kings, has been overseeing the NSW U20 women's basketball team as head coach, while Lowe has enjoyed a professional relationship with Coach Hibbert in the past.
"Im really excited about the opportunity to be involved with the Flames in the upcoming season," Lowe said.
"Katrina has put together a really impressive roster and I can't wait to get up there and get to work.
"The step into WNBL assistant coach is one I have been working towards, and working in a staff lead by Katrina Hibbert was an opportunity too good to pass up."
Garlepp is also relishing the chance to work alongside Brydens Sydney Uni Flames' talented roster.
"The opportunity to be a part of the coaching staff for the Brydens Sydney Uni Flames 19-20 season is one I am very excited for. Not only does the roster have high character and ability, but being able to work alongside Katrina and Hannah is something that I am very much looking forward to," he said.
Coach Hibbert could not speak more highly of the pair.
"Hannah joins us from Victoria where we have both coached together on several teams. She and I have a great working relationship and respect for each other, and she also brings a wide array of experience from WNBL, State and College experience.," Hibbert said.
"Tom is a familiar name in NSW Basketball and Sydney so I'm excited to have him join us this season. He has not only an experienced playing background but brings great knowledge of the game from his coaching experiences.  He's going to be a great asset to our coaching staff."
We look forward to seeing Thomas and Hannah in action alongside Coach Hibbert this season! 2019-20 membership packages available now.