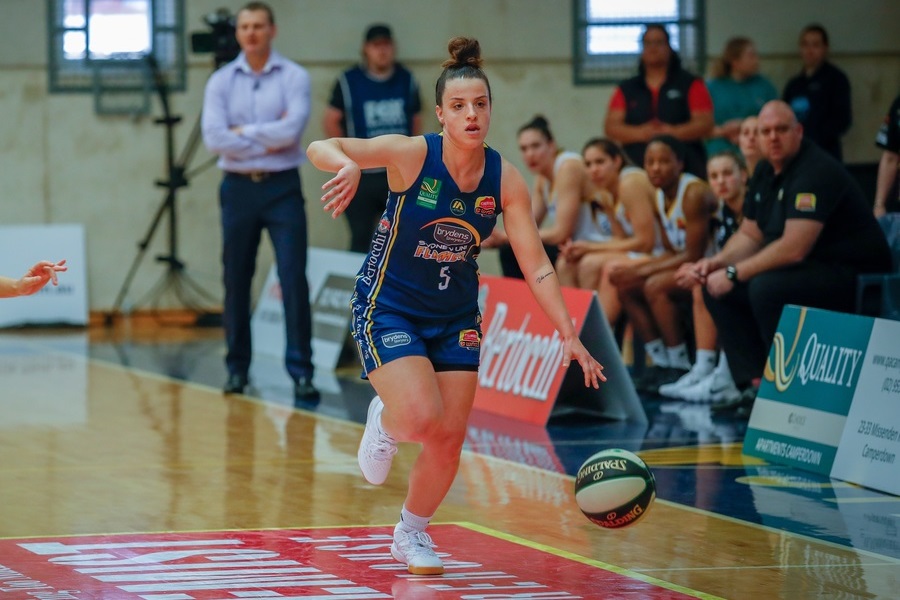 November 28, 2018 | Sydney Flames news
Written by Lachy France
A Flames development player in the earlier part of the decade, Vanessa Panousis is back at Sydney Uni for the first time in six years this season, but it has quite literally been an around-the-world trip for the sharpshooting guard. An outstanding junior career that culminated in national team selection, combined with a burning desire to test herself in college led to a scholarship at Virginia Tech, where Panousis set the single-season three-point record as part of an outstanding career for the Hokies.
"Ever since I was 14, I always wanted to go to college. All my brother's mates, they started to go and he was three years older than me, so I was like 'Yeah, I want to go there,'" Panousis explains. And whilst the advent of the Sydney Uni Sparks program has given aspiring New South Wales players an additional elite pathway, no such outlet existed when Panousis was plotting her own journey.
"And you know, the opportunities at college, you couldn't get here. It's a win-win situation. I'm getting a free education and I'm playing against some of the top players in the world. I mean, I wouldn't say anybody's guaranteed playing time, but I just thought there'd be more opportunity if I established myself over there."
"Here, I obviously appreciated all the training I got in the academy and when I was younger as well. I can't fault anything here, but I thought if I went to the States it would be a win-win situation."
However, that training with the Flames and also with national team programs as a member of the Under 17 and Under 19 Australian squads gave Panousis a decided advantage upon her arrival at Virginia Tech, where her experience put that of her teammates in the shade in certain facets.
"Here, the players are older. In college the players are younger, you don't read the game as well as people do here because they're a lot older. In phases of the game it's more one-on-one play over there, whereas here we have more structured sets," Panousis explains.
"I think we have a better understanding of the game as a whole, especially the younger players. An example is me going over there at 18 years old, with my freshman class I had a better understanding of the game of basketball, both offensively and defensively.
"Shell drill, basic concepts, other freshmen didn't really understand, which was a bit bizarre to me. I was like, 'We've been doing this since we were 12 years old.' It's been drilled in our brain to be able to do things like that."
However, as much as her experience prior to college helped Panousis in the early days of her college career, the Hokies legend learnt plenty during her four years in Blacksburg, including a couple of lessons that would serve any player well both on and off the court.
"(College taught me) how much you have to work on your game. Having access to the gym 24/7, I was in there a lot. So just being able to bring that over here, teach some of the young people in our program, you know, you've got to work on your game!"
"But even reading the game, it's a different style, quicker, more athletic, whereas here it's more structured. I think here, we play smarter than people do over there. It's a different game, I think I brought that aspect back."
However, whilst Panousis returned to Australia after college, her return to the Flames took a slight detour through Adelaide, spending the last season with the Lightning, with that national team experience once again delivering an opportunity for the former college star.
"I have a good relationship with Chris Lucas, he called me and wanted me to play, so why not? He's a great coach, I had him as assistant coach for Under 17s, so we kind of knew each other from that," Panousis explained. "We have great respect for each other, he's an awesome coach, he really teaches detail. I think that's his main thing. I really enjoyed it."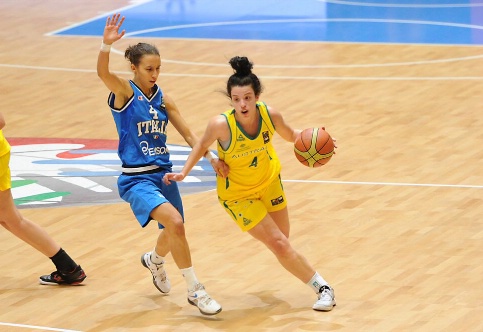 But even after a solid season coming off the bench for the Lightning, the chance to return home for the first time in five years was too much for Panousis to pass up. Once again, the relationships that she had built whilst involved with national team programs served Panousis well
"I hadn't been home for a while, so I think that was a selling point, to be back home," Panousis muses. But the Flames gave me so much when I was a kid. And then Cheryl as a coach, I had her for Under 19s as well. I think the relationships from the national teams are really strong there, so as soon as she said that she wanted me, I couldn't really look by it.
"The fanbase also really feels like a community here."
That fanbase has come to include Panousis' own group of diehard fans, with friends and family regularly the loudest pocket of the crowd when their hero is on court. Making their first appearance during Panousis' time with the Lightning, the Flames guard was caught a bit off guard by their presence to start with.
"Not going to lie to you, the first time, I was a bit embarrassed. I didn't actually know they were going to come with t-shirts, that was a bit of a surprise to me. But it was cool, you know? I love them for doing that, they always have my back in everything I do." 
"I can't fault them. When I was playing for Adelaide there were a few of them – dad, sister, brother, his girlfriend, my best friend, her family, sister, all that. Cousin, family friends, there was a whole lot of them, I can't even name them all! But it was awesome. Not all of them come to every game now that I'm here, but I think because I was away and I hadn't been home for a while, they made an extra effort to come out. They still try to get to as many games as they can."
That kind of support, not only from family and friends, but all fans, could yet prove to be the boost that the team needs to shake a season-opening losing streak that now stands at 9 games. The team has been incredibly close on occasion, with four games decided by five points or less, and Panousis firmly believes that the team is close to getting off the mark.
"You know, I think we are [close to turning a corner]. We're a really tight-knit group, so that helps, it's not like we've gone our own ways, or cussing out each other, we definitely haven't given up," Panousis reveals.
"We know, we feel it, a win is coming. Hopefully this weekend, but we train hard every day and I don't think you can ask for any more. Sarah (Graham) was actually saying when we were 0 and 6, she actually comes up to me and says 'Ness, you know we started 0 and 6?' I had no idea. I think it was my last season with the team. I was like 'I didn't even know!' Could not remember."
That season was 2012/13, where the Flames did cobble together 8 wins after that start to finish in a respectable tie for sixth position. Panousis barely touched the court in that season, but this time around, things are different. This season, she is an integral part of the Flames' second unit and is locked in for 40 minutes, ready for her chance to jump in and take over when required, something she did with aplomb in a 13-point effort off the bench in a narrow 84-79 defeat to the UC Capitals earlier this month.
"I mean, Cheryl talks to me every time on the court, she keeps an eye on me, saying 'push the tempo', I think that's the biggest message she's given me," Panousis reveals. "Keep pushing the tempo, don't slow it up. I think we look better when we move the ball, and are playing quickly, at a good pace, not slowing it down too much. 
"I mean, I know my role. Especially with T (Tahlia Tupaea) coming back, I've got to be ready. I can't just sit back and think I'm not going to be playing, I need to be ready when the time comes."
However, Panousis recognises that the world of women's basketball can be a volatile one, especially in the WNBL, where, like many players, she is on a one-year contract. So, what does the future hold for the young sharpshooter? With a Greek father, the opportunity to play in Europe as a local player is a possibility, but Panousis is keeping her options open.
"My European passport's in processing right now, so I think that's always been a dream, to play in Europe, so who knows, really?" Panousis reveals. "100%, I am enjoying it (at the Flames), but I'm basically going season-by-season, so I have no idea what I'm doing next season. But for sure, I have definitely enjoyed my time here."