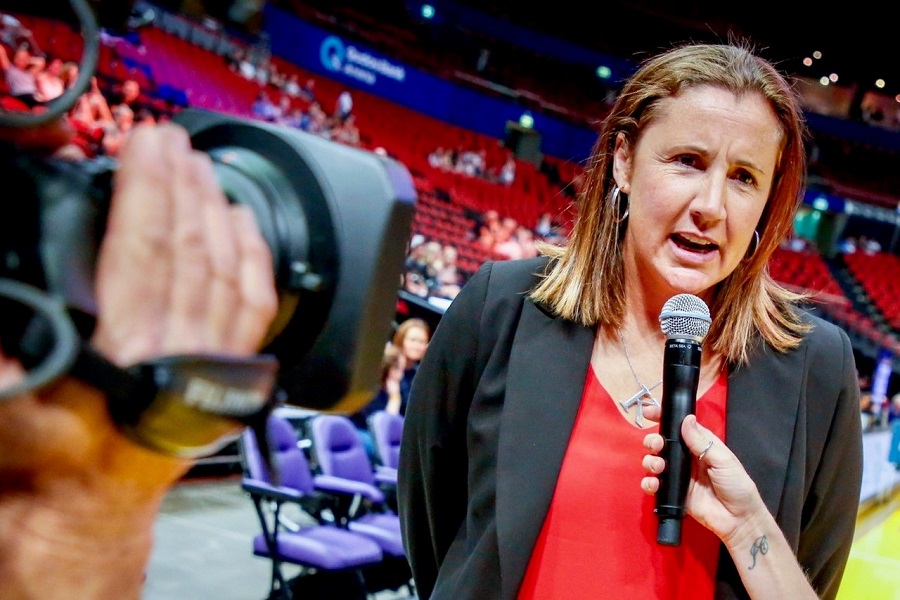 October 30, 2020 | Sydney Flames news
Get comfy on the couch Flames fans, you can now watch every WNBL game live!
Basketball Australia (BA) today announced new broadcast arrangements for the 2020 Chemist Warehouse WNBL season, providing the league with more visibility than ever before.
The agreement with partners the Foxtel Group and the ABC will see all 60 games of the 2020 season available LIVE across Australia.
Fox Sports will broadcast LIVE four games per week (7.00pm AEDT Thursday, 5.00pm AEDT Saturday, 1.00pm AEDT Sunday and 3.00pm AEDT Sunday) on Foxtel and Kayo, with the ABC simulcasting on both their primary channel and ABC iview the 5.00pm Saturday and 3.00pm Sunday games.
In addition to streaming the games that will be broadcast on Foxtel, Kayo will also stream LIVE all remaining games of the 2020 season which will involve multi-camera and expert commentary.
Never before has a broadcast agreement which covers all games been so important, with BA announcing earlier this month that in response to the COVID-19 pandemic, the 2020 Chemist Warehouse WNBL season would be played exclusively out of a North Queensland hub from November 11 – December 20 inclusive.
Basketball Australia CEO Jerril Rechter AM explained the significance of this broadcast agreement for Australian women's basketball.
"This broadcast agreement with Fox Sports, Kayo and the ABC will provide the Chemist Warehouse WNBL with more exposure than ever before.
 "Having all 60 games of the 2020 season shown live across Australia will provide a platform to showcase one of world's leading basketball leagues featuring Australia's best established and emerging athletes. This high-profile visibility across Australia will help build upon the popularity and growth of women's basketball and inspire a whole new generation.
 "Basketball Australia would like to thank Foxtel and the ABC for their committed support of the Chemist Warehouse WNBL and we look forward to delivering a highly successful season both on and off the court," concluded Rechter.
Basketball Australia Head of Women in Basketball Lauren Jackson AO said this broadcast agreement provides a platform for Australians to become fans of the country's leading basketballers.
"The Australian Opals and our Under 19 women's team are both ranked world number two and this broadcast arrangement will enable all Australians to witness the skill, strength and athleticism of our players.
 "The 2020 Chemist Warehouse WNBL season will double as important preparation for the Australian Opals ahead of the Tokyo Olympics and the 2022 FIBA Basketball World Cup which will be hosted by Sydney.
 "With all the opportunities that this season presents us, being able to broadcast all our games live across the nation was at the top of the list. This is a wonderful outcome for Women's Basketball in Australia, and we are thankful for the support of both Foxtel and the ABC," concluded Jackson.
 Fox Sports Executive Director Steve Crawley, said: "Women's basketball is a source of inspiration and excitement for Australians of every age group. We are stoked to be the home of the WNBL in 2020 bringing every game of the season live to a record number of sports fans watching on Foxtel and Kayo."
Director of ABC Regional & Local Judith Whelan, said: "We're thrilled to welcome back the WNBL to the ABC – the natural home of women's sport in Australia. We are also delighted that one of this country's most experienced and passionate basketball commentators, the ABC's Corbin Middlemas, will be part of this season's on-air WNBL commentary team. The ABC is looking forward to bringing Australian fans two games per week of one of the best women's basketball competitions in the world."
The 2020 Chemist Warehouse WNBL season is supported by the Queensland Government along with Cairns Regional Council, Mackay Regional Council and the City of Townsville.
Queensland Tourism Minister Kate Jones said the deal announced today was a great win for North Queensland.
"Basketball is growing in popularity right throughout Australia. Having the WNBL season broadcast throughout the country on live television will deliver a shot-in-the-arm for our tourism industry at a time we need it most.
 "You can't beat the beauty of north Queensland and the Great Barrier Reef in Spring.
 "This deal will ensure that images of Queensland's most idyllic locations will be pumped into the living rooms of thousands of sports fans throughout the country.
 "Generating more exposure for Queensland is an important part of our economic recovery plan – ensuring that more tourists return to Queensland as soon as possible."