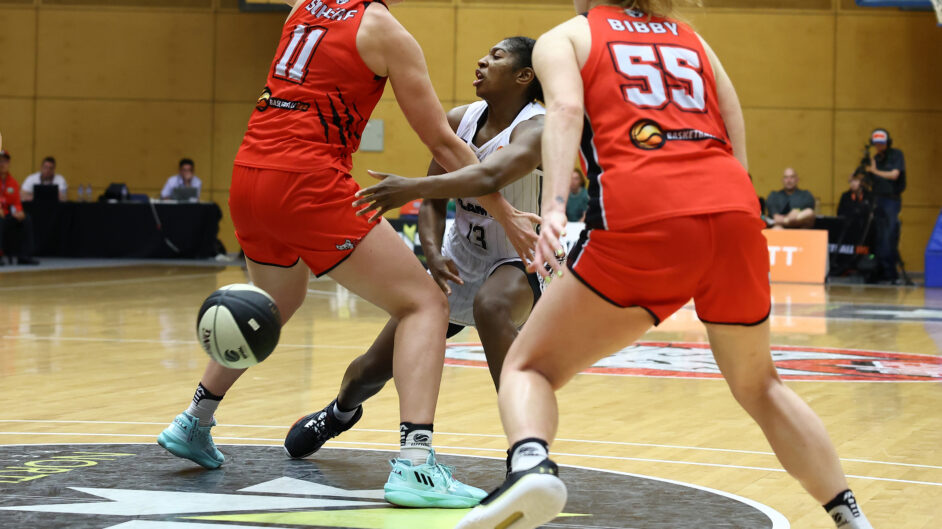 November 18, 2022 | Sydney Flames news
Sydney Flames import Jocelyn Willoughby admits there are plenty of positives to take from her side's eight-point loss to Perth on Wednesday.
And despite the result dropping the Hoops Capital side to 0-2 in WNBL23, Willoughby believes her side's first win is just around the corner.
"We played well for a good chunk of the game [against Perth] and then it slipped away from us in the end," Willoughby said.
CLICK HERE TO GET YOUR FLAMES MEMBERSHIP
"We had some really bright spots and moments where we executed our game plan and fixed some of our mishaps from game one.
"We got a lot of the shots we wanted, forced turnovers and big stops, and played with more movement and energy overall. 
"But on the flip side, we had moments where we went away from our game plan, our identity, and made some critical mistakes and unfortunately, a lot of those mistakes came at such a critical point, in the final stretch of the game. 
"We broke down defensively, didn't secure some of the loose balls/rebounds, and had some turnovers or empty possessions offensively that cost us the game. 
"So there were some things to be proud of, as we made a lot of growth from our first game.
"We need to continue doing those things but there's also plenty of room to grow in order to be able to finish a game like that Perth one and get wins against future opponents."
The Flames' next chance to secure win number one comes against the Lightning at Adelaide Arena on Saturday from 7.30pm AEDT.
"So much of it comes down to sticking to our game plan and our identity," the 24-year-old said.
"We take pride in our defence, so playing solid defence and forcing them into tough shots or forcing turnovers will be part of the game plan. 
"Offensively, want to be a team that plays in transition, moves the ball and creates good shots for each other – so those are our keys to winning any game really but starting with the Lightning on Saturday."
To that, her WNBL career may only be two games in but after dropping 26 points on Wednesday, it proves the New York Liberty star is adjusting well to her time with Shane Heal's side.
"The adjustment to WNBL has been good," said Willoughby, who took out August's WNBA Cares Community Assist Award.
"I'm still learning the different teams, players and style of play, but my focus really is on getting better and the WNBL is a great opportunity to continue developing an understanding of the game, skill and confidence."
Saturday's round three fixture will be streamed on 9Now from 7.30pm AEDT.