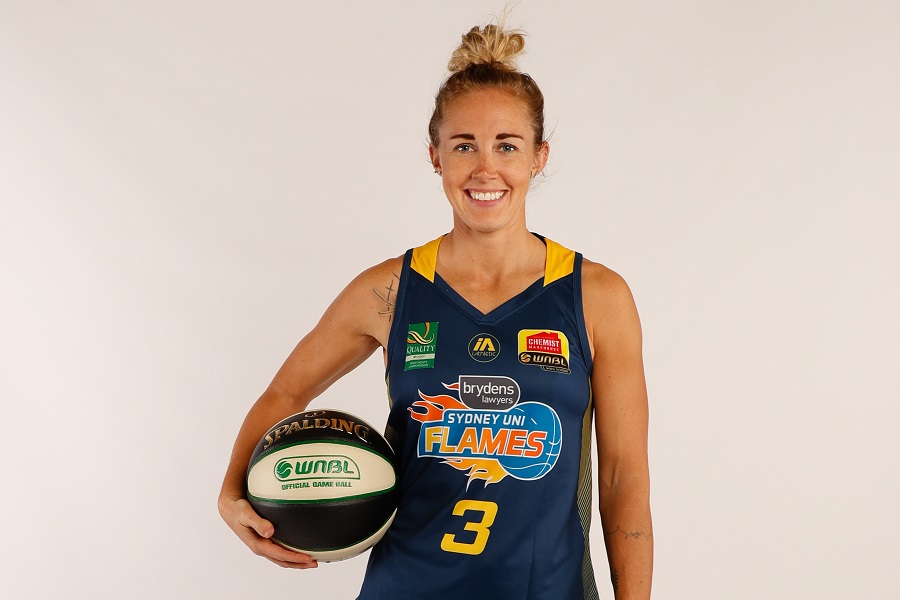 May 13, 2020 | Sydney Flames news
See the original story here
The US-born, Chemist Warehouse WNBL star Britt Smart has an extensive list of pro-basketball experiences in her pocket. With international stints in the Belgian Women's Basketball League, multiple Swedish Leagues, the NBL1 and numerous Chemist Warehouse WNBL seasons, Smart's basketball career has taken her around the globe.
Coming off her Chemist Warehouse WNBL20 campaign, and her second season with the Sydney Uni Flames, the 34-year-old is using her time at home in the off-season to work on her business, brittsmart.com.
Recently relocating from Sydney to Melbourne, Smart has spent some of her home time reflecting on her program, personal goals and where to take things next.
"I've just sat back and thought about what I have wanted to do. Everyone has jumped to online programming, and there is a little bit of a panic feeling around it.
"For the first two weeks, I thought, what do I want to get out of it, what are the main three to four areas of my life that I want to make progress in. If you're not moving forwards, you're just moving backwards" she said.
"The thing that's always taken a back seat is my online business. I've done personal training, personal coaching and strength conditioning with basketball clients for 10 to 12 years, even all over Europe I kept my coaching experience."
Even with the enforced social distancing restrictions in Victoria, Smart has continued to work hard with clients and is also taking steps to be a fully accredited Personal Trainer in Australia.
"I'm doing one-on-ones at the moment because social distancing rules still apply, and as far as my education, I have signed up for a PT course to make sure I am registered with Fitness Australia."
Smart's three values on her website are stated as; Vision, Action and Momentum, and they are important aspects of how she focuses on her goals, aspirations and clients.
"I've been following this in each of those areas of focus in my life. Coaching, Business, athlete, education and so on. You need to have a vision of what you want to do in that area, take action and make a plan and do it, build momentum like a snow-ball, and you'll be quickly on your way to reaching that vision!"
While training others, Smart has also continued to work on her fitness and is working to continue progress in her basketball career.
"I decided to get myself a trainer to help me with my career. I am also a trainer and a coach, but I still see the other side of it, in terms of being a client and following a program for bulletproof needs. That is a way that I can continue to move my basketball career forward, especially in the offseason which is where I look at what I can adjust or tweak to make myself a better athlete and basketballer."
"In my personal life, I also set goals. I have nutrition goals and workout goals. I have decided to set a goal to do 30kms of hiking, running, walking or cycling every other day. I've been going to an outdoor velodrome" she laughs.
Determined to continue stepping forward in her four-goal pillars during the Chemist Warehouse WNBL offseason and the current quiet time of social distancing, it is nearly impossible not to be positively influenced by her motivational mindset.
"Branding my business, educating myself, to hire my own trainer to achieve my own basketball goals so that when WNBL comes around, I am ready and then personal nutrition and daily movement that's what I'm working on."
On her website, Smart offers various mentoring and training programs including:
1-on-1 Programs – a personalised private program
Group Programs – three or more people in a program
An Intensive Program – A fast-tracked 1-2-day camp
Keynote Speaking
Teams Program
Virtual Interaction – personal time with Smart to discuss life and topics such as sport, lifestyle and engaging in general conversation.
Even under current State restrictions, Smart is continuing her programs.
"Online you can purchase a four-week program for a flat rate, and it'll be in video form critique. If someone is after virtual sessions, that is something I would work out with the client.
"Here in Melbourne, I do have a couple of clients I do see twice a week in person just one-on-one to follow social distancing. There are a lot of options."
If you're looking for a motivational, hardworking and goal setting trainer, head to brittsmart.com.