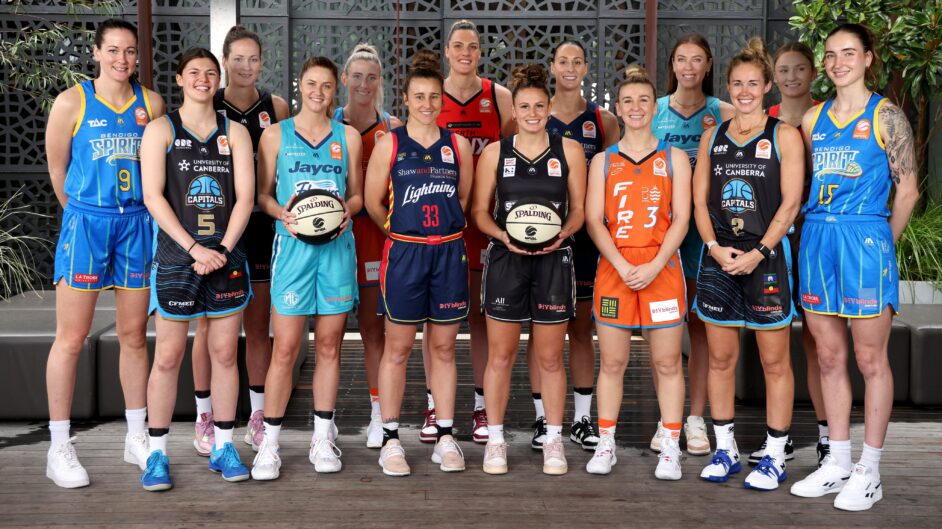 October 27, 2022 | Sydney Flames news
The stars of the Cygnett WNBL23 competition gathered in Melbourne on Wednesday to celebrate the launch of the league's 43rd season.
Preparing for a return to an 84-game strong season with a home-and-away format for the first time since the pandemic, captains were revealed alongside a new-look commentary team, fresh themed-round initiatives and a league-first vodcast – The WNBL Show.
When the season tips off on Wednesday, November 2, the players honoured with the role of captaining their side include: Steph Talbot (Adelaide Lightning), Kelsey Griffin (Bendigo Spirit), Brittany Smart (Canberra Capitals), Cayla George (Melbourne Boomers), Aimee Rocci (Southside Flyers), Keely Froling (Sydney Flames) and Lauren Nicholson (Townsville Fire) – with the Perth Lynx yet to announce their skipper.
CLICK HERE TO GET YOUR FLAMES MEMBERSHIP
The new-look WNBL commentary team is made up of experienced game-callers, expert analysts, and for the first time ever, will include a dedicated sideline commentary team.
Heading up the game-callers this season will be expert commentator Jason Bennett, who has extensive experience in AFL, AFLW and of course, basketball. 
WNBL game-callers Liam Ellison, Matt McQuade, Julia Montesano and Richard Svenson will also return this season to provide an entertaining experience for fans watching the games online.
It will be an all-female team of basketball experts contributing to the commentary box this season to provide fans with in-depth knowledge and insights each round.
Respected basketball experts Jenni Screen and Lori Chizik will be back to share their knowledge and experience in the WNBL alongside several new faces, including Bendigo captain Kelsey Griffin; basketball legends Carrie Graff and Michele Timms; while NBL1 commentators Jacinta Govind and Rachel Herrick will level up their expertise in the WNBL.
In an exciting development, the league has engaged former WNBL athletes and coaches in each of the club regions, who will assist with sideline commentary this season.
It's an experienced and passionate group of people who will be providing their insights from the sidelines this WNBL season, including Kate Gaze (Townsville), Rachel Antoniadou (Southside), Larissa Anderson (Melbourne), Mark Alabakov (Bendigo), Laura Hodges (Adeliade), Melissa Sinfield (Perth),  Renae Garlepp (Sydney) and Carly Wilson (Canberra).
Rounding out the commentary team will be two media sideline commentators – WNBL expert and journalist Megan Hustwaite will be back, and Candy Hertz, who has previously worked with the NBL.
Hustwaite and Hertz will be sideline with a local reporter for all WNBL games of the week, every Wednesday night on ESPN.
To complete the entertainment offering for the upcoming WNBL23 season, fans can look forward to a weekly vodcast hosted by Hustwaite and a rotating roster of players to provide in-depth summaries and previews of each round.
The WNBL Show will be available to stream via YouTube and all major podcast platforms.
The first episode featuring reigning WNBL MVP Anneli Maley will be available from Tuesday, November 1. 
In other news, the WNBL is introducing a new initiative this season, partnering with national charity, Share the Dignity to launch the first-ever 'Fighting Period Poverty Round'.
Set to take place in round four of the season, the initiative will aim to increase awareness of period poverty in Australia, provide education on the issue and normalise conversations around periods.
The 'Fighting Period Poverty Round' will follow Share the Dignity's It's in the Bag Christmas appeal and throughout the 10-day season break (FIBA window), the teams and league will be provided the opportunity to support the campaign in the community leading into round four.
The Indigenous Round will also return in Round 14 in February, with each of the eight teams alongside the league committed to continuing to share stories of players, staff and officials within our basketball communities while educating ourselves across Indigenous cultures and First Nations' history.
Teams will honour the round by wearing uniforms designed by Indigenous artists and engage with local Indigenous communities as they host activations across Round 14, with the date of the round significant as it aligns with the anniversary of former Australian Prime Minister Kevin Rudd's formal apology to the Stolen Generations on February 13, 2008.
Additional information about the themed rounds will be announced closer to the date.