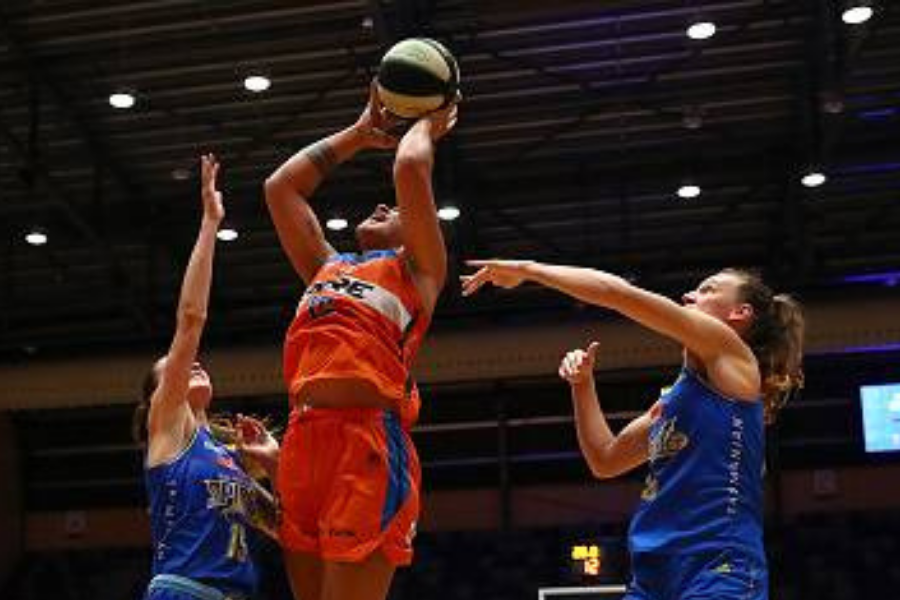 January 24, 2022 | Townsville Fire news
When Townsville trailed the Boomers by 20 points you could have been forgiven for thinking they  would have to settle for splitting their double header, having already beaten Bendigo, but that wasn't to be the case.
The Fire's courageous comeback, was even more remarkable, given the team's 24 hour turn around and absence of American import Monique Billings, and not to mention the fact the team only came out of covid isolation the very same week, Club legend Micaela Cocks labeled the 68-66 win as one of gustiest, she'd been a part of.
"Yeah that's one of the best comebacks. I'm so proud of the team the way we fought in that second half was excellent."
The WNBL veteran praised Lauren Nicholson's inspired second half display, in which the Opal sank 16 of her team high 22 points.
"She is just an excellent teammate, so professional so elite and just works so hard. She was amazing out there."
Nicholson was elated to lead the side's stirring recovery. The co-captain conceded Melbourne bossed the early exchanges before the Fire fought back.
"Yeah look we started slow in that first half and that really hurt us but we turned it around in that second half and a few more shots dropped and yeah Melbourne are always really tough, we always battle against them really hard, so that's just a really massive win for our group."
The visitors restricted their opponents to just 16 points after the main break.
Lifting defensively was the key to shutting the Spirit down in the first of Townsville's two games, after Bendigo banked seven straight points to start the contest. The Fire overcame an opening quarter deficit to eventually triumph by double digits, 77-67. Nicholson led Townsville's scorers with 15 points. While the guard delivered back to back top scoring displays she hailed Zitina Aokuso's efforts in round eight after the centre slotted 32 points and collected 14 rebounds, across both games.
"She's one of the toughest kids I know and it's exciting what's going to be her future, so looking forward to what she can produce the rest of the season."
The Fire have jumped to third on the ladder and will carry confidence into Friday night's home clash with league leaders Adelaide. They will also host Melbourne in round nine, on Sunday afternoon. Tickets for both games are available here