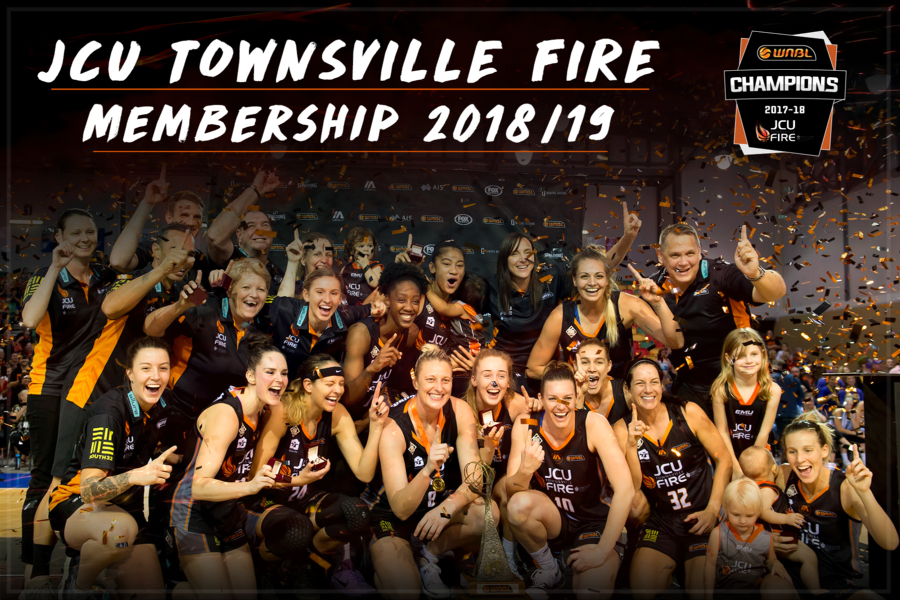 May 31, 2018 | Townsville Fire news
The JCU Townsville Fire will commence their 2018/19 membership drive tomorrow with an exclusive window for existing members.
Fresh off securing a third WNBL title in four seasons, the Fire will launch their title defence looking to extend their passionate supporter base at Townsville Stadium.
Six-time WNBL MVP Suzy Batkovic will return once again to lead the club, while the Fire have also made a number of key signings during the free agency period including the acquisition of Opals sharp-shooter Tess Madgen.
Existing members will be able to retain their memberships through The Ticket Shop from 9am on Friday, June 1 before being opened up to non-members from 9am on Tuesday, June 19 with any unpurchased seats at that point released to the general public.
Memberships can be purchased at either of The Ticket Shop's two locations – The Civic Theatre and Riverway Arts Centre – or by calling (07) 4727 9797 during normal business hours.
For the first time in five years, the Fire have reintroduced 'general admission' seating at Townsville Stadium to accommodate a new 'Flexi Membership.'
The three-game 'Flexi Membership' allows fans to be able to select which three of the Fire's 11 home games they wish to attend, along with a complimentary t-shirt and 'Tier 2' priority access to finals at Townsville Stadium.
Tier 1 access to finals will be exclusively retained by Sky Box, Hollywood and Inferno Club members.
Fire General Manager Richard Goodbody said the club's membership options had been built to cater to all level of fans.
"The Fire has long enjoyed the largest and most passionate membership base in the WNBL," Goodbody said.
"Having spoken to our fans, a consistent message we received was that they would welcome some alternate membership options alongside our popular Sky Box, Hollywood and Inferno Club offerings.
"The introduction of a 'Flexi Membership' means we can accommodate those who may not be able to commit to a full WNBL season, however, they still wish to be a member of the club.
"Importantly, we have introduced 'Tier 1' priority seating for our season members so they receive first opportunity to access finals tickets."
While the WNBL fixture is yet to be completed, the league has confirmed the Fire will host 11 home games in 2018/19 with the season expected to be extended.
Click here for further information on the JCU Townsville Fire's 2018/19 memberships.