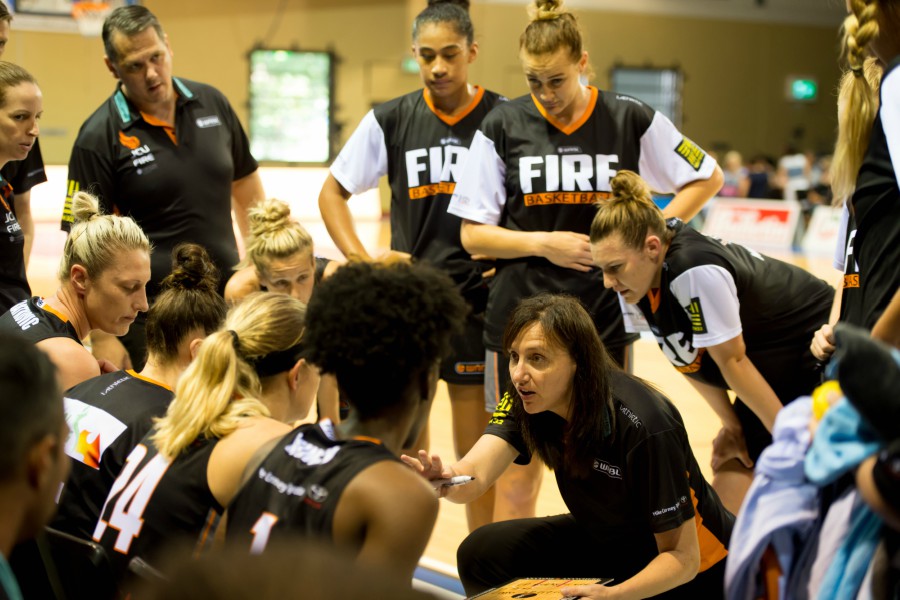 November 11, 2017 | Townsville Fire news
The JCU Townsville Fire have enjoyed a historic night on their home floor after securing a 94-59 victory over Bendigo.
The win was the Fire's greatest ever total and margin against the Spirit – eclipsing the mark set in 2009/10 – as they clinched a 35-point triumph.
While skipper Suzy Batkovic led the way with 18 points and 10 rebounds, the Fire had winners right across the floor as no less than 10 players scored six or more points including home-town hero, Haylee Andrews, who had the fans on their feet.
"We did a great job of sharing the ball," Fire coach Claudia Brassard said.
"We spoke about backing up last week's performance, and to our credit, the girls did just that.
"We found our shooters – I thought we made some great decisions – and we were good on the glass."
During an opening quarter blitzkrieg, the Fire laid the foundation for the record-breaking win as Laurin Mincy (10 points and three rebounds) and Batkovic appeared to do as they wanted.
With Sydney Wiese, Mia Murray and Micaela Cocks sniping from the perimeter, the Spirit had little answers for the hosts, who controlled proceedings from the outset.
In her best game of the season, Micaela Cocks finished with 16 points and two assists coming off the bench to be named the First Things First MVP.
Cocks was simply deadly from long-distance as she landed four-of-six attempts,
"It's a fun team to play in," Cocks said.
"I know I just have to play my role and I thought we did a great job of finding the open player tonight.
"Sometimes the shots drop and as Mia (Murray) said, the ring looked like a hoola-hoop."
The win means the Fire have reclaimed second position on the ladder – one win adrift of the Sydney Uni Flames – with a trip to Adelaide on the horizon next week.
Click here to read full box scores from the Fire and the Spirit.